One of the most important things your construction company can do is to market your business where your customers are spending their time. In today's world, that's online.
Building and nurturing an organic SEO strategy is a crucial part of any home builder or construction company's marketing plans. With so much competition in the construction industry, particularly within communities that have strong loyalties to their local businesses, improving SEO is crucial to driving more traffic to your website and, in turn, producing more high-quality leads.
When potential customers begin searching for construction companies for their next project, you want your business to come in at the top of the results. Google's ranking system, as well as other search engines such as Bing, are designed to sort through hundreds of web pages of information in order to give the reader the most useful information. These algorithms look at a variety of factors, such as words listed in the query, relevance, usability of pages, location, and credibility of sources.
Beyond rank prioritization, SEO for construction companies can also bring about increased brand awareness, particularly in a wider geographical area. If people find your website useful, they will recommend it to others, and organically grow your audience reach. It will also ensure more qualified traffic is visiting your website, saving you and your team time and energy in weeding out unqualified leads.
Still, building a strong SEO presence doesn't happen overnight – and it requires a very strategic approach. Here are some best practices for utilizing local SEO to help your construction company stand apart from the competition.
Local SEO for Home Builders
Leveraging a Google My Business Account
This free tool allows businesses to promote their Business Profile and website on Google Search and Maps. Since Google processes over 3.5 billion searches per day, leveraging this platform is an important part of any SEO strategy.
It's important to maintain consistency for contact information, including location and hours of operation, across the board. Any variation in information can lower your company's SEO ranking, which is why you must include your businesses' location in the title, H1, H2, and meta tags.
Google Reviews
Reviews do more than just build trust with your target audience; it also builds trust with Google too. Google Reviews, particularly those that note the location, will also help boost your company's credibility. Google algorithms determine rank based on the credibility of a review, including the relevance and distance of location to the searcher's location. Responding to reviews also signals Google that your organization is actively working to respond to customers and will reward via SEO rankings.
Paid Ads
Beyond the Google My Business platform, there are other ways to increase your SEO reach through paid promotion. Google Ads are paid online advertisements which will appear near relevant searches and other content across the web. YouTube Ads work similarly since YouTube is basically a video search engine. Both will help extend your businesses' reach; however, it does not improve your organic SEO strategy long-term.
Partnering Organic SEO with Paid Ad Campaigns for Optimized Results
Partner your local SEO efforts with an integrated and strategic paid campaign effort to maximize its reach. Since SEO can take months to first start seeing results, you can build on these efforts for more immediate results with paid ads such as Google Ads, Facebook Ads, and Instagram Ads. These will also allow you to hone in on your target audience and reach local potential customers more readily.
Important Website Elements for Establishing SEO
Outside of utilizing specific channels or paid advertisements, there are some crucial elements that your website needs to have in order to establish SEO – and maintain it over time.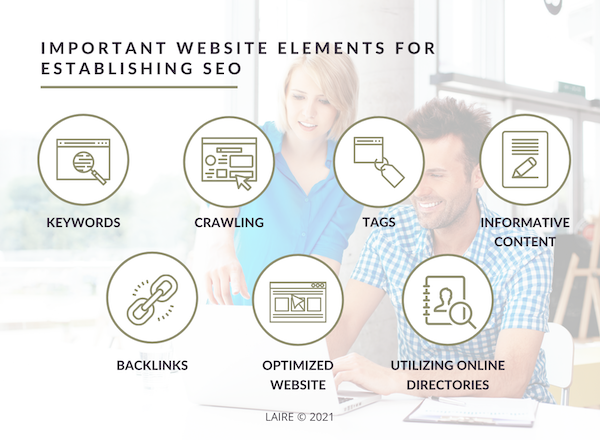 Keywords
Keywords are those words and phrases that a person will search for when looking for your services. Knowing what keywords your audience is using will help you to form content around those concepts, boosting your ranking for important keywords. The better your company ranks for construction-related keywords and phrases, the more customers you can organically attract.
Crawling
Crawling is the term used when search engines send bots to a web page in order to "read" the page. This is the first step for Google or the other search engines to recognize your website's content as valuable in order to share it in the search results. While having your page crawled doesn't automatically mean your page will or will not be indexed, it is crucial that your homepage clearly explains the type of company, location, and proper contact information for the search engine to properly crawl your web pages on a regular basis.
Tags
Tags are also an important part of the SEO construction industry equation. These tags also allow your construction company's website to be crawled and found by search engines, which is why it's crucial to include location in page titles, title tags, H tags, and meta tags. The title tag is arguably the most important tag to be familiar with since it gives context to what is on the respective page.
Informative Content
One of the most important pieces to gaining home builder SEO traction for your construction company website is to regularly post helpful and informative content for your audience. Becoming a trusted source of information is one of the best ways to encourage readers to return to your site on a regular basis.
Providing regularly updated content marketing via blogs, articles, white papers, case studies, webinars, and eBooks all contribute to a strong organic SEO strategy for your construction business. Also utilizing your FAQ page to incorporate quite a few keywords will help improve your SEO ranking over time.
Backlinks
A backlink is a link that is created when a website links to another. These inbound links should always come from trusted sites in order to broaden your audience reach. Backlinks are important for SEO because they signal to the search engine that another website finds your content valuable enough to utilize within their own content.
The best way to incorporate backlinking into your construction company's SEO strategy is to find a client or vendor who is open to reciprocal backlinking. Ask your electrical contractor, material supplier, or other industry connection for authentic backlinks to their site in exchange for your company doing the same on your website.
Optimized Website
Another important part of your SEO strategy revolves around the design and accessibility of your website. Mobile accounts for more than half of web traffic across the globe in 2021. Mobile optimization will ensure that your website is welcoming to mobile visitors, offering them a quality user experience thanks to its design, structure, and page speed. Websites that are optimized for mobile automatically rank higher for search engine optimization, because your audience will often be researching your construction services while on their phones.
Utilizing Online Directories
Once you've established a strong website, it's time to start promoting it in construction industry directories. Listing your home building services on local sites that receive high amounts of traffic every day increases your potential audience. Places like Angie's List are great online directories to start utilizing as a part of your larger SEO strategy. These will often provide backlinks as well, which in turn strengthens the trust score of your website. All of this shows Google just how reliable and relatable your website is for your target customers.
Another benefit of listing your services on a local online directory is that many of these sites allow people to leave reviews. These unbiased reviews build additional trust with potential new customers who rely on the feedback of others to inform their decisions. In fact, individuals almost always trust reviews just as much as they would a personal recommendation.
Lead Generation Growth Strategies For Construction Marketing
By understanding the importance of SEO and how it fits into your larger marketing strategy, your company can be at the forefront of potential customers' minds within moments of searching. Be sure to continually update your content, keep all contact and location information up-to-date, and encourage existing customers to leave positive reviews about their experience.
Feel overwhelmed by the idea of incorporating yet another idea into your marketing plans? That's what LAIRE is here for. As an award-winning digital growth agency for home builders, we understand how to integrate an SEO strategy into your marketing for increased lead growth and business potential.