If your business has a Facebook page, the way the public sees your content is changing. Facebook's most recent updates are prioritizing posts from family and friends and pushing business posts to the bottom of the News Feed. Basically, this means your business' posts aren't going to be seen as much as they used to, which also means fewer clicks to your website, fewer likes and social proof, and fewer shares - for free that is.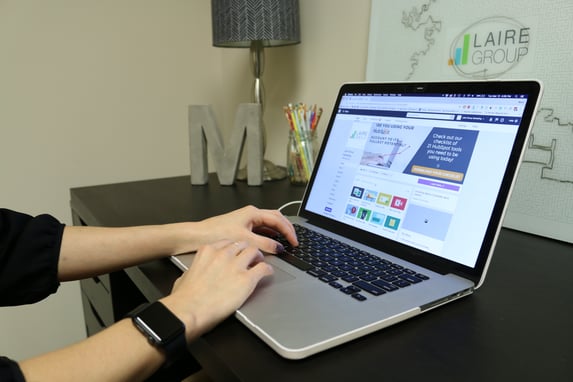 In the wake of this change, the best way to ensure your posts are seen is to put some ad dollars behind them.
Learn more about this Facebook change here.
First, let me start by making the case for Facebook advertising if you haven't already bought into the idea. Your business' advertising should meet your audience where they are already spending time. Do you know where your ideal clients are frequenting online?
According to Facebook as of January 2018, the social media platform has more than 2.13 billion monthly active users and 1.4 billion daily users.
Trailing Facebook, Instagram logs more than 800 million monthly users. Yes, that's million with an "m" compared to Facebook's billions. Comparatively, Twitter most recently touts 330 million monthly users. After that comes LinkedIn, with 250 million monthly users.
So if you have any qualms about Facebook advertising, imagine a platform where your business has the potential to reach billions of people a day – billboards can't do that. Nothing can!
Reach more people on Facebook with Boosted Posts
Facebook's advertising tool is very comprehensive, detail-oriented, and powerful, but if you aren't ready for the full advertising platform (or don't want to spend hours figuring it out) there's a faster tool for Facebook advertising beginners.
This tool is called "Boost Post" and you can even do it from your phone.
What is a boosted post on Facebook?
A boosted post is a Facebook post from your business page that you can pay to have shown to more people.
For boosted posts, you can set your budget for as little as $1 a day to reach people outside of your followers. You can expand the reach of your content by using the Boost Post option of showing your post to friends of your followers or creating a customized audience based on location, demographics, and interests.
How to Boost a Post on Facebook
Step 1: Share your content on social media. Whether your goal is to get people to click on links back to your website or to get people to comment on your photos, it all starts with the post. Make sure the text is helpful and the graphic is eye-catching.
Step 2: Once you've posted to your company's Facebook page, look for the blue Boost Post button in the bottom right-hand corner of the post.
Step 3: In this window, you'll tell Facebook your audience, how much money you want to spend, how long you want the post to be shown, and what your goals are for the ad.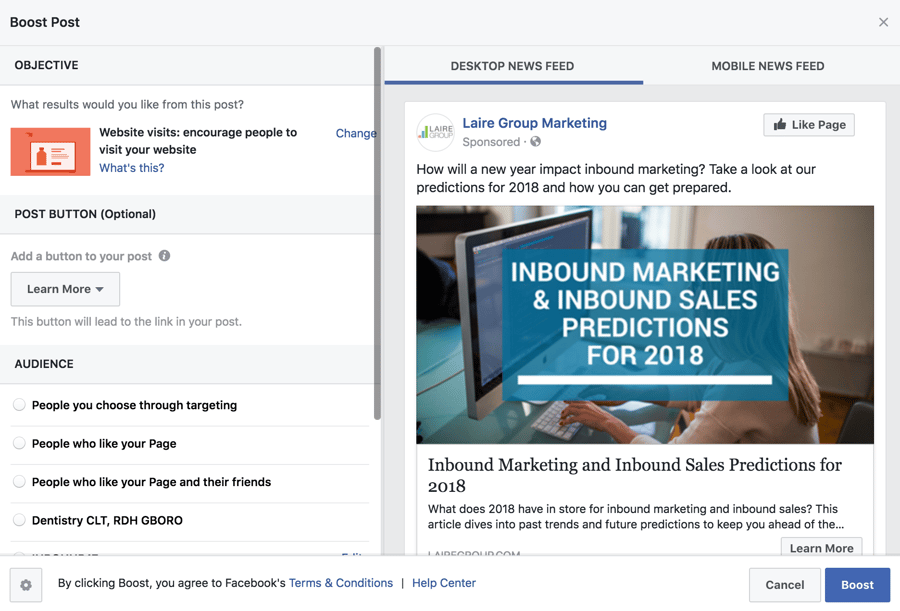 Step 4: Tell Facebook what your goal is for the ad by clicking Change in the Objective section. You can choose from three options: Website visits, Engagement, and Messages.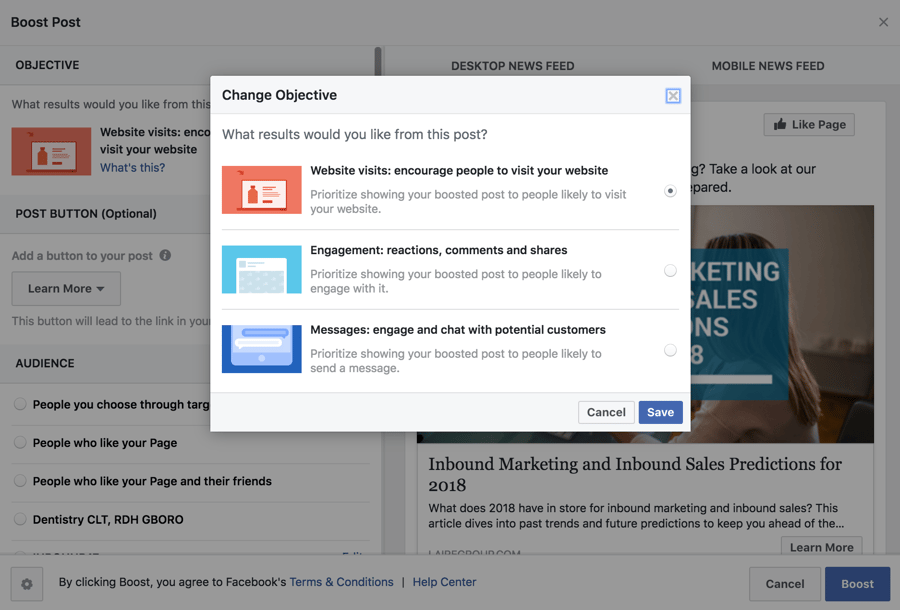 Step 5: Choose your button. Options include Learn More and Shop Now. Remember to choose the button that is most closely related to what will happen when they click it.
Note: if you chose the Messages Objective, the button will automatically read "Send Message."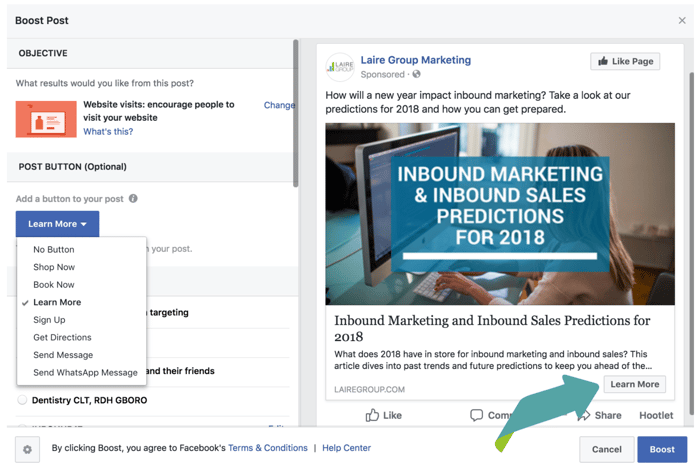 Step 6: Tell Facebook whom to show your post to. Do you only want people who like your page to see your ad? Do you want their friends to be shown it too? Do you want to create a custom audience based on your target clients' demographics, interests, and location? Use "people you choose through targeting" for custom audience options you can use to build your ideal client persona in Facebook targeting.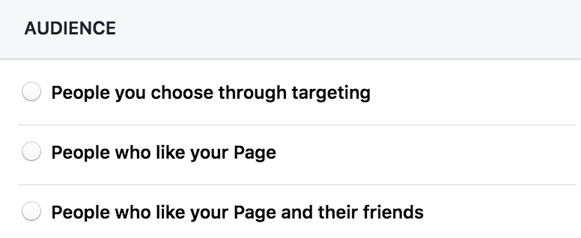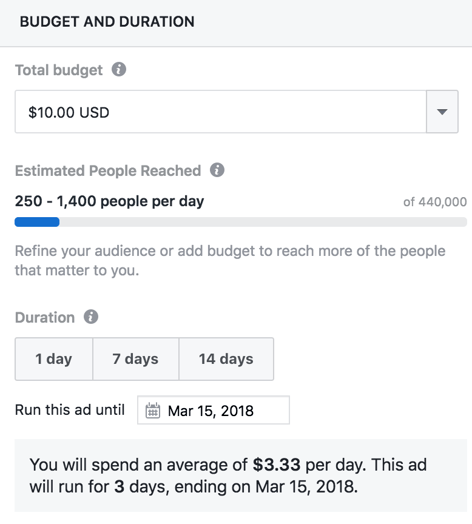 Step 7: Set your budget and timing for your boosted post. Facebook's minimum budget is $1 per day. Depending on the size of your audience and the number of days you want to run your ad, you can test how far your money can go. Every time you change the budget and duration numbers in the boost tool, your Estimated People Reached number will change too.
Step 8: For website owners who aren't afraid to code, check out Facebook's article on placing your Facebook Pixel to track conversions and get more enhanced analytics. If you aren't sure about adding this code to your website, ask your website manager or developer for help.
Step 9: Input your payment information and click Boost!
So there you go. You just boosted a Facebook post. Don't forget to check on your boosted post after it's live. You can find its performance and analytics information in the Promotions section of Facebook. This part is just as important as paying for the ad. Checking your ad's performance and testing different audiences and content helps you learn what really works for your company's advertising plans.
---