I'm not here to say I can predict exactly what's going to take place in marketing and sales trends this coming year but I do have practical insight and hands-on experience as the owner of a growing marketing agency. I want to share some insight into the trends and challenges we've seen through this past year that are set up to have major impacts on what might transpire in 2018.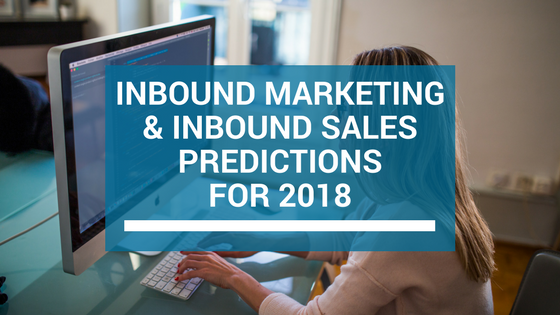 The idea for you, as a business owner or company leader, is to be cognizant of what's currently taking place, be aware of the timing and pace at which changes are progressing, and then make informative and decisive actions based on these occurrences and evolutions. I'm a fan of having a backup plan and a backup plan to a backup plan!
Imagine if some form of obnoxious direct mail or intrusive cold-calling to generate new business became very effective (yeah right, I know that's not happening), at least we would be prepared to start moving some effort into this suddenly successful tactic. But if we have no clue it's coming, we would be behind the times and our own schedule to make that shift. Consider these next predictions as a "heads up" as to what might be coming in the foreseeable future. Enjoy!

Video content will become even more dominant in content marketing and inbound marketing.
Nothing surprising here. Video marketing and video alone is already incredibly popular as a content type. Short and homemade snippets for use on social, web, mobile and email are going to be much more popular as vehicles to carry your story and engage your prospects.
Marketing strategy will remain a missing element from inbound marketing programs (and most marketing in general).
I see this constantly with prospects and company executives and while hoping it will change, it never does. Companies don't value marketing strategy, don't want to budget for it, don't want to devote resources to it and don't even want to talk about it (because most don't understand the meaning of it). Yet, its quality and presence within an inbound engagement are a direct predictor of inbound lead generation success.
The marketing automation software "tech stack" will be more prominent in inbound marketing.
I know most people find the investment in marketing automation and data software to be enough, but the reality is it's probably not enough. Going into 2018, you should be budgeting and planning to invest in better marketing and sales technologies. The better your tech stack, the better your results. Start thinking about investing $2,000 to $4,000 a month for technology if you're looking for 20% growth in annual revenue.
Marketers need to continue to be customer-centric in their approach (messaging, imagery, storytelling, info offers etc).
I think this goes without saying but smart and effective marketers, those that are really held accountable for results, have to think, talk, eat, act and believe as their customers do to win their trust and loyalty. No more boasting about what the product, service brand or company is or can do or has done and more about how they can help solve a customer's challenge. Think and be the voice of the customer and win more customers in the process.
Marketing and sales align and work more closely together.
Marketing and sales teams have to face facts that they can accomplish more (better leads and sales) by working together as one team. Friction and differing opinions on what should or does work, doesn't work. When marketing and sales align, you have more than a catchy term in "Smarketing". You have one team working together towards a common goal - growth!
Inbound marketing strategies used for inbound talent sourcing & recruiting.
Not only will more companies / business owners / organizations adopt an inbound marketing strategy for attracting new clients, etc in 2018 but they will also utilize inbound strategies for attracting talent to join them as well. Sourcing and hiring candidates for employment and contract work via inbound creates search & website traffic, lead conversions, engagement & social proof, feedback and list building just like it does for running campaigns for leads and new clients. Our biggest months for traffic, leads and securing new clients directly correlated to our efforts promoting that we had open positions and using inbound to amplify it.
Smart companies will leverage their time, budgets and result producing activities looking for marketing and sales partners over hiring employees or vendors.
More companies will continue to outsource or "right source" their marketing. Employment costs are on the rise as talent is scarce and expensive. Costs, results and risks are better balanced by outsourcing to a strategic inbound marketing partner agency. Also, performance-based month to month contracts are on the rise, giving companies more flexibility. Flat (fat cat) retainer term contracts are dying. Even us agency owners are leaning towards smart outsourced contractors to better serve clients as the talent pool is global and competitive which allows us to keep costs down to our clients and provide them with better value.
In closing, trends come and go but one thing remains constant, PROGRESS. You either adapt or die. Your company depends on strategic thinking and plans to execute that thinking to either survive, thrive or evolve. It's going to be a great, interesting year and I hope you steer your ship to calmer seas before the next storm comes. Pick a lighthouse to focus in on and drive towards it, just like your goals for growth. Steady as she goes!