Facebook is making changes to its newsfeed again, this time affecting businesses more than ever before. On January 11, Mark Zuckerberg announced that he is redesigning the way Facebook serves content to users in hopes of making users' time spent on the social media platform more meaningful, and even said "I believe that will be good for our community and our business over the long term, too."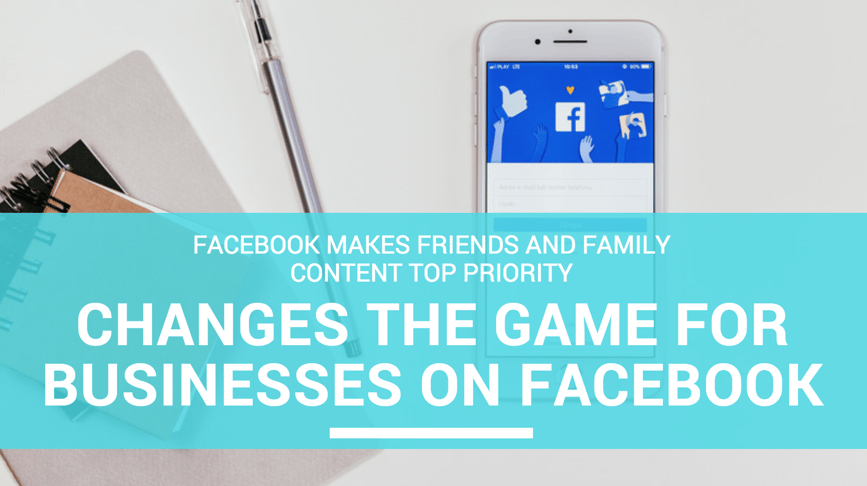 "We're making a major change to how we build Facebook. I'm changing the goal I give our product teams from focusing on helping you find relevant content to helping you have more meaningful social interactions... The first changes you'll see will be in News Feed, where you can expect to see more from your friends, family and groups. As we roll this out, you'll see less public content like posts from businesses, brands, and media."

- Mark Zuckerberg
According to Forbes, posts by friends and family that Facebook predicts people will interact with will be shared most prominently. Other signals, such as the volume of likes, reactions or comments on a post -- and which connections people seem to care most about -- will also influence the news feed algorithm.
While users are excited about these changes to see more of their friends and family's posts in their timelines, many users appreciate seeing posts from the businesses and brands they follow on Facebook. Regardless of popular opinion, Zuckerberg has already put his team on the job so the best thing we can do as businesses is change our social media strategy to make the best use of our time and resources.
What do Facebook's newsfeed changes mean for businesses?
Basically, the organic, unpaid posts from your business Facebook page will not be shown to as many people. The current Facebook newsfeed algorithm shows your business posts to people who like your page based on their Facebook behavior and content preferences. If your followers are more engaged by images, your posts with images will get served to more people. The number of people who see your posts is called your "Reach".
You can expect to see your post reach dramatically drop in the very near future. And with that, a drop in your engagements such as likes, shares and link clicks to your website, which leads to less website traffic from "referral sources" if you rely on Facebook for traffic now.
However, content with a lot of engagement will still be prioritized on users' timelines because it is seen as helpful and relevant to users. If your posts consistently get likes and comments and you reply to these comments, more people will see your content.
These updates will not affect the prominence or volume of paid posts or advertisements in people's feeds, according to Facebook.
Should your business post on Facebook?
YES! Just because fewer people will see your post doesn't mean you should stop sharing resources, photos of your team and helpful information about your services. Your potential clients will still look to your social media for reviews, social proof and information about your business. To stop posting may send a message to potential clients that you are no longer in business or are hard to reach.
We suggest upping your Facebook game with videos, both live and prerecorded, to get the type of engagement Facebook is looking for now to ensure your posts reach as many people as possible.
How should businesses use Facebook now?
You will have to cater your Facebook messaging to a very specific audience. Because many of your followers and current clients may not see your posts, you are catering your message to prospects who might come to view your history and timeline.
Also, Facebook's newsfeed will now work as a paid service for business posts. If you aren't already advertising on Facebook, you're going to have to navigate Facebook's Ads Manager. Get familiar with boosted posts, ad targeting options, and budgeting for a larger ad spend. Paid Facebook ads will be the holy grail - even more so than they currently are. I know what you're thinking... "Is this all just a way to get me to write checks right to Mark Zuckerberg?"
yes, but hear me out. The great thing about Facebook advertising is the targeting. You can tell Facebook who your ideal client personas are based on job titles, income, location, age, interests and more, and then deliver advertising to those personas on social media. For a fraction of the cost to advertise on LinkedIn, Google or third party PPC ad sellers, you can make sure your ad is being seen by exactly the right people.
For our clients, we start with outlining their business goals; then creating extremely detailed client personas so we can target the right leads to make meet those goals; then strategizing a full messaging plan to attract those personas.
However you go about updating your Facebook engagement, make sure you have a clear strategy.
See Zuckerberg's full post here:
---