Attending digital marketing conferences is a great way to keep up with the latest trends and best practices, while networking with other professionals in your industry.
But before you register, consider your main goal for attending. Whether you choose to focus on content strategy, social media, paid search, email marketing, sales enablement, or something else, each conference is unique, giving you the opportunity to learn and grow on whatever topic you choose.
In this blog, we've curated a list of five of the best conferences for digital marketers in 2023 that will provide you with valuable insights and opportunities to connect with industry leaders. These conferences will cover a wide range of topics to help you improve your digital marketing strategies and achieve your goals in the coming year.
Mark your calendars and get ready to elevate your digital marketing game at these exciting events!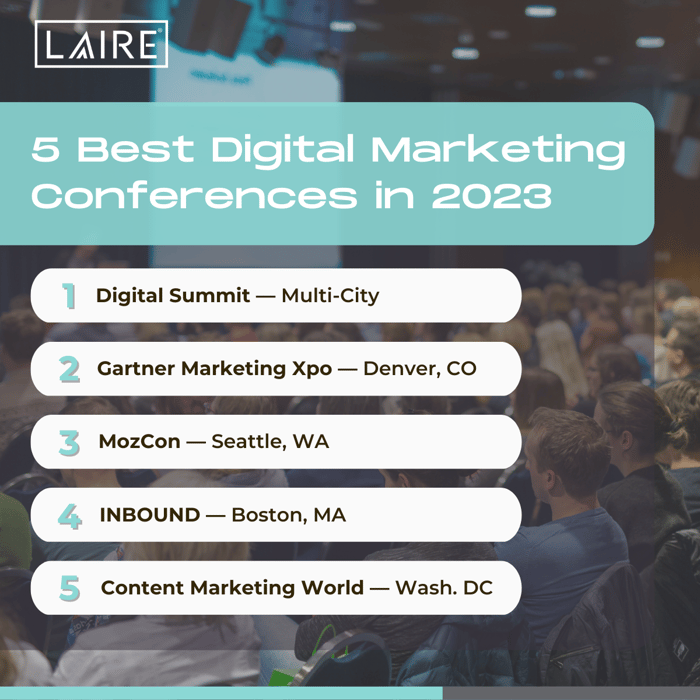 1. Digital Summit
Location: Multiple locations in the United States
Date: Multiple dates throughout the year
Digital Summit is a series of conferences held annually in various cities across the United States, bringing together digital marketing professionals to learn about the latest trends, strategies, and technologies in the industry.
In 2023, this conference will take place in the following cities during the following dates:
Washington, D.C. on April 18-19, 2023
Atlanta, GA on June 15-16, 2023
Denver, CO on June 27-28, 2023
Minneapolis, MN on August 16-17, 2023
Detroit, MI on September 19-20, 2023
Chicago, IL on October 4-5, 2023
Philadelphia, PA on October 16-17, 2023
Raleigh, NC on November 13-14, 2023
Dallas, TX on December 12-13, 2023
This conference allows you to learn about all facets that go into digital marketing — from content, strategy implementation, social media, SEO, email, and other topics. Attendees also have the opportunity to network with other professionals and gain valuable insights that can help them improve their digital marketing efforts.
You will hear from national brands, agencies, service providers, technology pioneers, associations and nonprofits, startups, and much more. With tens of thousands of marketing professionals attending each year, you're sure to receive actionable takeaways that you can leverage in your work to enhance your digital marketing strategies.
2. Gartner Marketing Symposium/Xpo
Location: Denver, CO
Date: May 22-24, 2023
The Gartner Marketing Symposium/Xpo is a prominent yearly event that unites leaders in the marketing industry from various parts of the world to share knowledge and insights on the latest trends and strategies.
The conference offers a diverse range of sessions including interactive workshops, keynote speeches, and engaging discussions that center around topics like customer experience, data analytics, marketing technology, and more.
Attendees can make valuable connections with other professionals in the marketing space, learn from industry experts, and gain actionable insights to drive growth and innovation within their organizations.
The Gartner Marketing Symposium/Xpo is well-loved for its ability to provide unique perspectives and practical solutions to the challenges facing marketers today.
3. MozCon
Location: Seattle, WA
Date: August 7-8, 2023
MozCon is an annual digital marketing conference hosted by Moz, a leading SEO software company. The event brings together top industry experts to share their knowledge and insights on topics such as SEO, content marketing, social media, and more.
Attendees have the opportunity to learn about the latest trends and strategies in digital marketing, network with peers, and gain inspiration to improve their own marketing efforts. The event features keynote speeches, breakout sessions, and workshops, and is highly regarded in the digital marketing community.
4. INBOUND
Location: Boston, MA
Date: September 5-8, 2023
Powered by HubSpot, INBOUND is an annual conference held in Boston that brings together marketing, sales, and customer service professionals to learn about the latest trends, strategies, and tactics in inbound marketing.
The educational sessions at this digital marketing event help you take a step back from your day-to-day mundane and think more about your opportunities and challenges from a different perspective. The sessions cover topics, including:
Content
Social media
Video
Conversion rate optimization
Leadership
Growing your business
General admission attendees can enjoy all in-person content and programming from September 6th through the 8th. Guests with VIP tickets can also attend a welcome party on September 5th with live music, drinks, and more.
5. Content Marketing World
Location: Washington, D.C.
Date: September 27-28, 2023
Achieving content marketing success is not always easy — but with the impact that content plays in multi-channel marketing, you need to stay ahead.
The Content Marketing World conference can help you do just that, giving you the tools to develop integrative content marketing strategies to help deliver value and results within your organization. Agency leaders and content marketing, PR, and communications professionals will learn:
How to develop a content marketing strategy
How technology can be used to help elevate content marketing success
How to create and deliver engaging content for your customers
With over 100 sessions and workshops presented by some of the top brand marketers and experts from around the world, you will learn how you can grow your audience with effective marketing content.
Stay Ahead of the Game With These Can't-Miss Conferences
As a digital marketer, staying up-to-date with the latest trends, strategies, and technologies is crucial to maintaining a competitive edge in the industry. Attending conferences is a great way to gain valuable insights and connect with other professionals.
Are you attending or exhibiting at a conference, trade show, or another event this year? If so, do you have a strategy to make your marketing dollars count? Our new guide is designed to help you turn your booth visitors into leads and customers. Download the free guide now: