It's no secret that 2020 was a whirlwind of unpredictability, leaving countless industries permanently affected after being forced to quickly adapt to unprecedented circumstances ― and the landscape of digital marketing is no exception.
As COVID-19 forced the world into quarantine, people from all areas, backgrounds, and industries had to scramble to adapt to a virtually-centered world ― shooting the digital landscape unexpectedly ahead at lightning speed. Witnessing our world remarkably adapt as a whole to new means of communicating, purchasing, and creating has provided encouragement for the future ― and in 2021, the opportunity to make the most of our new environment is greater than ever. As marketers and brand owners get ready to navigate new landscapes with fresh perspectives, strategic preparation is crucial.
Although it feels like we're still collectively processing March 2020, its one year anniversary is right around the corner. Read up on expected trends that will shape marketing in 2021, and how you can prepare your strategy for success in the face of any major malfunctions.
Rising Trends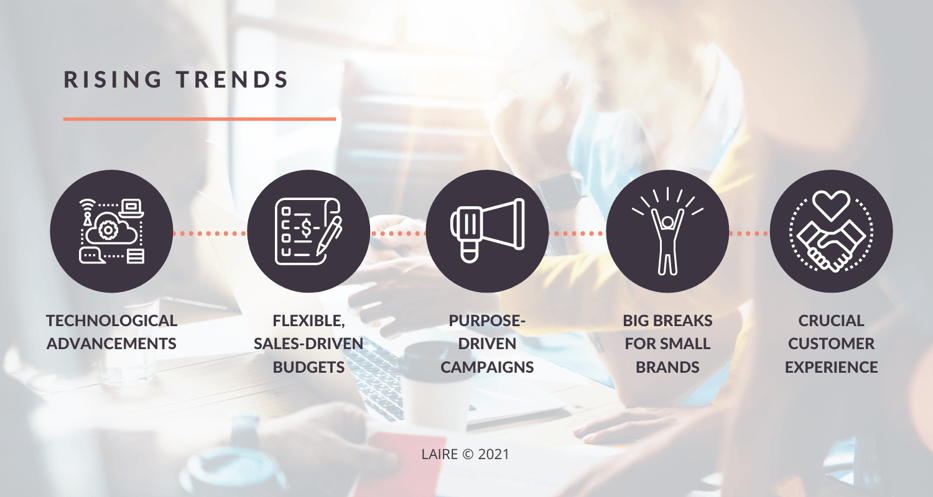 Technological advancements
Voice and visual search

A steadily increasing number of consumers regularly search online using popular voice-activated tools like Alexa and Siri. This technology very quickly became the go-to for many consumers over the past few years as it became more easily accessible ― in fact, a whopping one in four American homes reported to have some kind of voice-activated smart speaker at the beginning of 2020, a number that was reached after a skyrocketing 135% growth in two short years.

Voice search isn't the only search method expected to rise in 2021 ― get ready for other creative alternatives to grow in popularity, especially visual search. Tools like Google Images and Google Lens allow users to search for whatever they can see using pictures, a game-changing technique for many. For marketers, this means a necessary shift to using more visual alt-text and sitemaps for images ― high quality visuals will become increasingly more important for strong SEO results.

Artificial intelligence

Artificial intelligence has grown into an impossible-to-ignore topic for marketers and consumers alike. As AI technology has become more accessible in the past few years, it's already claimed significant influence in shaping the digital marketing landscape ― you may be surprised to learn that as of 2021, 61% of marketers report that artificial intelligence is the most important aspect of their data strategy. Not only does the technology dramatically improve data analyzation and trend prediction for marketers, but it can significantly improve consumer experience as well. Studies show that 49% of consumers are willing to shop more frequently while 34% will spend more money when AI is present in the purchasing process.

Augmented and virtual reality

Once considered lofty capabilities of the future, augmented (AR) and virtual reality (VR) have been incorporated into more and more of mainstream marketing tactics. Amid the pandemic when consumers are craving real-life experiences, AR and VR have emerged as the ideal tactics to bring these experiences to life for audiences. While video content is expected to continue its major relevance for years to come as a means to effectively engage with audiences, AR and VR are ready to take immersive content a step further. Major brands have already begun integrating AR and VR into their sales strategies, allowing consumers to imagine a piece of furniture to scale in their homes or a favorite outfit on a virtual model.
Flexible, sales-driven budgets
If 2020 taught us anything, it's how to expect the unexpected and adapt accordingly. With many businesses having faced hard times financially during COVID-19, sales-driven budgets that are heavily backed with research have become more important than ever. Brands will need to optimize reporting and analyzing techniques to create sound data that can back up their marketing strategies and directly tie them back to sales. Despite the need for a solid foundation of research behind a marketing budget, flexibility is also key. The entirety of your marketing department should be prepared to switch courses on a whim if necessary, and always willing to adapt new strategies in an ever-changing landscape.
Purpose-driven campaigns
Though 2020 pulled us apart physically, in many ways it made us closer than ever ― pushing us all as a collective to innovate new ways to connect despite the distance, and reminding us all of the power of community. Today's consumers can sniff out insincerity easily, and the need to connect authentically with audiences and practice transparency is more important than ever for brands. More than ever, consumers expect brands to "walk the walk" when it comes to their presented mission and values ― resulting in impactful, philanthropic campaigns like Under Armour's campaign to provide 20,000 PPE face masks to Johns Hopkins Health System, or Coach's pledge to match employee donations up to $10,000 per individual in addition to their hefty $4 million COVID relief donation.
When it comes to initiating these campaigns, certain issues stand at the top of importance for consumers, including sustainability and inclusivity. A significant 81% of global respondents across gender lines and generations reported to strongly believe that companies should help improve the environment. More and more consumers are intentionally seeking brands that minimize environmental impact in their materials, packaging, processes, etc., and it will be key for brands to show their enthusiasm in 2021. Our reignited cultural shift toward inclusivity has also been shown to impact purchase behavior, with 41% of shoppers choosing to shift away from brands that don't reflect their views on diversity, and 29% willing to switch brands completely if they don't show enough diversity.
Big breaks for small brands
The increasing relevance of digital consumption has broken barriers for underdog brands looking to break into major markets. It's become easier than ever for small brands to not only enter the industry, but legitimately compete with larger brands for market share. Digital presence and inventory allows smaller brands to experience fast growth, so be on the lookout for more and more relevant members in your industry ― especially since 75% of consumers report to make a planned effort to shop from small and local businesses.
Crucial customer experience
Multi-channel operations

2020 provoked a meaningful shift in the manner consumers shop, and where they choose to do so. It's become clear that the masses do not shift their brand expectations based on how or where they are purchasing. With COVID-19 significantly altering shopping behaviors by forcing the population to become more reliant on online shopping, click & collect, and curbside pickup, they'll expect nothing less from brands in 2021 ― especially major retailers. As consumers become more and more ambivalent about channels, providing the easiest and simplest shopping experience is crucial, making an omnichannel perspective a top priority for brands in 2021.

Digestible content

Digital marketers have heard it a thousand times, content is king. Throughout 2021, consumers have been turning to content that's both easy to consume and thoroughly engaging ― taking advantage of on-the-go media like podcasts or newsletters that arrive directly in the inboxes of your audiences is key. Marketing budgets from major brands reflect this shift, and more and more advertisers are investing in podcast ad placements ― especially now that 55% of Americans now regularly listen to podcasts.

Live-streaming, influencer marketing, and user-generated content (UGC) are also expected to become more and more relevant in the coming year. While worldwide stay-at-home orders canceled meaningful events like concerts and festivals around the globe, consumers were not only unable to attend in-person functions, but often unable to even socialize with close friends and family. The shift led to a major increase in the number of users who tune into live-streams, whether from a brand, celebrity, or creator. Facebook live viewings increased by

50%

during global lockdowns, while Instagram surged even further at

70%

. The growth of popularity in live-stream content also opens new opportunities for brands to take advantage of influencer marketing, known to build brand trust while providing that real-time connection that today's consumers value. Platforms like Amazon Live even open direct channels for purchasing with shoppable live-stream capabilities.


Takeaways
With the right strategy and tactics, your brand can capitalize on everything 2021 is preparing to throw your way. Here are some tangible goals to set yourself up for success in the year ahead.
Be flexible
Over the past year, adaptability has been crucial for everyone, not just marketers. Prepare yourself as best as possible for whatever could potentially be thrown your way, and construct your marketing strategy with flexibility in mind. Brands must be forward-thinking yet realistic to successfully navigate the new landscape of consumption.
Simplify your data source
The increasing relevance of e-commerce and digital consumption comes with an influx of raw data related to channel traffic and purchase behavior. Take advantage of your increased collection of first-party data to inform advanced strategies and reach new customers.
Be transparent
Your consumers want to know everything that goes on within your brand, so present yourselves genuinely ― especially if you're taking on initiatives with positive missions. When it comes to your brand's values and missions, it doesn't suffice to simply say "this is who we are", you've got to show it to your audience.
Prioritize customer experience
Regardless of your quality of product or service, customer experience is more important than ever to consumers. After 2020's impact on streamlined purchasing through online platforms, it's going to be crucial for brands to evolve and make consumption as easy as ever, providing a genuinely pleasant experience for customers.
Even amid uncertainty, it's clear that marketers are prepared to innovate for a brighter future, more advanced industry, and more authentic consumer relationship ― let's tackle 2021 with that in mind.