2020 was a year of change for every aspect of manufacturing operations, from daily life on the shop floor to business strategies. Marketing was no exception – the challenges of COVID-19 shifted manufacturers to adjust their marketing strategies and reallocate tradeshow dollars to online marketing efforts. But how can digital marketing compete with the value of face-to-face interactions at tradeshows? Industrial content marketing can help you reach a broad range of networks and audiences to make an impact on the right prospects. Learn more about how an effective content marketing strategy can help you improve your B2B lead generation efforts.
Why Should Manufacturers Care About Content Marketing?
Content marketing helps you answer the questions of your customers before they may know the questions themselves. A robust portfolio of content brings credibility to your manufacturing expertise, helps your sales team support their sales messaging, and helps you share a consistent brand voice.
Through content marketing, you can make a correlation between your prospects' behavior and the content they engage with. Identifying what resonates with your customers can help drive high-quality leads, and later down the road, nurture a continued relationship with your customers.
Why is Content Marketing Different for Manufacturers?
The complex nature of manufacturing, its processes, and the products produced make it difficult for manufacturers to toe the line between creating engaging, informative content and outright selling. Audiences expect expertise, but they don't want to be sold to, so telling a compelling story is key to an effective content marketing strategy.
The long buying cycles of manufacturers can also make content marketing difficult – you need to provide helpful, engaging content over a longer period of time. This may require additional marketing investment and extensive research in order to cultivate a library of useful content that spans from awareness to post-purchase.
Not all marketing content may be right for the message you want to share with customers, and determining the right mediums can help you focus your marketing efforts with the purpose to drive lead generation. Discover some of the different types of content that manufacturers can create to nurture high-quality leads.
Examples of Content for Manufacturers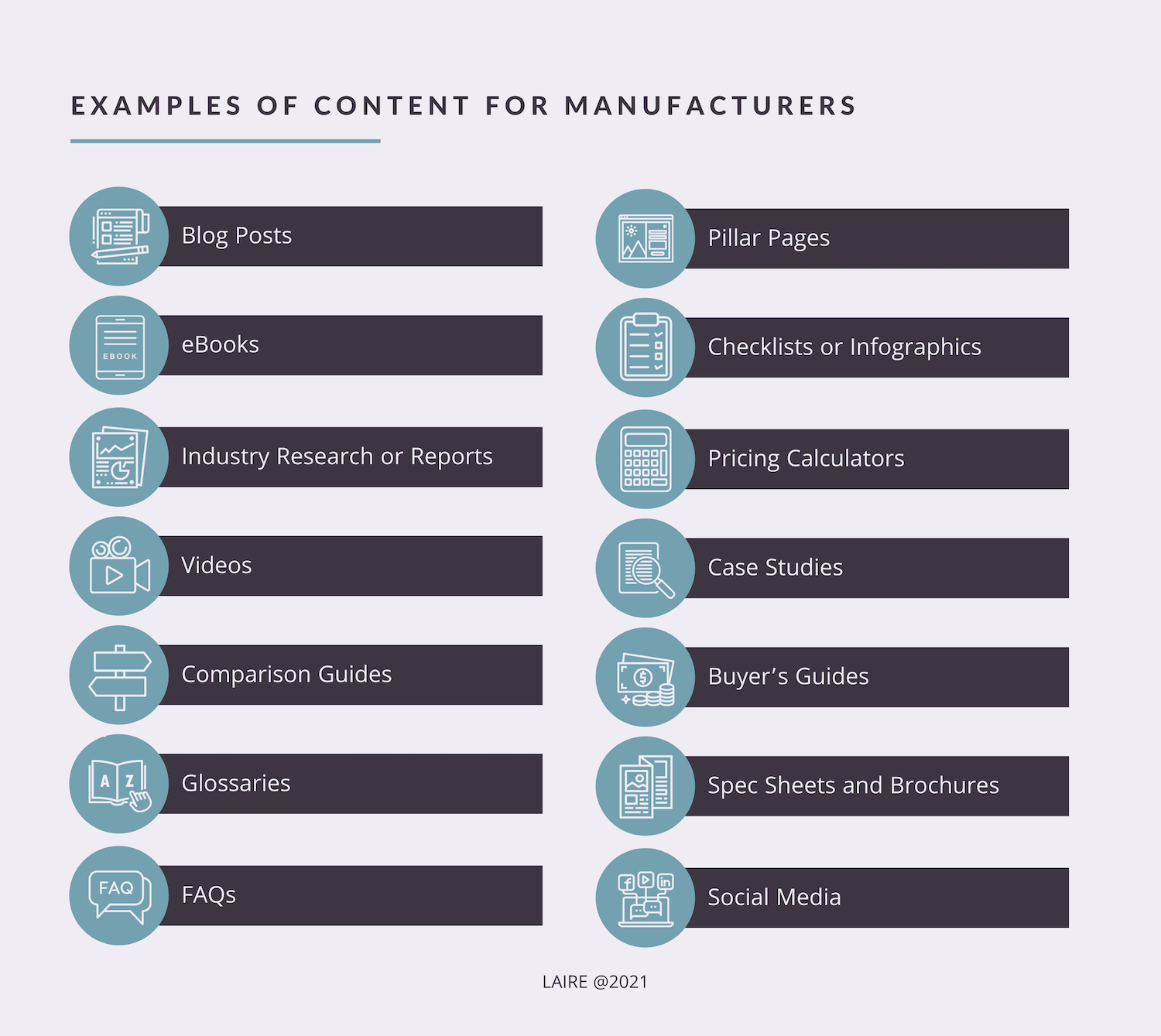 Blog Posts
Blog posts can be a great way to introduce audiences to specific manufacturing concepts in which your manufacturing business is an industry leader. Blog posts can include educational topics that can help bring traffic to your website, or can discuss more granular topics that focus on your specific manufacturing niche.
eBooks
For content that is more in-depth than a blog, eBooks can serve as a one-stop source for the in-depth information about your business or your products or services that customers need. eBooks are a great content piece for your lead generation efforts since they are a high-value piece of content that may be worth gating.
Industry Research or Reports
Showing a depth of understanding beyond your business offering and into your industry as a whole through industry research helps demonstrate value to your customers. Content that highlights the goings-on in your industries of expertise not only brings credibility but also helps educate your customers and helps them make informed buying decisions.
Videos
As manufacturers, seeing your processes in action can give prospects an added level of insight that may influence them to learn more. Product videos and demos help visualize your capabilities and your technical expertise, while a factory tour or customer interview helps show a behind-the-scenes look at what a partnership with your business looks like.
Comparison Guides
Some customers may be committed to working with your business, but need to make a choice between your product offerings. Comparison guides are great tools for this stage in the customer lifecycle, as they can provide a high-level snapshot of the different strengths of your product offerings.
Glossaries
Every type of manufacturing comes with its own "language", terms that industry professionals use on a day-to-day basis. A glossary of terms specific to your shop and your manufacturing operations can serve as a useful hub for not only your customers but also your employees.
FAQs
Not sure where to get started with your content development? An FAQ page can be a great place to start – by creating a resource for your customers and prospects to answer their immediate questions, you can help accelerate the buying cycle and get them engaging with your sales and engineering teams faster.
Pillar Pages
Pillar pages serve as a hub of information for a single topic, product, or service. They provide a comprehensive overview of your areas of expertise and offer a great way to generate clicks for your other content pieces, as you can incorporate links to additional resources.
Checklists or Infographics
Content with smart design elements can make a huge impact on customers. Infographics enable you to share helpful information and statistics in a concise, visually appealing way, and checklists involve a level of engagement that traditional content pieces don't – and when executed well, both will be memorable to your customers.
Pricing Calculators
Some customers visiting your website want to cut to the chase – does your product or service fit their budget? Creating pricing calculators for your products offers insight into whether your offering is a good fit for your customers' budget and showing transparency into your pricing can help build trust with prospects.
Case Studies
Your customers' experiences carry a lot of weight when it comes to influencing the decisions of prospects. Case studies are a powerful resource that can allow you to share your success stories and highlight your close relationships with your partners and customers.
Buyer's Guides
Content marketing is not just for top-of-funnel prospects – plan to create content for prospects that are in the consideration phase of your buyer's cycle as well. Content such as buyer's guides that help compare your product offerings can make decision-making easier for customers and help them move toward sale conversion.
Spec Sheets and Brochures
From a first glance, customers want to know the essentials of your product offering – performance characteristics, component materials, size and weight, etc. Spec sheets and brochures give your customers the information they need to determine if your offering is what they are looking for. Make these as detailed as possible, as customers may refer back to these even after their purchase.
Social Media
See what your manufacturing audiences – and your competitors – are sharing online through social media channels like Instagram, LinkedIn, and Facebook. Social media allows you to find and create hashtags that correspond with your manufacturing niche and build an audience with similar interests. Plus, with the interactive element of social media, you can talk directly to your audience in a friendly, approachable way.
Getting Started With An Industrial Marketing Strategy
From webinars to social posts to buyer guides and more, there is a broad range of marketing content that can help set your business apart in the eyes of your customers. Through every phase of the customer lifecycle, keeping customers engaged with your brand through industrial content marketing allows you to nurture leads and ultimately convert them to sales. The right content can make all the difference – so start writing down your content ideas today!
Want to learn more about how the right content marketing strategy can help you reach your full marketing potential? Explore our digital marketing offerings for manufacturers or download our "Manufacturing Marketing Checklist" below for more information.