B2B marketing presents different opportunities and disadvantages than marketing to consumers and your inbound and outbound marketing efforts need the right tools to nurture relationships and grow your customer base. HubSpot is the best platform for manufacturer marketing because its robust capabilities and customization make it ideal for the manufacturing sector's unique needs. Here's why.
Manufacturing represents a significant portion of the American economy: about 11% of the total output representing $2.3 billion, employing 8.5% of the American workforce. The manufacturing sector is what brings all the goods that people need and want to market, and into their homes.
Designing a quality product and getting it into mass production is only part of the challenge, though. Inventors and brands seek out manufacturers both in the United States and overseas to turn their ideas into reality. Manufacturer marketing is crucial to standing out from the crowd and developing your brand positioning, but it is difficult to discern how to hone your messaging.
Challenges In the Manufacturing Field
The manufacturing industry is under intense pressure that has only been exacerbated by the pandemic-induced supply chain crises. It's estimated that 4 million manufacturing jobs will need to be filed by 2030, and 41% of manufacturing jobs lost during the first COVID-19 wave have yet to be recovered, leaving a significant gap in the supply chain. Between not having enough workers and similar issues happening in trucking and related industries, 69% of manufacturing managers expect that these problems are going to negatively impact their ability to fulfill orders and provide the level of customer service expected of them.
Subsequently, efficiency has become more difficult for manufacturers to attain in the current climate.
Your firm can produce the highest-quality products and exceed your clients' expectations every time. But in spite of this, the competition can easily swoop in if your business relies on the old methods of manufacturer marketing.
Older marketing methods, such as fully relying on print publications or traditional advertising, won't produce the results needed to rise above the manufacturing sector's challenges of the 2020s. Overly complicated sales funnels that completely isolate the sales and marketing departments, sales processes rife with inefficiencies, and poor outreach that doesn't account for the modern ways of doing business? They won't result in stellar sales anymore.
The dated methods of manufacturer marketing lack data and analytics to provide you with crystal-clear insights on whether your marketing efforts were successful. A full-force shift to digital marketing has been a complete game-changer for the manufacturing sector.
The Problem with Outdated Modes of Manufacturer Marketing
The manufacturing field is well-known for being behind on the times when it comes to marketing.
The 20th-century ways of doing business encompassed sales and marketing being two discrete processes and departments. This is not the case in the 21st century, where the two departments need not be siloed anymore. In fact, it's critical that both the sales and marketing processes for the same lead be visible to the respective team members!
Historically, manufacturers also tended to rely on outbound marketing rather than inbound. Outbound marketing refers to obtaining new leads and customers, while inbound focus on the prospects that are already paying clients or are looped into your communications. Outbound methods include anything from cold emails to booths at trade shows. While outbound methods often do produce results, they tend not to be as effective as inbound marketing.
Since the manufacturing sales process is incredibly long compared to other industries, it presents both challenges and opportunities for marketing campaigns. Digital marketing includes websites, social media, content, email marketing, and so much more. This can make it seem overwhelming and with many different tools needed for each type of marketing and outreach. HubSpot for Manufacturers not only makes it easy to integrate different tools if they are already working well with your team, but the platform's capabilities can also make it a one-stop solution for all of your outreach and lead nurturing needs.
The Ideal CRM: HubSpot for Manufacturing
Digital marketing opens up millions of doors, but it can be hard to tell which methods and platforms are right for your business. When it comes to the manufacturing industry, Hubspot for Manufacturers is the best solution on the market.
HubSpot is designed for scalability and an easy user experience. Even if your staff is not incredibly tech-savvy, the program is fairly easy to pick up and has a dedicated support team and knowledge base you can reference at any time. HubSpot is meant for meeting your business needs as your firm grows and without adding unnecessary features and functionalities that make it too complex and time-consuming to use.
Keeping track of emails, social media interaction, and clicked links can seem daunting. Platforms like HubSpot simplify this process and provide a top-down view of interactions with every lead and customer. This not only provides a thorough picture of how long your company's sales cycle tends to be, but it also makes it easy to effectively calculate the ROI on your digital marketing efforts.
HubSpot's extreme versatility and customization options are one of its main attractions, but so is its integration ability. HubSpot can integrate with numerous programs and functions for a "bird's eye view" of the sales, marketing, and customer service functions in an all-in-one platform. Other functions can be integrated as well, and these robust features provide in-depth insight and visibility on the entire customer journey.
HubSpot for Manufacturers strives to make customer relationship management simpler while improving the customer experience and addressing inefficiencies throughout your sales and business processes.
Manufacturers have incredibly long sales cycles where it can take up to a year, even more in some cases, which makes inbound marketing a top priority in the manufacturing sector. By amping up inbound marketing efforts with HubSpot's help, sales cycles can be drastically cut rather than focusing your resources on outbound marketing. HubSpot is known for transforming the old "sales funnel" model into the Flywheel, which centers around quickly blurring the lines between inbound and outbound marketing with strong SEO, content, and customer experience to continually delight prospects and make them frequently revisit your website.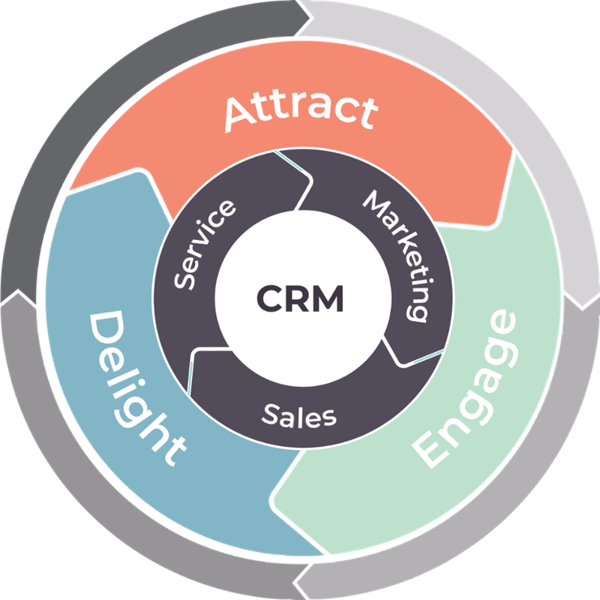 The incredibly long sales cycle creates a challenge, but also an opportunity to include engaging content on your website. You can read more about how LAIRE helped Conitex Sonoco close $100,000 in sales in just one month by aligning its sales and content strategies with HubSpot.
Why Work With a HubSpot Partner Agency Like LAIRE?
When you partner with a HubSpot Partner Agency like LAIRE, you have the assurance that you are working with experts on the software.
Any digital marketing platform that is rich in features and functionality is going to have a learning curve, and you don't want to work with marketers who only have a cursory knowledge of the platform. At LAIRE, our experienced digital marketing experts understand the sales cycles, common pitfalls, and specific needs of the manufacturing industry.
As a result, we know how to create impactful campaigns that will generate your desired results and help your firm get the most value and usability out of HubSpot's powerful capabilities. You can learn more about how we help manufacturers adapt to HubSpot for scalability here.
Contact us today to speak to one of our digital marketing experts and learn how you can scale your manufacturing firm for the future.