Your sales team is the bridge between your manufacturing and the consumers you serve, communicating a breadth of information to your customers from product specs to applications. Therefore, supporting your sales team with all the information they need in the most engaging, persuasive and comprehensive manner can be a make-or-break component to your sales process. Sales enablement has one main focus – equipping your sales team with everything they need to sell successfully. Discover what you need to know about sales enablement and how your manufacturing sales team can benefit from sales enablement support.
What is Industrial Sales Enablement?
Industrial sales enablement is a practice that promotes manufacturing sales growth through planning, content and technology designed to empower your sales teams. Effective sales enablement can help shorten sales cycles, improve buyer interactions and increase sales team efficiency.
Sales enablement is not a substitute for marketing, and vice versa – while both areas focus on creating content, the primary audience of each team differs, as does the medium. The responsibilities of sales enablement can be broad and include activities such as:
Sales training and coaching
Creation of sales assets
Sales and marketing communication
Reporting and measurement of sales success
In an ideal business structure, marketing and sales enablement work hand-in-hand to create a consistent message for the consumer across all channels. This sales and marketing alignment can allow both teams to capitalize on their strengths and lean on each other to develop a strong message for the consumer.
Three Core Elements of Industrial Sales Enablement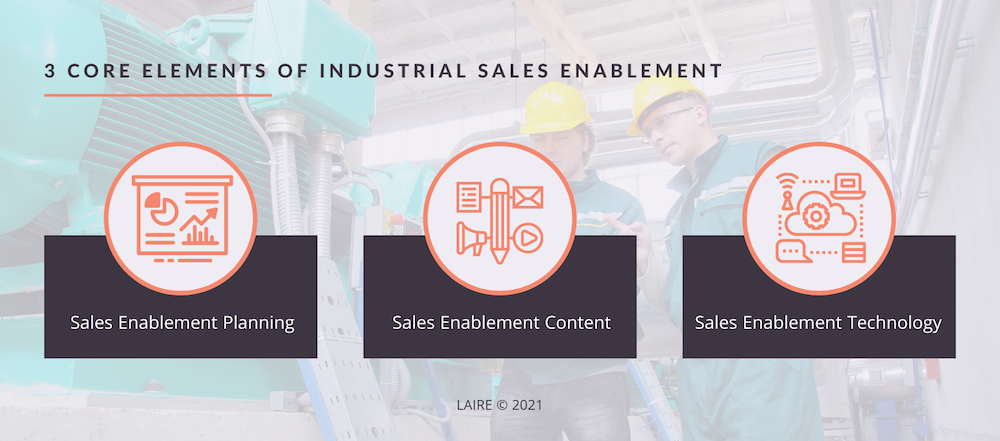 Sales Enablement Planning
Planning is an essential first step in the process of building a solid sales enablement structure within your organization. Any changing process requires a strong foundation that your sales reps can lean on when learning a new way of selling or revamping their existing strategies. Above all, your planning needs to outline your sales team's areas of need, define your growth goals, and create a plan on how to achieve those goals. Before you solve the "how" of implementing a sales enablement strategy, determine the "why" – why does my team need this?
Sales Enablement Content
The content you arm your sales team with should tell a story. As manufacturers, you know your customers are looking for precision, quality and value when choosing a manufacturing partner, and this should be reflected in every piece of content you create. Here are just a few examples of the types of content an expansive sales enablement program would produce for their sales team:
Case studies/customer testimonials
Competitive research/battlecards
eBooks/whitepapers
Blog posts
Executive presentations
Sales scripts
Throughout your content library, you should always aim to answer a few key questions that your buyers may have. What is the value of this product or service? Will I see the ROI I want? Why is this product or service the best option for me? Anticipating what your buyers are going to ask can help you create content tailored to the customer, not to your offering, and you can add on to your content as your sales team gets more experience with a new framework.
Sales Enablement Technology
Investing in the technology your sales team needs will support a more efficient and effective sales process, but how do you know the tools that are right for your salespeople? There are many sales enablement tools out there, and each offers a different benefit to help your sales team further develop their skills - discover a few of the types of sales enablement technologies you may consider implementing:
Define Your Target Audience
In order to deliver the most effective sales message for your customers' specific needs, it's essential to narrow your scope and define a target audience. Developing buyer personas can help you determine the demographics, job titles and professional needs of your ideal customers. These personas vary across different levels of the organization and the size of your customer's company, so developing multiple buyer personas can help you target everyone you may interact with, from executives to operators to programmers and more. In addition,
You'll then be able to guide them through a planned buyer journey, which outlines the customer's path to purchase, from introduction to purchase. Answering the question "Do I need this?"
Plan Your Content
Whether you're selling a new product or expanding your customer base of an existing offering, you may have a bank of content that your sales team relies on with a wide range of topics, formats and messaging. Creating a content strategy that works means that these areas should be in alignment – every piece of content should support the sales process and be able to send a clear message on its own or paired with supporting content pieces. Perform an audit of existing content – determine what works, what doesn't, and what can be edited or adapted to fit your goals. Once you've established any gaps, a content calendar can be a helpful tool for planning and scheduling future content that will round out your library.
Enable Sales Access to Content
Once you've created a library of content for your sales team to utilize, where does it live? Whether you have a centralized folder in your office server or on a content management platform, it's important to make your sales enablement content easily accessible to your sales team so there is minimal hassle in accessing the valuable information they use on a day-to-day basis. Your content may need to be updated and edited over time – when this occurs, be sure to communicate with your team about any updates that have been made to ensure they're not referencing an outdated piece of content.
Keep it Buyer/People Focused
According to Salesforce, 80% of customers say that the experience a company provides is as important as its products and services. Throughout your sales enablement development, from creating your buyer personas to investing in helpful tools and technologies, you are setting your sales team up to foster a better buyer experience, from their first impression to a closed sale. Building meaningful relationships with your customers will not only result in increased satisfaction with their buying experience, but can lead to even further sales opportunities in the future. Creating customers is one thing, but creating loyal customers will take your sales to the next level.
Conclusion
For manufacturers, sales enablement is an effective tool for creating an effective sales process and ultimately promoting manufacturing sales growth. Arming your manufacturing sales reps with the content, training and coaching they need will help them communicate a clear and effective message, one that will make the most impact on the buyer and answer the question "Do I need this?" The tools you utilize and the content you create should be tailored to your business' unique needs and serve as a comprehensive resource that is ever-evolving, just as your sales team evolves. To find out how your marketing plan stacks up, grab a free copy of our Manufacturing Marketing Checklist.