For even the most niche industries, the world of digital marketing holds fresh opportunities for any brand who dives into the process of building a tailored strategy. Using an integrated approach of digital marketing tactics is a key solution to consider if your brand is lagging behind in comparison to members of other industries. Revolutionizing the way you attract, secure, and analyze leads is critical to achieving business growth in our ever-evolving digital world.
Manufacturing companies in particular are notoriously far behind other B2B industries in terms of using digital marketing tactics to attract new business, despite having shown meaningful growth in the United States since 2018. Industry health aside, research suggests that there is plenty of room for modernization with popular manufacturing marketing strategies having evolved little, even in the digital age.

The clear disparity between manufacturing and other B2B industries in the digital space means that simple, low-cost changes have the capacity to foster meaningful growth for your business.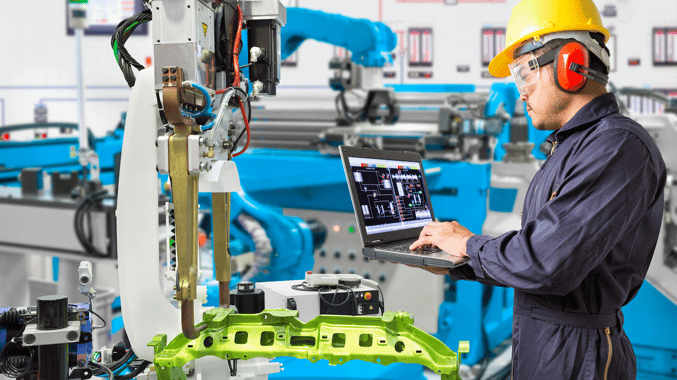 Digital Marketing for Industrial Companies: Why You Need It
Digital marketing is underused in the manufacturing industry
Among the B2B universe, statistics show that brands in the manufacturing industry are significantly less active in the world of digital marketing even today. According to the 2017 CMO Survey, manufacturers reported that 7.9% of their sales took place online, noticeably low compared to online earnings for other predominantly B2B industries. Additionally, the reported marketing budget allocated by manufacturers sat at an average 3.2% in comparison to the reported 11.3% among all industries. The obvious space for growth suggests that manufacturers could make significantly impactful changes in the quantity and quality of their leads by moving to occupy this space.


Digital marketing is low risk for manufacturers
Compared to traditional marketing tactics, the stakes of digital tactics are much lower in terms of cost and resources. Even pieces of organic content with little production value like blogs, social pages and case studies can be significant players in your digital marketing strategy. While marketing overhead in the manufacturing industry is already low on average, it can be lowered even further in relation to the results it produces. Digital marketing is a tried and true route to reducing Return on Investment (ROI) for companies across a variety of fields.


Digital marketing tactics are trackable
One revolutionizing aspect of digital marketing is the goldmine of trackable information available to brands who take part in it. Tactics including eNewsletters, social media ads, and organic content marketing oftentimes automatically provide access to information about not only who is viewing and responding to your efforts; but additionally for how long, how frequently, and how engaged they are. Beyond that, using easy-to-implement strategies like UTM codes allow brands to even further analyze exactly which efforts work exactly how effectively -- providing crucial information to guide and optimize future efforts.

Now you know the why, but what should you be working toward? Simple initiatives can provide meaningful benefits when members of the manufacturing industry prioritize digital marketing spend and make the most of their strategy.


Marketing Goals Your Manufacturing Company Should be Reaching for


Become a reliable source of reliable manufacturing information
Capitalizing on relevant trending topics, presenting new industry ideas, and engaging in discussion with other key industry players brings your brand to the forefront of the industry and establishes a reputation of credibility and innovation. By sharing thought leadership pieces that take on an interesting, valuable perspective, you convey that your thriving brand not only has a story to tell, but one that betters the manufacturing industry as a whole.


Digital marketing helps manufacturers diversify your client base
If you're like many brands in the manufacturing industry, you rely overwhelmingly on traditional marketing tactics like print assets and trade shows to conduct business and interact with prospects. Digital marketing opens up access to a much more expansive audience -- especially when you take advantage of targeted advertising options.


Digital marketing increases brand recognition across the manufacturing industry
Despite the previously mentioned fact that very little sales for manufacturers take place online, reports show that 89% of B2B clients rely mainly on the internet to research companies within any industry. Curating and maintaining an active digital presence is no longer a bonus but rather a priority to reaching a vast majority of modern clients. Not only does building your virtual presence increase brand awareness, but opens new opportunities to drill down your brand identity and build trust with your audience.

Now it's time to put theory into practice. Although digital marketing as a whole may be uncharted territory to many manufacturers, the methods behind the magic are actually quick conceptually simple, and best practices and overall guidelines have already been well established throughout the rest of the B2B market.


5 Digital Marketing Tactics for Manufacturers to Implement
1.) Invest in your website
Even if your products and services speak for themselves, there's no harm in improving how you convey their story. Especially when an impossible-to-ignore majority of B2B consumers heavily use the internet to compare and choose companies, the quality of your website's first impression is critical. Prioritize keeping up with industry standards and dumping outdated designs, user experience is always something that can be improved year after year.
Try to establish the following in your website:
• Lead forms: conducting business virtually creates a goldmine of opportunities to learn more about your prospective or current clients. Simple lead forms integrated with incentives like white papers, consultations, samples or content can capture valuable lead information that can help you strategize and nurture potential deals.
• CTA's: a Call to Action (CTA) is any engaging verbal direction given on the website that entices the user to take a specific action, including directions to "sign up", "learn more", or "request a sample". Although a seemingly small no-brainer, strategizing your CTAs are shown to have meaningful results -- research shows that personalized CTAs perform 202% better than the generic.
• Optimal UX/UI: User experience (UX) and User interface (UI) are website design elements relating to how easy your platform is for users to access, navigate, and use from a variety of devices. By modernizing your website with high-quality contemporary design and intuitive navigation, you improve your virtual first impression and automatically entice users to interact with your brand.


2.) Optimize your content
Anyone in marketing has heard it before: content is king. Creating and curating a valuable digital content strategy is low-cost and high-result compared to more traditional content tactics. Invest in creating engaging pieces of content that are shown to yield engagement. For example, video is one of the most popular and best performing forms of content online, and easily generates interest in your brand if done correctly -- in fact, 54% of consumers claim to want to see more video content from the brands they support.. It's also a great way to illustrate what your brand actually does and how they do it, as the inner workings of manufacturing are often vague to most B2B consumers.

Another way to optimize the content you produce is to determine the most effective keywords that are capable of penetrating your ideal audiences online. Once you determine the key words and phrases that effectively drive valuable leads to your website, it's simple to prioritize adding these phrases to your future written content.

3.) Invest in digital ads
Traditional advertising tactics are far from dead, especially for manufacturers who still often gain new business from formal events like trade shows. However, digital advertising is one of the best marketing methods to put your budget behind, because you're capable of seeing exactly what your efforts reap. Additionally, you can target your audience with pinpoint precision based on a variety of specific demographics like occupation, interests, location, age and more.

There are a variety of different forms of digital advertising spread across various mainstream platforms, including PPC ads, social media ads, display ads, Google ads and more.

4.) Be a thought leader
As mentioned before, one significant advantage to integrated digital marketing into your strategy is the increased ability to establish your brand as an industry leader. Presenting fresh ideas and generating discussion with other key industry players brings your brand to the front and center of the industry as a whole.

Digital marketing provides a goldmine of new opportunities for your brand to share its nuanced knowledge that sets it apart from competitors, and demonstrate the cutting-edge products and services you provide in action. Thought leadership involves valuable, informative written content such as articles, blogs, or case studies -- best if credited to a major name that publicly represents your brand like the CEO or another executive. Create meaningful content that calls users to visit your website, and eventually you'll watch website traffic increase while valuable backend data from the content you share builds up.

5.) Nurture your leads
One of the most unique benefits to digital marketing is the ability to pinpoint exactly how successful your efforts prove to be, and the data provided by each tactic that can help you strategize and improve for the future. Additionally, digital marketing is a great way to capture leads and prospect contacts, allowing your company to then properly foster and maintain these relationships.

The increasing popularity of artificial intelligence has majorly upgraded the lead nurturing process. Automatic marketing solutions like HubSpot are capable of personalizing the way you track prospects and even able to predict responses and send customized messages at the statistically "right" moment. With digital marketing, you can build yourself a stockpile of information to inform your team who is eyeing your brand and what exactly they're looking for.

Conclusion
Although the digital world changes so quickly that it can be hard to keep up at times, digital marketing offers plenty of opportunities that are not only intuitive to engage, but more cost efficient compared to many traditional marketing tactics. When it comes to marketing, strategy can't be generalized enough to apply to everybody -- but by taking the time to get familiar with the digital space and start integrating tactics little by little, manufacturers can create and implement a optimally tailored strategy capable of creating results that speak for themselves.
---
Are you ready to start bringing in the right prospects? Download the Manufacturing Marketing Checklist to get started!