Keeping a steady stream of new clients coming to you as a financial advisor is a critical way of maintaining and building business. Yet, the process is not always easy. One of the most effective methods to do this is to use referral marketing for financial advisors.
Why Are Referrals So Valuable to Financial Advisors, Accountants, and Similar Organizations?
It's simple. A referral occurs when a friend or family member recommends a service to another person. That often means they've had a good experience. People are more likely to trust a referral from a friend for a financial advisor than any ad placed online or elsewhere.
With the help of positive referrals, financial advisors can build their business. It's also a positive confirmation – your services meet the needs of customers and, often, beat their expectations in the process.
Tips for Boosting Your Financial Advisor Referral Program
How do you get people to refer your services to their friends and family? A financial advisor asking for outbound referrals is not a bad thing. In other words, you can simply ask your clients to recommend you to their friends and family. Most people will not hesitate to do so as long as they've had a good experience.
However, a referral program is a more effective and sometimes less hands-on method. It also can prove to be more rewarding. Creating a referral program means that you are giving your client – those who tell others about you – something for that transaction.
Incentivized referral programs are often more likely to come to fruition. They also create better referrals. First, people are likely to refer an individual whom they think would most benefit from your services – they want the incentive you are offering, so they will tell those who are most likely to take action.
More so, people are more likely to sign up for services that they need when the company offers something for free or some type of additional perk for signing up now. A financial referral program is an excellent tool because it encourages people to sign up but also not to wait to do so, especially if you place a time limit on the offer you are giving (though that's not always necessary).
When you develop a referral program of some type, consider what you think your most likely client is going to appreciate. You may even want to ask some of your existing clients what would motivate or support their needs above and beyond what you do now.
There are many potential options for financial advisors. For example, some professionals offer a percentage off of their services. This can be a bit more expensive if you are using it on a large scale – just make sure it fits within your expectations and goals. Other options can exist as well. For example, referrals may qualify for a free evaluation of their existing accounts or needs. Sometimes, if you often charge for an initial consultation, one of the best free perks to offer is that free consultation.
Think about other types of incentives that may turn the heads of your most likely clients. Make sure these are perks that will attract the type of client you are most likely to work with on an ongoing basis.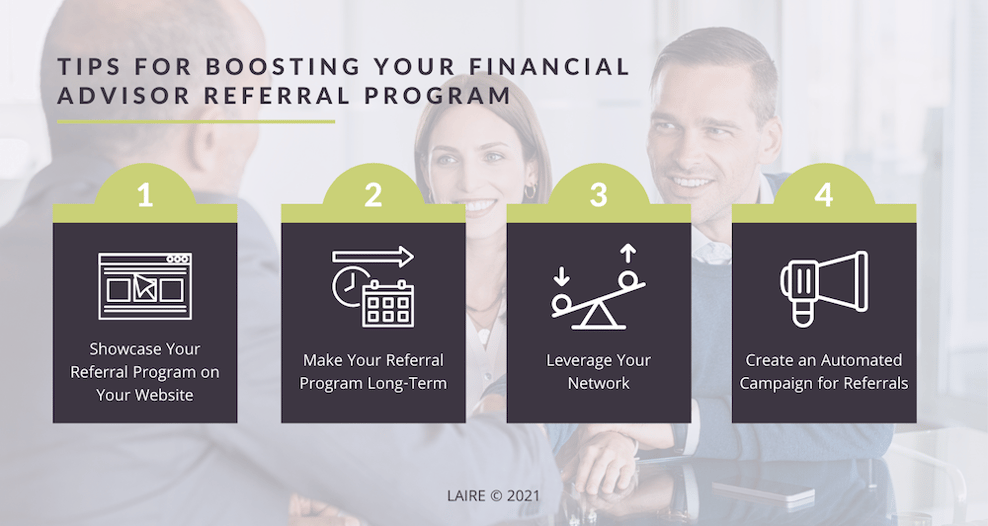 Showcase Your Referral Program on Your Website
The only way referral marketing for financial advisors works is if you tell people about it. That seems simple enough, but it's not always showcased well enough. When you work with a team of professionals, they can help you to create a solid landing page to help you to make your referral program clear.
Optimize landing pages that outline your referral program – and be sure to include all of the details that make this offer worthwhile. That is, be sure to tell the reader what the value of this service is in monetary figures, but also in what it could mean to them. It needs to be clear that this is a valuable offer and one that is relevant to what they are looking for and need to improve their financial wellbeing.
You want your audience to be able to see everything they need to learn about the referral program. They also need an easy way to act on it. Make it clear what they need to do to get the service you are offering. To make that easy to navigate, make sure there is a call to action (CTA) on the page.
This should include a full contact form. That form needs to include key information to ensure you can contact them and get an appointment set up. For example, it should allow the person to submit their name and contact information. It should also include an option to submit the referring party's name and email address so you can give them proper credit for the service.
Make Your Referral Program Long-Term
There are a lot of ways to customize a referral program to ensure it hits all of the right levels of interest for clients. Yet, one common mistake is creating a short-term referral program. This is often a sign that you need to boost revenue and do so only for a short time. Sometimes, financial advisors and other professionals see referral programs as too expensive and limit how long they offer (or market) them because they want to reduce costs. This can cost you money in the long term.
Short programs do generate buzz and offer support for those who need it right now. The short-term increase in referrals is a good thing. However, the biggest problem with this is that not all of the people referred to your program are going to need your services right now. If you limit how long the referral is, you're excluding people who may need to think about it for a bit.
A better option is to set up a referral program that you plan to keep in place for the long term. This way, you can reward financial advisor referrals for months to come or even longer. An ongoing program enables people to sign up at any time they are ready, knowing that the service you are offering is available to them. It is not uncommon for people to wait a year or more from hearing about the service to take action.
Leverage Your Network
The best referral sources for financial advisors are the people that you are already working with and helping now. Do not be afraid to ask your existing clients to refer your services to their friends and family.
Don't stop there, either. You can ask your friends and family for referrals, too. Many times, that huge network of people – friends of friends – can often provide an excellent level of access to potential new clients. It may even prove to be one of the best resources for helping you to build a stronger business.
How do you encourage people to support you? It's easy. Ask your current clients about it when they come in to see you. It's a super simple way to encourage them. Even provide a document to help them. It is also important to ensure your social media is working to help you as well. For example, you can ask an existing client if they would head to your social media page (or their own) and share their experience there with your company. That creates a big stream of potential clients. Perhaps even take a photo with your clients that they can use to post on their social media to draw attention.
Create an Automated Campaign for Referrals
Referral marketing for financial advisors is a critical investment. That's why you want to ensure you have numerous ways to connect. An automated campaign does this by sending emails to segmented lists asking for referrals. It often includes a sweet surprise if they sign up – whatever you decide to offer.
Use this type of tool to ask current clients to level you a review on Google for increased credibility and visibility to potential organic clients as well. You'll find this is a simple way to boost your rankings there, too.
Get Started with LAIRE
Working with experts in referral marketing and automation for the financial industry ensures the best long-term outcome for your referral program. You'll get hands-on support creating not just a referral program that turns heads but also managing the entire digital process of setting it up and maintaining your campaigns.
At LAIRE, we understand the time required for generating quality leads and running referral campaigns. We have all of the tools and resources you need to set them up and run them with expert precision. If you are ready to grow your business and want to learn more about inbound referral marketing for financial advisors, our team is ready to talk to you about your options. Let's talk about the ways we can help encourage the growth and development of your organization from a digital standpoint.