With the catastrophic events of the 2020s to date, there is an unprecedented demand for financial advisory services from Americans of all generations and income levels. It's important for financial professionals to learn how to increase their online presence in order to capitalize on this demand and divert some of this colossal amount of web traffic your way.
Here's how to generate leads for financial advisors who want to stay ahead of the curve and keep those leads coming.
Millennials are the largest and most diverse generation in American history. As they enter their forties in an incredibly different world than the one their parents inhabited, they are seeking financial advisors in earnest as they face these vastly different needs and realities with uncertain futures. And while they're apt to ask friends and family for recommendations, 73% of people under 40 will hit up Google and 52% seek a financial advisor on LinkedIn.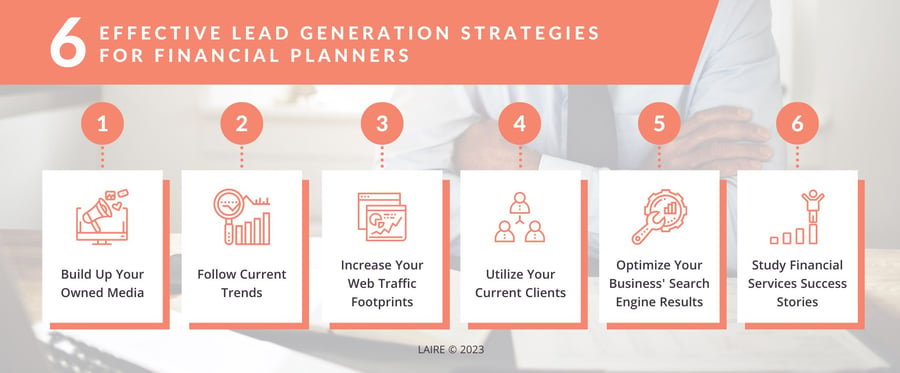 Build Up Your Owned Media
Owned media refers to anything that is directly under your control. This includes content on your website like web pages and blogs, catalogs, and email newsletters. Social media straddles both owned and earned media, while paid ads are media but you can usually control the appearance and placement.
Building up your owned media can seem time-consuming or unclear whether it's producing results. However, it's the cornerstone of a successful digital marketing strategy. The more that your business is discussed in your owned media, the more likely it is that potential clients will find out about it. Thus, you want to leave a good impression and you have control over your own blog content and social media posts.
If you were the kind of client you want to serve, what would you be searching for online? Write or commission blog posts on these topics. Develop and hone your brand voice on social media to see if your message resonates with this target market, and what is and isn't responsive.
Follow Current Trends
Financial professionals are often seen as being behind the times. The last thing you want is to live up to this stereotype. One upside of the COVID-19 era is that connecting to people digitally has become the norm for all types of professional services, and there was patience as millions of small businesses like yours were figuring out how to adapt to purely digital methods.
But while you may have pivoted to Zoom and phone calls to take the place of meeting clients in person, you might still be behind on digital marketing trends and norms. Having social media accounts at all is a good start, but are you routinely posting content on there and jumping on relevant hashtags? Researching your competitors and seeing what is and isn't getting engagement?
There could be a new platform or technique you're overlooking. For instance, TikTok tends to get dismissed as a meme app for the younger generation, but you don't need thousands of followers to have entertaining and helpful content go viral on the platform.
While things have "gone back to normal" you can still experiment with the new norm and continue to develop your voice as a brand. If you're overwhelmed by lead generation or aren't sure about what you're doing, this would also be a good time to hire people who do.
Increase Your Web Traffic Footprints
Increasing your web footprint requires all types of content: owned media like your blog, paid media like ads and earned media like reviews and articles.
Social media can build up your online presence and provide links to your content, in addition to being a valuable way to find leads. However, organic social media traction can take time to generate. Faster methods that don't involve buying ads or sponsoring content would include websites like HARO (Help a Reporter Out) that can get you mentioned in earned media like the news and web content, as reporters and content creators often need to get experts' quotes and opinions.
When you're just starting to build up your digital presence, blogging is often the easiest route to go. This is because you have full ownership and control of the content, and it is also important for link-building and your website to be seen as authoritative. Blogging regularly shows that you are engaged with your audience and that you are committed to your area of practice.
Your blogs can serve as discussion points in the comments section, on social media, or through your email list. In addition to getting eyes on your website, the way that readers behave with your blog will also inform you how they'd prefer to engage with you. They might not comment on your actual blog post, but be responsive through email or social media.
These insights will help you figure out what you need in order to grow and if you choose to work with a marketing agency to help you out, they can offer recommendations even if you don't end up working together.
Ultimately though, word of mouth is still how people hear about businesses. If existing clients and people in your community aren't helping you land more clients over time, building your digital presence is going to be crucial to get people talking about your business. Think about focal points of your practice that aren't commonly discussed, and what your target market is talking about--then jump on it.
Utilize Your Current Clients
It's common knowledge in marketing that it's easier to sell to a client who's already bought from you than acquiring a new one. This is true in the financial services sector as well: except that while someone is less likely to require financial planning services multiple times a year, they will be likely to come back to you when they need you and when they have friends, family, and co-workers who need you as well.
The relationship with your clients is one that gets underutilized. But testimonials, reviews, and social media traction are all forms of earned media (media that you did not sponsor and is user-generated which specifically discusses your business) that are intensely valuable and can help leads decide to choose you over a competitor.
Ask your existing clients for referrals, or start an affiliate program so they have incentive to find new clients for you since they are happy with your services and can personally vouch for you. When creating testimonial content for your website, ask why your clients chose you over competitors they were considering. Ask them about problems that you solved and why it keeps them coming back.
Optimize Your Business' Search Engine Results
Search engine optimization, or SEO, relies on keyword data to bring results all the way to the top of search engine results pages (SERPs). The old days of SEO are gone, where site owners would stuff web pages and blog posts with keywords in an attempt to make them rank. Today, your web page must have the authority that comes with a valid domain, link-building, excellent keyword placement, and is crawlable in search engines.
Making your website crawlable means that you've taken care of technically unsound things like broken and outdated links, cleaning up your sitemap, and orphaned pages that may have come from redoing your website or never building out a page that you initially intended to. If your website isn't crawlable, it isn't going to index in search engines and this is going to kill your SEO efforts before they start.
Once you have a functional website that is crawlable in search engines, it's time to do some keyword research and determine what people are looking for. You can do some free keyword searches with the predictive text in Google, Bing, and other search engines. Keywordtool.io has a free version that lets you see longer lists of different engine results when you try various stem keywords, like "financial planner".
Keyword ranking is based on global volume but also on ranking difficulty. So while you have a hot seat for potential ranking with the huge uptick in demand, it also means you have more financial planners and firms to compete with.
Don't focus on simple keywords where large firms with more resources will rank for them with paid search (the SEM part of digital marketing). Find long-tail keywords that are 3-4 words, especially those that rank locally if you're seeking local clients, and focus on building content around those keywords. Search volume alone doesn't drive a successful keyword strategy if it's too hard to rank.
Backlinking to your own web pages and blog posts will also help bump up the link on SERPs and is a good SEO practice.
Study Financial Services Success Stories
Look at businesses that are doing an excellent job at generating leads, even if they're not in your industry. What are they doing right? How do you think they're having success?
It could come down to their branding, outreach, location, or capitalizing off a specific platform or knowledge area. Learn from their success so you can apply it to being noticed in the crowd.
If you're still struggling with generating leads for your financial advisory firm, you don't want to work with just any digital marketing agency. LAIRE specializes in lead generation for financial advisors, and SEO techniques tailored to professionals in the financial industry.
Partnering with brands and agencies that specifically understand your business and how it ties in with current trends and events will go a long way in building your own digital presence. By seeing their content quality and which digital strategies made them successful, you can get an idea of which strategies you need to replicate and how collaboration would be mutually beneficial. Contact us today to learn more.