Hiring a marketing agency to handle your digital growth needs is a smart decision and, of course, we're biased. In all honesty, an inbound marketing agency isn't right for everyone. However, a company interested in continued, scalable growth in the neighborhood of 15 to 25% a year should consider assistance from an outside marketing agency. So, how much does an agency cost? It depends on a few factors.
Defining Inbound Marketing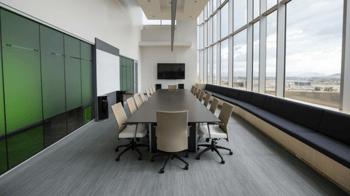 Before I go any further, I want to briefly explain what
inbound marketing
is. Inbound is all about bringing clients to you. People turn to the internet to research. The goal is to create relevant and helpful content for those people until they're ready to talk to a salesperson.
Inbound is a departure from outbound marketing. Outbound marketing is the traditional way to market a business by reaching out to your target audience. Think cold calling, trade shows, seminars and cold emailing contacts from a purchased list. Yuck!
What are your business' goals?
This is the most important question you'll get from an agency. You shouldn't work with an agency if they aren't asking about your goals. An inbound marketing agency's job is to help you attract and convert leads. It's up to the business owner to determine the size of investment they'd like to make. Hiring an agency isn't about the cost, it's about the investment. Dedicating more money into your marketing efforts will increase your site's traffic and bring in more qualified leads for sales to close.
What you get for your money
Some inbound agencies will make a lot of promises in order to get your business. Beware. You should expect website optimization, strategic planning, content creation and marketing software expertise. Content amplification such as paid ads on google and social media should also be included to bridge the gap between organic search catching up to your new content being found too.
If you're not getting those items, you're not implementing inbound marketing. If you're not getting inbound, you might as well be doing outbound marketing (which is more expensive with less results).
Need help setting a marketing budget? According to the U.S. Small Business Administration, small businesses with revenue less than $5 million should assign around 9-10% percent of their revenue to marketing. So if you want to grow $1,000,000 this year in new revenue, expect to spend $90,000 to $100,000 to help you get there.
The Cost of Inbound Marketing
Inbound marketing is an all-encompassing methodology. All of these pieces add up to digital growth:
Marketing Automation Software
You should use marketing automation software if you want to implement inbound effectively and with accountability. Inbound is possible without a software program, but it'll be much easier with it.
We use HubSpot here. It fits our needs and gives us the best chance to produce results for ourselves and our clients. We love HubSpot's comprehensive tools and reporting capabilities. This one program allows you to manage your website, create landing pages, emails and post to social media. (That's just a handful of things HubSpot can do for a business.)
There's a sales side of HubSpot that's also worth considering.
Overall, you can expect to pay as low as $200/month and up to $2,400/month depending on what you need.
Strategy
It takes time to plan and strategize a company's marketing efforts. The cost is time, which can be hard to find. You need to find someone that can do it and that could mean a new hire. You can bring on a new employee or hire an agency.
Content
Speaking of time, content creation isn't a quick process either. This is an area where you execute your strategy. Content should be posted with a plan and purpose. Be sure to keep search engine optimization best practices in mind.
Your strategy will determine what, when and how your content will be posted. That's your chance to think about who is going to do the work. You can handle it in-house, hire a freelancer or get an agency to do it for you. You're looking at a couple hundred dollars a month to several thousand dollars a month depending on your plan.
Website
Content creation will drive more traffic to your website but you need to have ways to convert those website visitors into leads. The site needs to be SEO, mobile, and user-friendly as well as it needs to have conversion points. Most of all, it needs to work. We've seen too many websites with dead links or poor images.
You can find free website design templates online. If you need help from a web designer, costs could be in the thousands or several thousands depending on the work. The price tag will reach the tens of thousands for larger, more complex projects.
Social media
Think of social media as a promotional tool to send people to your website and through your content for free.
Paid social ads are also part of this equation. Facebook ads can be tricky but effective. The investment here depends on your commitment to an ad strategy.
Social media management is a full-time job unless you bring on an agency to do it for you.
Conclusion: Inbound Marketing Agency Cost
With all of that out of the way, we can finally talk about the cost of an inbound marketing agency. An investment in an agency can be between $4,000 and $10,000 a month. Those numbers can be higher or lower depending on your business and the added offerings an agency has for you. Remember, your goals drive the cost here. Your business comes first. Think of this as the investment you need to make to grow. Weigh the expense against what it costs to hire just one employee to do a task as in inbound marketing you aren't sure exactly how to do. Bring in a team of experts and hold them accountable for your results. An agency expects to be held accountable and will be ready to get to work. Just as you would expect!