Your website is the best marketing tool in your arsenal, and when designed well, it can be your best lead generating machine. That's because it's your "always-on" salesperson, available to your potential customers twenty-four hours a day. It's also often the first place that people interact with your company, making a lasting impression. In fact, 88% of consumers say they are less likely to return to a site after a bad experience. Many companies either undervalue the marketing potential of their website, aren't quite sure how to leverage that potential to the fullest, or they are hesitant to begin the long, strenuous (and costly) road of redesigning their website.
Let's face it, website redesign projects are stressful, expensive, and risky. They take a lot of personnel, bandwidth, back and forth between stakeholders, and time (a new website build can take anywhere from 3-6 months). Not to mention the upfront cost. A traditional website redesign can cost anywhere from $12,000 to $150,000. After all that, your new site may not actually perform any better than your current one. Often these projects can go over budget and scope, and rarely do they launch on time. Talk about missing the mark on ROI. What if there was a better way? Enter Growth-Driven Website Design, the smarter approach to web design.
What is Growth-Driven Design (GDD)?
Growth-Driven Design is an agile and data-driven method for redesigning your website and improving your marketing results. It takes the traditional website redesign process and approaches it in a smarter way to mitigate the risks and problems that typically occur. This method also takes advantage of something that is rarely a part of traditional website development: data. Websites created using the Growth-Driven Design approach are much more in tune with your prospective buyer and drive more and better leads for your sales team.
Growth-Driven Design Methodology
The Growth-Driven Design strategy focuses on launching quickly and making continuous improvements in stages. Your website should never be stagnant. With a traditional website project, a lot of upfront effort goes into creating the design, copy, page flow, etc. Often, once a website is built in this way, it's a long time before a company revisits it to make any changes.
When creating a site using the Growth-Driven Design Methodology, the site is continuously optimized and updated based on user data and real results. This provides a better user experience and pathway to becoming a customer.
Growth-Driven Web Design vs. Traditional Website Design
Traditional web design is an unnecessary risk for your business. These projects take a long time to launch, have a large upfront cost, and usually go over the original budget and timeline because of unforeseen scope changes and back and forth delays. When the project wraps up, often companies will pat themselves on the back for a job well done, but the truth is, it is uncertain how much ROI you will get from a traditional website project. Worst of all, because of the enormous upfront cost, bandwidth, and frustration that comes with a traditional website design, there is a "set it and forget it" mentality, which means a site might not change for another 3-5 years. Talk about wasted opportunities.
Additionally, traditional website design can be detrimental to your business growth for many reasons:
The design is not based on user data - traditional websites are often designed based on opinions of internal stakeholders rather than facts.
It may not provide a great user experience - what seems like a cool feature or UI may actually be frustrating and cause visitors to leave and seek out a competitor.
There may be friction to lead conversions - your site may be unintentionally making it hard for prospects to take the next step toward becoming a custom
How to Redesign Websites a Better Way
With Growth-Driven Design, these risks are mitigated, and in some cases eliminated entirely. While they do take time, a GDD site has a much faster time-to-value because it uses a launchpad website design that can be created quickly. The launchpad improves your website user experience immediately without the typical 6 months plus wait time that comes with a traditional project. While it's not considered a final product, the launchpad site gives your team the opportunity to test creative features, messaging, and conversion points to see what resonates best with your audience. In fact, 51% of companies say updating old content has proven the most efficient tactic implemented to grow their business.
Because Growth-Driven website projects are data-driven rather than based on internal assumptions (which can often be wrong), they allow your site to be optimized over time to provide a better experience for your audience, improve your customer journey, and increase your sales pipeline. Additionally, with a GDD website the cost of the project is spread out over time so you don't have to worry about a large upfront investment that won't bring returned value for months (if ever). Not only will your site become a lead generation engine, with Growth-Driven Design you can actually determine the ROI of your website.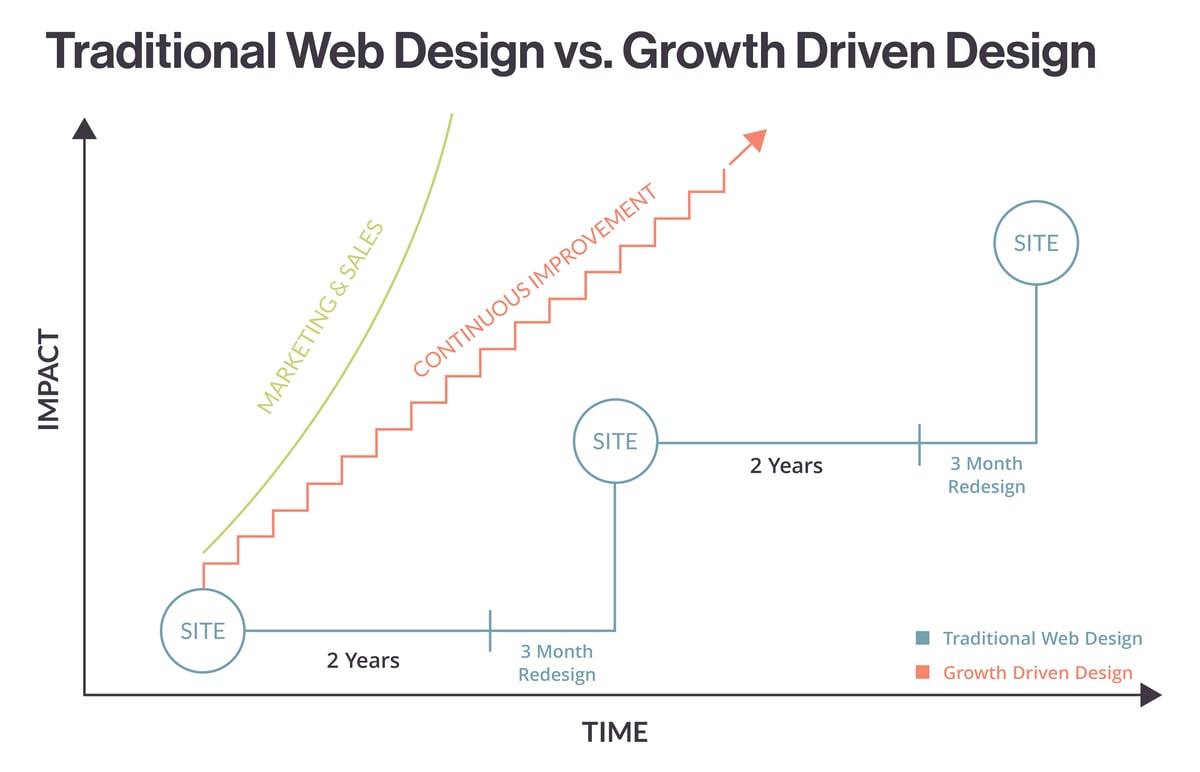 How does Growth-Driven Design work?
The Three Stages of Growth-Driven Design
There are three major stages in the Growth-Driven Design methodology. The strategy phase, launchpad creation, and continuous improvement.
The Strategy Phase
Because your website is meant to inform and connect with your audience and drive qualified leads to your sales team, the strategy phase is incredibly important. The goal of the strategy phase is to understand your audience and determine how your website can help solve their problems. This will help you create a website that captures more leads.
During this phase, you'll need to think about your ideal customer and their challenges and goals. How can your website make it easy for them to find what they're looking for? You should also conduct user experience (UX) research to ensure you have a good understanding of how to create a good experience for your audience (not just one that your employees think might be good). In the "Jobs to Be Done" step, you'll identify what pain points and needs your audience has and what drives them to choose your company's products and services as their solution.
The next step is to create buyer personas (a fictional representation of your ideal customer) that help you flesh out your user problem statements, unique value propositions, and how your company and website can help solve their problems. Rather than rely on only assumptions, it helps to interview current customers to better understand their pain points, goals, and how your business has met their needs. This process helps inform how your website can directly address these challenges. You may think you have a great understanding of your prospective customer, but you may be surprised by what you can learn from them.
Armed with this information, you should next map out your buyer's journey - what happens before, during, and after a person interacts with your business.
You'll also need to define your business goals and KPIs for the website. These goals should be SMART goals (specific, measurable, attainable, relevant, and timely) so that you can accurately measure the ROI attributed to your website. Using all of this data, you can create a website design that is beneficial to actual people who are a good fit for your business.
Once you have a plan to target your ideal audience, next you'll need to focus on strategy for specific website elements including site architecture, on-site SEO, important pages and sections, branding, site integrations, technical requirements, and more.
To round out the strategy phase of Growth-Driven Design, you will brainstorm a website wish list. The goal of the wish list is to include ideas that will provide value, solve user challenges, and help drive business goals. It can include features, modules, integrations, design elements, sections, pages, and more.
Launchpad Website Design
The second stage of the Growth-Driven Design strategy is to create a launchpad website. Because GDD aims to alleviate the issue of spending a long time creating a site that doesn't perform well, the launchpad site is a very important step in this data-driven process. It's also the part of Growth-Driven Design that many clients struggle with the most because it's so different from a typical website project.
Unlike traditional web design, with GDD the goal is to build a website quickly that looks and performs better than your current site but is not considered a final product. The launchpad is the foundation on which your new site will expand in the continuous optimization phase. By setting up a launchpad site quickly, you can test and collect data from real people interacting with the site without sacrificing a lot of time and money. You can use the data collected to help drive future design decisions. Because you can quickly improve on your current site using a launchpad, the time-to-value is much faster than in a traditional six month+ website build.
There is no cookie-cutter outline for building an effective launchpad site because every website is unique. That said, working with an established HubSpot partner agency to help with your Growth-Driven Design site can help you determine the best approach for your site. Even better, a company that is engaged in the Agile Methodology can help accelerate the creation and expansion of your launchpad website by working in sprints. A sprint is a short, set time period where a team focuses on completing a set amount of work. This allows your design team to produce high-quality work in a short period of time.
Continuous Improvement
After you've determined your strategy and created your launchpad site, the third stage of Growth-Driven Design is continuous improvement. This is the biggest difference between GDD and traditional website design. Rather than sit back and let your website rest, with the continuous improvement stage, you begin to identify high-impact changes that will grow your leads and revenue based on actual user data.
While that sounds easy enough, as with any website project, it may be difficult to stay focused on the areas of highest impact. The best way to stay on track is to use the simple agile process:
Plan
Outline the actions that will have the greatest impact on your current goals using a website performance road map. This is the most challenging part because there will always be many items you could work on, so staying focused on the data is key.
Build
In a focused sprint, create the highest priority items from the website performance roadmap. Make sure to include experiments to test these items for their effectiveness.
Learn
Step back and review the various experiments that you are running on the launchpad site. Use the outcomes to learn about your audience and incorporate them into future website updates. This is the most important step in the continuous improvement process because it allows you to gain a deeper understanding of your audience and how to meet their needs and your business goals.
Transfer
The last step is to transfer the knowledge gained from your experiments to the wider business. The insights from your website can be critical in helping inform the entire company and can be used to improve other areas of your business outside of just the website. In this way, your website can not only be a lead generation engine, but also an information-gathering tool.
Benefits of Growth-Driven Design
Growth-Driven Design is a much more effective and impactful way to build a new website than traditional website design, for many reasons.
Use a Smarter Approach
Launch quickly and continuously improve
Spread your investment over time + ROI which you can measure
Build your new website on-time and on-budget
Improve User Experience
Use data to make changes based on real interactions
Reduce friction
Increase your brand's trustworthiness
Boost Conversions and Optimize Results
Add and optimize conversion points
Test value propositions and messaging
Improve month-over-month
A/B test variables
Provide Lasting Business Value
Increase sales opportunities and customer interactions
Gain insights that can provide future business value
Results Driven Web Design
Traditional website design processes may produce poor results. While the traditional method of creating and designing websites may produce a beautiful site, they are often created with a narrow view of your customers and based on many (often inaccurate) assumptions. Growth driven design allows the website design process to be guided by your actual site visitors and potential customers. It is a smarter approach to creating websites that reduces the risk and frustration that follow traditional website projects.
Growth Driven Marketing
Not only does Growth-Driven Design produce better website results because you are always improving the performance of your site, but it also improves the performance of your entire company. A GDD website provides invaluable learning opportunities about your site visitors and potential customers that can be shared across the company. These insights can be used to improve marketing campaigns, sales conversations, customer service, and even drive new product development.
Ready to start your new website design?
Is your website driving leads and prospects to your sales team? When was the last time your website got an update? Companies that use Growth-Driven Design rather than traditional website design see a faster time-to-value and better lead generation while launching their new website in nearly half the time.
LAIRE is an agile growth-driven website design agency based in Charlotte, NC. We use the GDD methodology to create great results and help our clients attain continuous improvement of their websites. If you're ready to get started on a new website that will quickly bring value to your marketing and sales teams, reach out and connect with us for a Growth-Driven Design proposal.