Search Engine Optimization, or SEO, comes in two different categories: standard SEO and local SEO. Both of these categories are critical to improve the digital visibility of your business and to provide viewers with the exact information that they are searching for.
Out of the two SEO categories, local SEO can be easy to overlook. For businesses with limited reach and service areas based on geography, local SEO is crucial to connecting with your ideal audience and bringing new customers to your door.
What is Local SEO?
Local SEO is a powerful digital marketing tool used to increase visibility and rank your business higher in search engines. What's the difference between standard and local SEO? The main difference between these two types of SEO is one main factor: geography.
Local SEO targets web searches based on a certain geographical area where standard SEO does not. Even though standard SEO is important, local SEO shouldn't be neglected, as local SEO does in fact have higher conversions.
Here is an example of a local search. Let's say you are craving a mid-afternoon snack. You turn to Google to search "bakery near me" or "best bakery in Charlotte." Within a few seconds, you are shown a variety of different options to choose from. Because you are looking for a bakery based on a specific geographical area, it is known as a local search.

Let's turn the tables. If you decide to search "best bakery," it would not be categorized as a local search. Instead, it would just be a regular search because it does not have a specific geographical target or keyword.
Now that you know what local SEO is, what steps can your business take to leverage local SEO? Here are some ways your business can improve local SEO.
How to Improve Local SEO
As mentioned before, local SEO is crucial to the success of your business, but what can you do today to start boosting your local SEO? Here are a few ways you can start optimizing your digital presence through local search: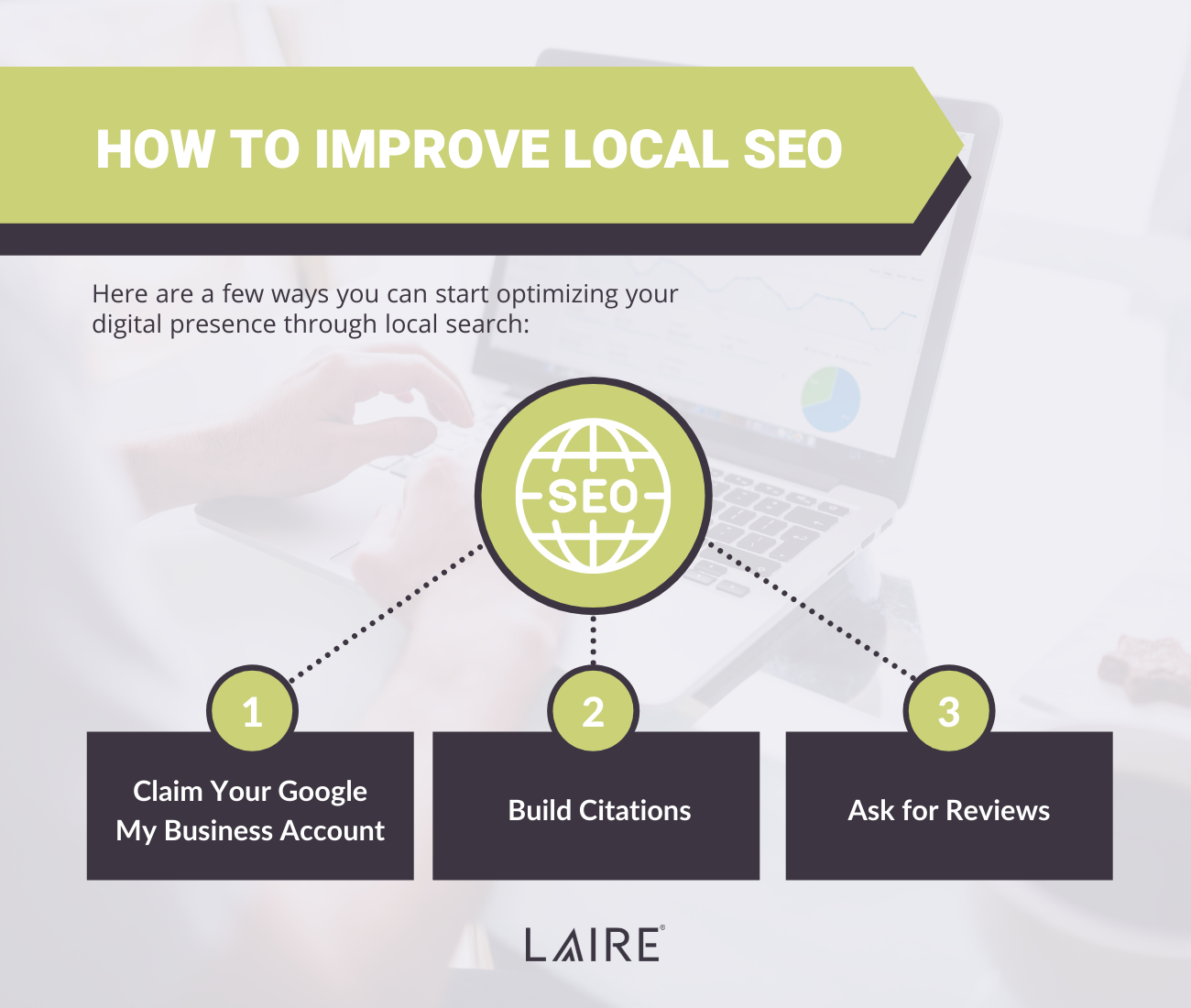 1. Claim Your Google My Business Account
Surprisingly, only 44% of businesses have claimed Google my Business. This is shocking because this means more than half of all businesses are missing out on a revenue opportunity!
Claiming your Google My Business account is essential. With Google My Business, customers can quickly find hours of operations, directions, and more in a matter of a few keystrokes. Your business will be difficult to find online without this.
To claim your Google My Business account, you will need to fill out the information about your hours, submit company photos, share company news, and give links to help users find out more about your business.
Here is an example of a Google My Business page: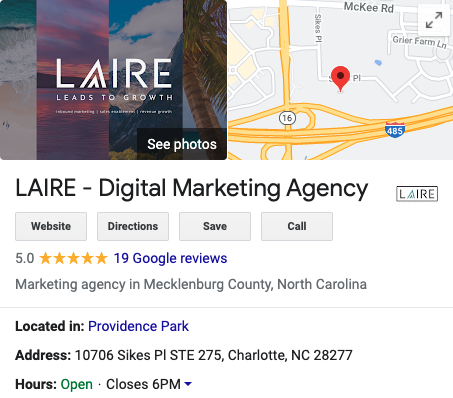 2. Build Citations
Citation building is when your business is posted on other websites or online directories. According to search experts, your business should build 20-50+ new citations within the first 2 months of being in business. The citations are crucial in helping you expand your business by allowing customers to find you through other websites and listings, instead of just on your website.
Some examples of places where you can build citations include:
Industry Publications
Vendor Websites
Yelp
Facebook
Yellow Pages
Local News Sites
Bonus tip: Be sure to revisit these citations to make sure they have accurate, up-to-date information about your business!
Let's briefly discuss the differences between structured and unstructured citations.
The Different Types of Citations: Structured vs. Unstructured Citations
There are two different types of citations: structure and unstructured. Both help guide your customer to your business, but they do it on different website types. Here are the differences.
What is a Structured Citation?
A structured citation is when your business is mentioned on directories such as Google+, Yelp, Foursquare, Bing, and Yellow Pages. If you offer a service, such as plumbing or roofing, you can also consider listing your business in directories specific to services, such as Angie's List. Submitting your business information to an online directory is a quick way for your business to build structured citations.
What is an Unstructured Citation?
An unstructured citation is when a blog, newspaper website, and other business' mention your business on their site. This can also be looped in with backlink building for other SEO purposes.
As an example, having a local news site write a column on your business is a great way to build an unstructured citation. This will build your local community base, and it will also show search engines that your business is connected to a certain geographical area. This will help potential customers find the relevant information pertaining to your business online.
3. Ask for Reviews
One overlooked way to build local SEO is by asking your customers for an online review. Search engines scan for sentiment and keywords that are in your business reviews. The more positive reviews that your business has, the higher your visibility will be on search engines.
More importantly, potential customers can get real feedback from people who have engaged with your business before. This will help potential customers make a better decision on whether or not they will choose to do business with you or someone else.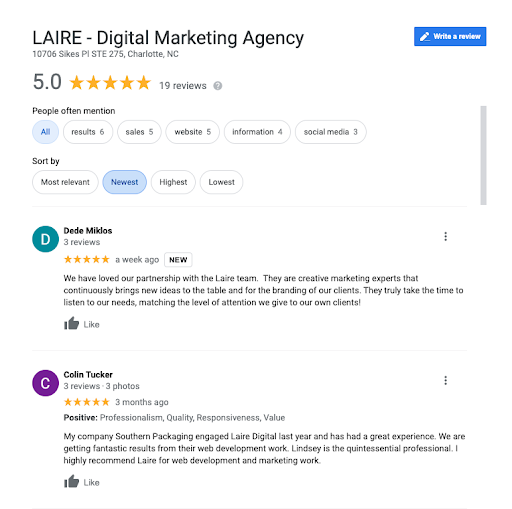 In the same regard, the more social media shares your business has, the higher your site will be ranked. Social media users can see who has a "check-in" with your business, and they can see the engagement on your social media account. Social proof is a main factor in the decision process for many potential customers because the sentiments come directly from others who have used your products or services before.
Never Stop Optimizing
After you utilize these tips for local SEO, don't stop. SEO is an ongoing journey, not a one-time task. Always revisit your site mentions to make sure that your information is complete and accurate. The last thing you want is for a potential customer to click on broken links or call a phone number that is no longer in service.
Unsure of where to start optimizing? Growth-Driven Design is our preferred method of updating websites and continually improving user experience based on data. Check out our Growth-Driven Design eBook to learn more!