Building a community around your brand is not a simple task. Entrepreneurs, worldwide, are creating personalized experiences online for their followers, clients, and communities. To be effective, these entrepreneurs are not managing their new contacts, subscribers, emails, SMS, and more by hand. They use an automated system to keep their contacts organized, personalize their communications with those contacts, and make informed decisions about their marketing efforts with great reporting.
How do they do all of this? They use a marketing automation system like ONTRAPORT.
ONTRAPORT is great for small businesses that want to build an online community through personalized relationships. Bloggers, coaches, and online training companies have been especially successful in this system.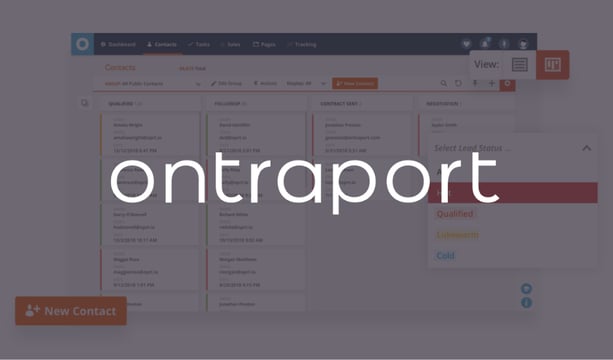 Does your company need marketing automation?
You have a

website

hosted on a specific platform, maybe WordPress, Weebly, Wix, or another proprietary host.
Your

landing pages

for resource downloads or password-protected membership sites are hosted on a different platform.
You use a form plugin like Bloom, WPForms, or Ninja Forms to

gather new contacts'

information on your website.
You send your

marketing emails

through yet another platform, maybe MailChimp, Constant Contact, or even your personal email.
Your contact list is spread between all of these tools without a standard for the organization.
Does this sound familiar?
We've seen a single business' digital efforts spread between all of these platforms and more - and even with all of these tools, they were still managing their communications manually.
Before you see how ONTRAPORT automates your processes, check out some of our related blogs:
Simplify Your Marketing Automation with ONTRAPORT
Imagine being able to log into one account to manage all of your marketing and sales communications. Think about the time, money, and headache you could save yourself by consolidating! Plus, with your marketing tools living under one roof, you will have a better idea of the health of your marketing strategies and access to simpler reporting across your efforts.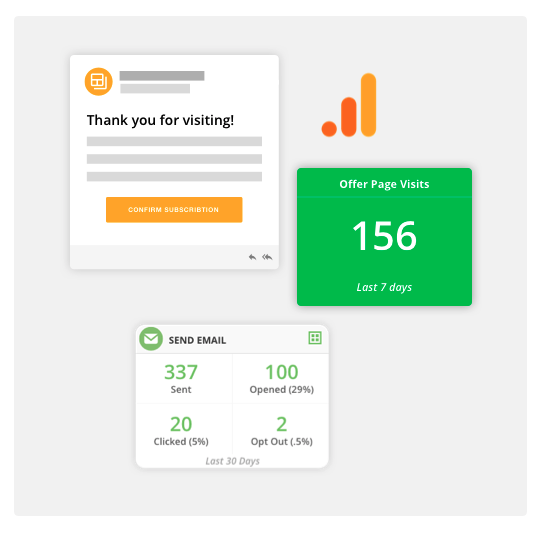 ONTRAPORT
Manage your digital marketing and sales efforts in one place.
To automate your sales and marketing, you need a few tools.
LANDING PAGES: Pages on your website with the goal of converting visitors to leads to clients.
FORMS: Opportunities on those pages to get your website visitors' contact information.
CRM: Customer Relationship Management. A place to store and organize all of your contacts.
CAMPAIGNS: An outlet to reach out to these contacts based on their known behavior and demographics.
Create landing pages like a pro.
With ONTRAPORT, you can create landing pages to house your downloadable offers and resources, sell your services, host your content library, gather contact information from your followers, and more. The tool provides a visual editor so business owners without website coding experience can still make beautiful, dynamic, and converting website pages.
Get exactly what you want from visitors with awesome forms.
In these landing pages, you can create custom forms in ONTRAPORT to ensure the design matches your landing pages and branding, and that you ask for the exact information you want from your website visitors. You can also embed these forms on other website pages if you aren't using ONTRAPORT's "ONTRApages" feature.
Because these forms are made in ONTRAPORT, every time someone visits your website and fills out your form, the contact is saved in your ONTRAPORT contacts database.
The ONTRAPORT CRM is a great tool for organizing your contacts.
Create groups based on lead source, engagement, purchase history, contact demographics, and lead score so you can send perfectly targeted messages with highly relevant information. - ONTRAPORT
Use identifying tags to create groups of email recipients based on any past behavior so you can easily send relevant messages to all contacts who have purchased a product or downloaded content. - ONTRAPORT
You can set rules in ONTRAPORT to automatically assign contacts to specific email campaigns for leads, customers, and prospects that are dynamically based on any criteria. Say goodbye to manually moving contacts back and forth between lists.
Now that your website pages, forms and contacts are all organized in one place, you can market to the contacts you get from your website.
Craft strategic messaging and deliver solutions to your contacts.
So what do you do with these segmented lists? Now you create incredibly personalized emails for your contacts. Use personalization tokens to add your contact's name or other information you've gathered from your forms to show that you are listening to them and are really trying to solve their problem.
Once you've created these emails, you can organize them into ONTRAPORT's Campaigns tool. This is my personal favorite part of Ontraport. Your email marketing works best when it is organized, timely and relevant to your contacts. Set your campaigns to match your contact lists, groups, and tags so you are delivering the right message to the right people (aka your personas) to maximize your engagement and sales.
The Campaign tool walks you through this automation process to set up criteria for people to receive your emails and what behaviors trigger your next interaction. And thanks to ONTRAPORT's savvy CRM and the information you can gather through its forms, your emails can still have that look and feel like they were "handcrafted just for you."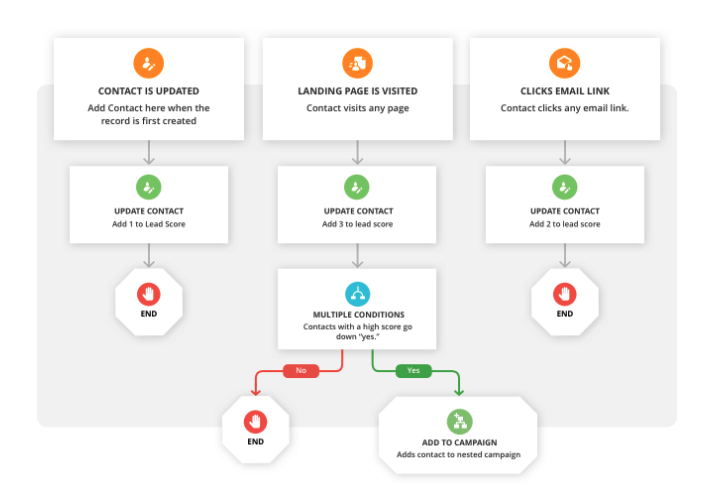 image from ONTRAPORT
You can also set the timing for sending these emails. Let's say someone downloads an eBook from your website or clicks on your Facebook ad for a Live Webinar. Send a thank you email right after they submit their information on your website. Create a workflow to send a follow-up email a few days later to share resources or check in with a personal note so you aren't manually sending follow-up emails nurturing that sale.
Use ONTRAPORT to Build Personal Relationships
Really personalize your communication with your contacts. Because you have access to information like First Name, Last Name, Company Name, and other detailed information about your contacts (like what pages they've looked at the most and when), you can send them a hyper-personalized email or text message that won't feel like it was sent by a computer.
What does ONTRAPORT Cost?
The Million Dollar Question: what is ONTRAPORT going to set you back? With ONTRAPORT you pay monthly with pricing starting in the models below. This monthly pricing with no setup fees PLUS and two hours of free onboarding calls sets you up for success from the start. If you want to add more contacts and users, the credits cost a lot less than other marketing automation platforms (looking at you HubSpot, where going from 1,000 contacts to 10,000 contacts creeps your prices from $800 to $2,400/month).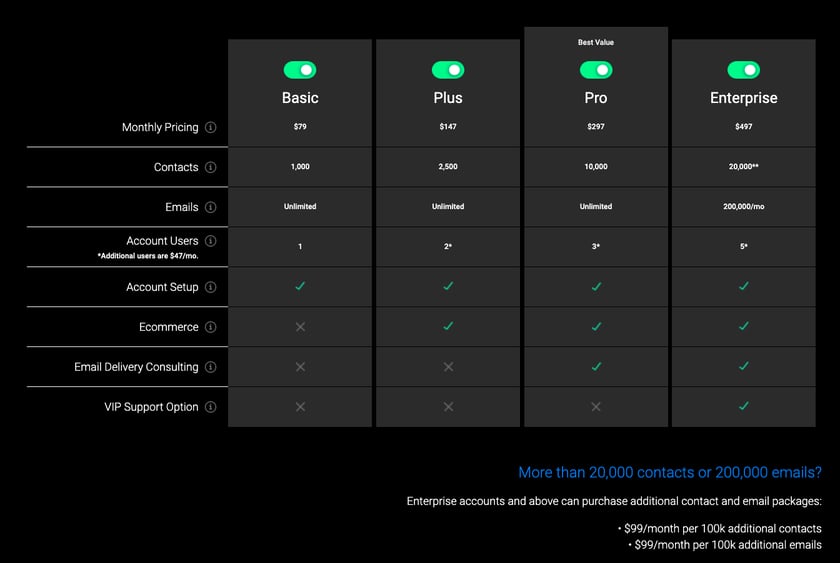 image from ONTRAPORT
Interested in how marketing automation can benefit your business? We can help steer you in the right direction.