When you first log in to Google AdWords, it can feel intimidating. With several menus, tabs, and tools, it's hard to know where to start. Fortunately, setting up your first campaign is easy once you understand the steps involved.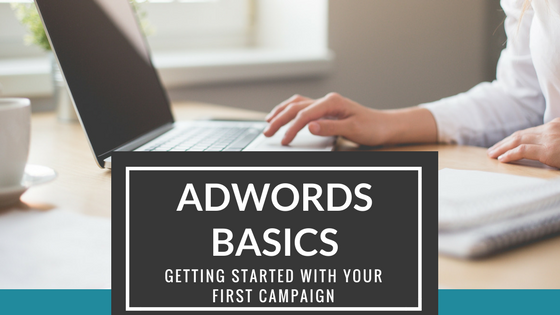 Google AdWords Basics
While some marketing strategies, such as SEO, may take awhile to see results, AdWords can start producing results quickly, so long as the campaigns are set up correctly. Here's how to get started.
Setting up your first AdWords Campaign will require four steps:
1. Select Your Campaign Type
There are five campaign types to choose from: Search, Display, Shopping, Video and Universal App.
Search campaigns allow your text ads to show up in Google's search results above the organic results.
Display campaigns are visual ads, also known as banner ads, that can be shown on a variety of websites and mobile apps.
Shopping campaigns are visual ads used to sell a product that can be purchased on your website.
Video campaigns let you show your video ads on the Display Network and YouTube.
Universal App campaigns can help you promote your app.
2. Choose Your Campaign Settings
Once you've selected a campaign type, you'll be able to set up additional campaign settings including location, language, bidding and budget.
Location specifies the geography that you would like your add to target. If you cater to local clients, you'll want to choose the area at and around your business' location.
Selecting a language will allow you to target potential clients based on their language settings in Google. For example, if you select Spanish, your ads will show to users browsing Google in Spanish.
Bidding is how you pay for people to interact with your ads. There are several bid strategies to choose from, including ones that focus on getting the most clicks or conversions. Before you select a bid strategy, it's helpful to understand what each strategy can accomplish. In this section of the campaign settings, Google will offer assistance and explain each strategy in more detail to help you pick the one that best fits your campaign type and goals.
Budget is the average amount you would like to spend each day. If you find you're spending too much or not enough, you can adjust your budget after the campaign has been published.
3. Create Your Ad Groups
Now that your campaign settings are ready to go, you can begin creating your ad groups. Consider how you want to organize your ads when creating your ad groups. For example, if you're a contractor who does home remodeling, you may want an ad group for each remodeling service that you offer (e.g. bathroom, kitchen, add-ons, etc.).
Each ad group will have its own list of keywords. It's important to choose keywords that are relevant to the product or service you're advertising. You can also add negative keywords to prevent your ad from showing up for certain search terms. Going back to the example of a home remodeling business, a negative keyword could be HGTV Remodeling Shows.
4. Create Your Ads
Within each ad group, you'll create your ads. This process will look different depending on the campaign type that you selected in step one. To keep this section concise, we'll be going over how to create ads for a Search campaign.
Search ads are divided into five sections: Final URL, Display Path, Headline 1, Headline 2 and Description.
The Final URL is a link to your website or landing page that your ad will direct to when someone clicks on your ad. Often times, these URLs are lengthy and include tails that aren't visually appealing (e.g. www.example.com/%20=results). Fortunately, you can display a tailored version of your URL using Display Path. Display Path allows you to show your Final URL as www.example.com.
The text of your ad will be in the form of two headlines and a description. Each headline can be 30 characters long and the description can be 80 characters long. Avoid the use of excessive punctuation, emojis, or all caps, and try to incorporate some keywords in your ad's headlines and description.
Once your campaign and ads are published, it can take up to 24 hours for them to start showing on Google. Be sure to review your AdWords account routinely and make adjustments as needed. If at any point during the process you feel stuck or would like information about other tools, Google has an extensive support website and forum that can answer almost any question you may have. Of course, you can always ask us for help too.