Choosing the right content management system (CMS) for your organization is no easy feat, but it is an important decision that requires careful evaluation.
As a marketer, you already know the effect that a solid content marketing plan can have on your audiences and your business. That's why you need a platform that supports your internal growth goals and strategic efforts.
Two of the most popular and powerful content management systems available to marketers today are HubSpot and WordPress. Wondering which one is better? Here are some points of comparison that may help you make an informed decision.
Overview of HubSpot CMS vs WordPress
Before we dive in, allow us to give you a brief overview of the two platforms.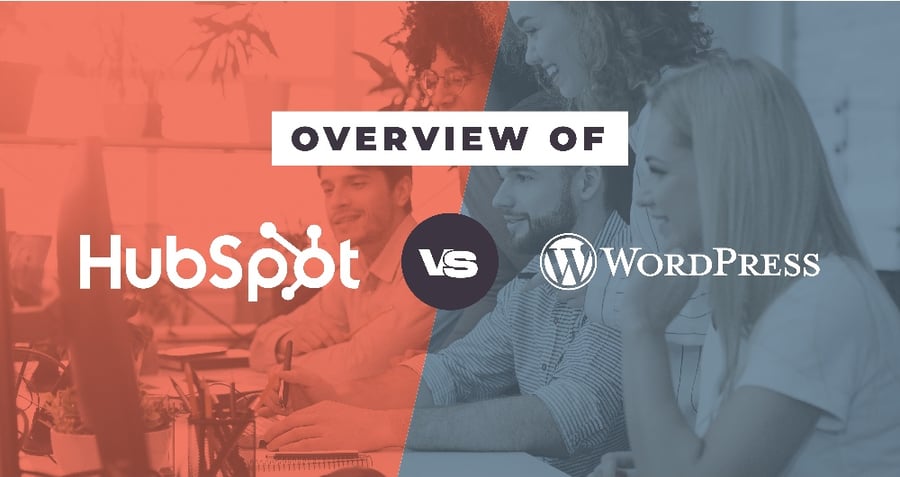 What Is HubSpot?
HubSpot was built exclusively for marketers from the very beginning. As an all-inclusive platform, users can:
Write, optimize, and publish blog content
Host and optimize websites
Create and schedule social posts promoting blog content and web pages
Create email marketing campaigns
Use analytics tools that report on all activities in the platform
Marketers and developers alike have a place to do what matters most inside the CMS Hub with great flexibility and power. It requires no additional software, plugins, or coding, and within a few hours, you can have a new site up and ready to go without heavy code work or outside help.
HubSpot was founded on the inbound methodology and gives marketers (and anyone else in your organization) a free customer relationship management (CRM) software with a unified view of customer data.
All in all, if lead generation is your goal, there's no question that HubSpot's CMS is the better choice.
What Is WordPress?
WordPress was originally built for writers as blogging management software and eventually evolved into a CMS to address the needs of web publishers worldwide. Not only can you post articles via WordPress tools, but you can build complete websites on this platform.
It is an open-source CMS platform that must be installed or configured on your server, or using a third-party hosting provider. While it can be downloaded for free, website hosting, security, plugins, integrations, themes, technical support, and more may come with significant associated costs.
Once a user signs up, content can be created immediately, but often external software programs and integrations — as well as assistance by a WordPress developer — are required to complete a full website build. WordPress is a solid competitor for a CMS and has been the choice for many businesses for years.
How HubSpot and WordPress Compare
The differences between WordPress and HubSpot should be important to you as a marketer, as you evaluate how you will continue to support the growth of your organization.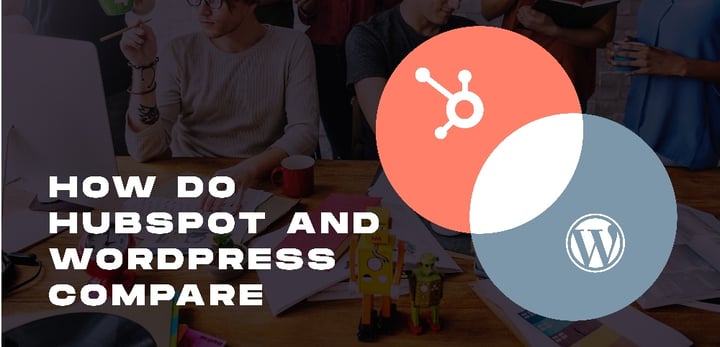 Below, learn more about the characteristics of both platforms and whether HubSpot or WordPress takes the cake.
Built-In Features
The biggest advantage of HubSpot is all of the built-in features that do not require extra software, plugins, or coding, including:
Lead generation forms
CRM
Search engine optimization (SEO)
Call-to-action creation
Content calendars
Automated blog emails
Email marketing
Traffic analytics
These features are free tools for everyone on your team, designed to make your job easier.
Ease of Use
For DIY marketers, one of the best benefits of HubSpot CMS is its ease of use. Say goodbye to the days of using developers every time you need to make a simple content tweak on website pages or blogs. The platform uses intuitive tools and is user-friendly for everyone on your team.
Security
HubSpot offers hosting and secure sockets layer (SSL) domain security through the CMS. This is a huge value-add for why you should host your website on HubSpot.
There are no plugins that need to be maintained or constantly assessed after hours. CMS Hub offers enterprise-class web application firewalls, SSL, custom content delivery network (CDN), single sign-on (SSO) memberships, and more.
Marketers, to put it simply, HubSpot is committed to safety and reliability. You can lean on their dedicated 24/7 security team and trust that your website will be updated regularly.
Design and Customization
HubSpot offers pre-built website themes so you aren't fumbling around through custom development. Your design will be cohesive to your organization's brand within minutes.
The drag-and-drop editor is ideal for changing page layouts, colors, and images on the fly without heavy code work. And if you choose, HubSpot also works for those who want to develop a fully custom site on the platform.
Additionally, you can create sites across multi-language domains to accommodate all visitors. A simple toggle will allow users to switch between languages — and your domains will still be optimized for SEO best practices. Marketers can create thoughtfully designed, customized forms, and landing pages in a breeze.
Contact Management
You can add and manage contact data, without the additional busywork. Contact records will populate and update automatically. You can add them in with the prospect's email address or pull them directly from your inbox or website's form submissions.
In minutes, the free CRM allows you to create forms on your site and store information for the contact data collected, directly. Doing this gives you complete control of your data, all within one place, without the manual data entry.
Within the contact's record, you can send emails, make and record calls, take notes, log sales activities, assign tasks, schedule meetings, and more — without jumping from screen to screen.
Reporting and Data Control
Having the ability to manage and segment your data is critical for organizations to make data-driven marketing decisions.
With HubSpot's CMS, you can analyze the impact of your website through the reporting features. From there, you can optimize your strategy by investigating what types of content, lead sources, and campaigns are driving the most leads. Contact attribution reporting makes a huge impact on how you can grow your business.
Support
At no extra cost to you, HubSpot offers an expansive library of easy-to-follow resources and instructions for any task you need to execute in the system, all part of HubSpot Academy.
There are quick 30-minute lessons or opportunities for longer, comprehensive certifications beneficial to marketers, such as:
Inbound Marketing
Content Marketing
Email Marketing
Social Media Strategy
These courses can help advance your skills in your timeframe, and at no cost to you. The certifications you receive are globally recognized and will help advance your career and your business.
Additionally, the HubSpot tech support team is available via phone call or chat to help with any issue you may be stuck on. Needless to say, you're not alone.
A Conflict-Free Platform for Developers and Marketers
Picture this: Your developers and technical teams have the ability to build your website with flexible themes and content structures. Marketers can quickly edit content and create pages all by themselves. The best part of all? Your users will receive a personalized and secure web experience.
HubSpot will allow you to tie the entire buyer's journey together, from the time a curious visitor lands on your page to the moment you've won a deal and they become a paying customer.
Don't think that this scenario is simply a figment of your imagination — it's possible. Choosing HubSpot's CMS allows you to power your website with a platform that helps you grow better and faster. It's that simple.
Knowing that you have a content management system that supports your strategic tactics as a marketer, allows you to get back to doing more of what you need to do to propel your digital efforts and meet revenue goals.
Let us reiterate: WordPress is a good option for certain use cases such as an e-commerce site or a personal blog. But when it comes down to the robust, all-inclusive nature of HubSpot's CMS Hub, there's really no denying that this platform will better support your efforts as a marketer chasing after growth.
Partner With a HubSpot Growth Agency
LAIRE is a platinum HubSpot agency partner, and while we have clients who come to us with WordPress sites or other popular content management systems, HubSpot is our tool of choice.
If you're ready to make the switch from WordPress to HubSpot, we can help. Not only that, but we can also work to help you reach your revenue goals with a personalized blend of strategic planning, digital marketing, and sales enablement.
We are marketers. We know marketers. Take the first step toward reaching your ROI goals and schedule a 20-minute marketing assessment today.