Press Release - LAIRE Digital was recognized by the 2021 dotCOMM Awards competition for winning titles secured in three separate categories.

"Our mantra for the longest time was that we are an award-winning team, and it is so cool to see our mantra coming to life through the hard work and solid efforts our team at LAIRE have been putting forth. From client campaigns to creative to even our own branding efforts for our agency, our team continues to set the bar for really great work that drives results.", says Todd Laire, CEO and managing partner of LAIRE.

Agency Recognized for Excellence in Web Creativity and Digital Communication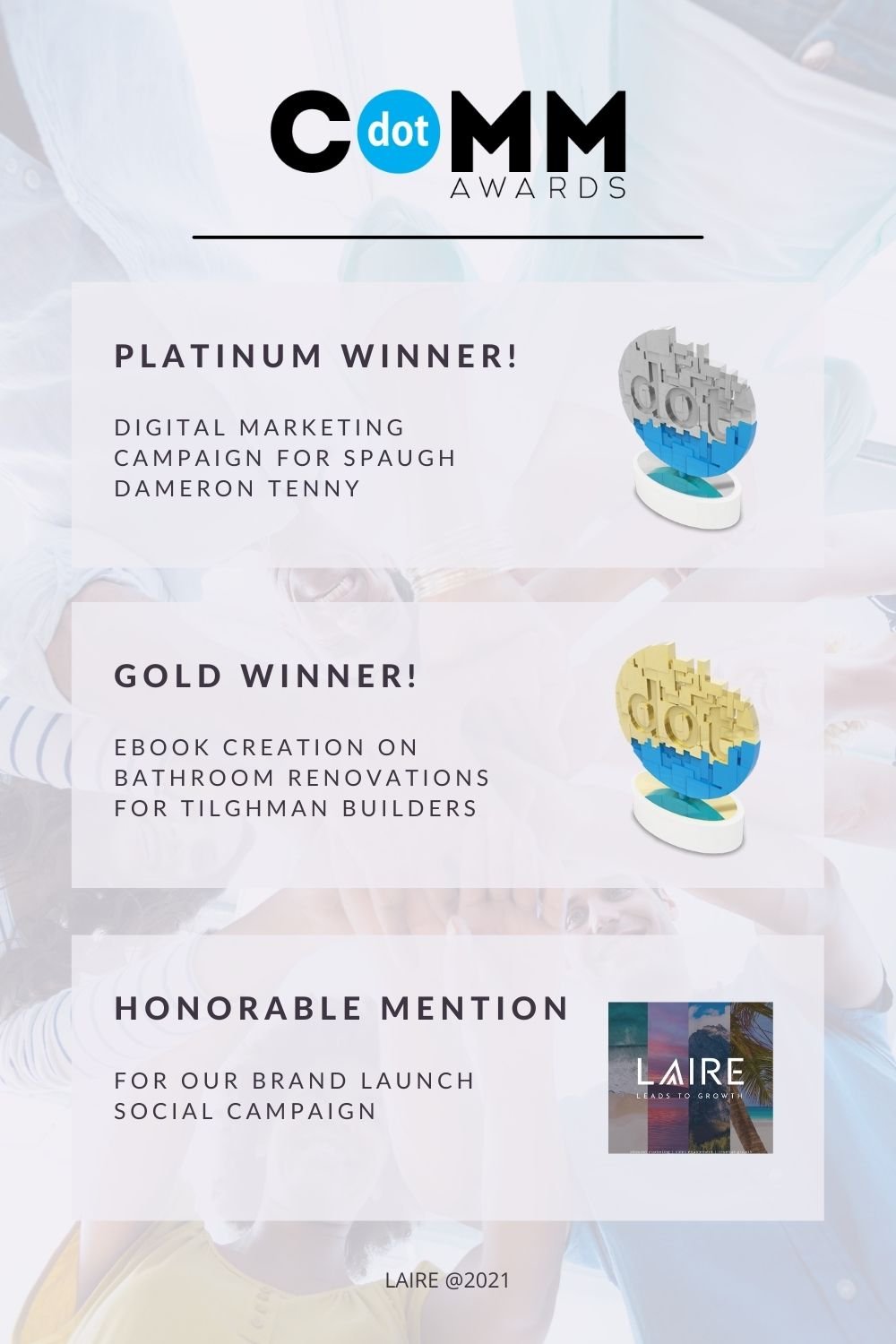 For the Digital Marketing & Communication Campaigns category, results from a strategic inbound marketing campaign for financial planning firm Spaugh Dameron Tenny were recognized with a Platinum award. In the Content Marketing category, the creation of the Bathroom Renovation eBook for Tilghman Builders was rewarded with a Gold award. In the Social Branding Campaign category, the LAIRE re-brand launch campaign on social media was given an honorable mention.
Over 2,500 entries were submitted from throughout the United States, Canada, and 14 other countries in the dotCOMM Awards 2021 competition. Winners were selected from over 200 categories for websites, videos, social media, paid media, owned media, earned media, digital marketing, and communication programs. Winning a dotCOMM award signifies to employers, clients, prospects, and competitors that the winner's web and digital work is among the best in the industry.
dotCOMM Awards is an international competition honoring excellence in web creativity and digital communication. The competition spotlights the role of creatives in the dynamic, constantly evolving web. dotCOMM Awards offers third-party recognition from one of the most recognized and highly-regarded evaluators of creative work in the world, the Association of Marketing and Communication Professionals (AMCP).
About LAIRE Digital
LAIRE is a Charlotte, NC and Charleston, SC-based agile digital marketing agency that was founded in 2006. LAIRE is a HubSpot Platinum Solutions Partner and has worked with hundreds of B2B companies in industries such as Finance, SaaS, Construction, and Manufacturing.
Our team of marketing strategists, content managers, and digital specialists aim to align client marketing and sales goals to strategies that connect to real-world buyer behaviors and a remarkable user experience. We convert and nurture prospects with valuable, educational content during their experience through their own version of the buyer's journey.
---