As a business owner, you know that your business is either growing or evolving. If it's staying the same, that means falling behind. For this reason, it's critical to apply forward-thinking logic during website development. And only a custom website design can do this.
Web design is far too big an investment and it's too vital for business success to have to redo a custom website design project every few years. You need a design that can grow with your business. It should adapt to represent your business today, not what it was at startup.
But chances are your current site simply is not delivering on this promise. Sure, maybe it's a "beautiful website". But it's underperforming in SEO, not converting leads as it should, and that disjointed user experience -- it's driving customers away. Needless to say, it's keeping you from current business goals, and you know it. These are significant signs you need to rethink your design.
Start with Growth-Driven Design (GDD)
A website with a growth-driven design (GDD) is a website where you are continually learning and improving user experience and website performance based on audience interaction and data. Instead of thinking of a website project as a massive overhaul, it focuses on ongoing analytics, testing, and incremental changes to meet business goals. You can develop this kind of website in three basic phases. But first, let's take a minute to look at why you need growth-driven design.
Traditional website design is usually one massive undertaking you undergo every five or so years to meet current demand. For this reason, many businesses put it off until the current website is unbearable to customers and simply not getting the job done.
And the sad truth is, the longer you wait, the harder it becomes to find the funds to invest in custom website design. You're bleeding leads. Your website is stagnant while the competition innovates to increase market share. On top of that, traditional, one-and-done design creates a massive disruption to the user experience. What's the point of revamping your website if you're creating chaos for existing customers? This is no way to grow.
Alternatively, you'll develop and execute a website design over several months, not weeks with growth-driven design. This means less disruption, a better user experience, and an enhanced ability to generate website traffic and leads. What's more, this all comes with more sustainable, manageable growth.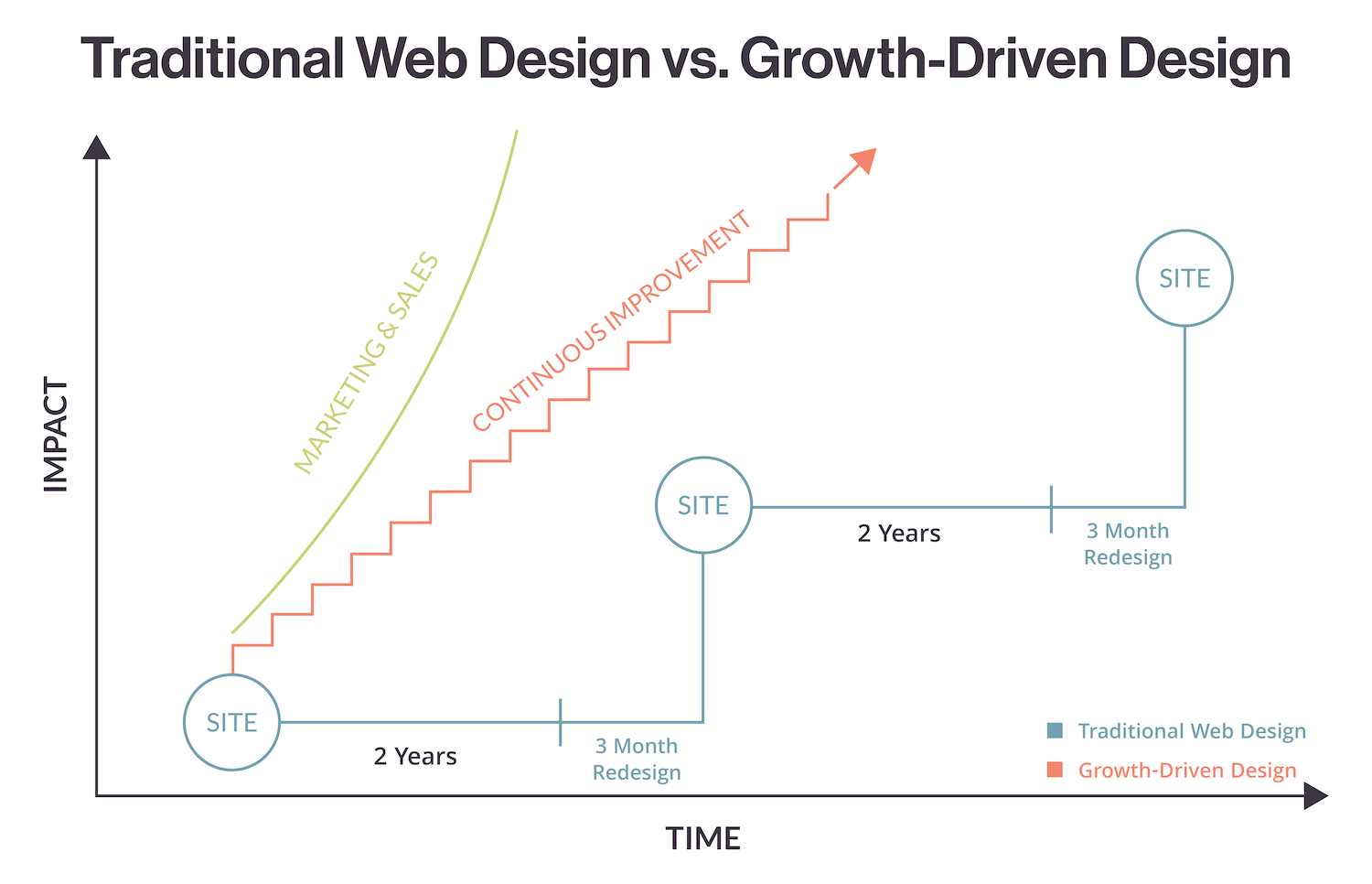 Website Redesign Vs. Website Refresh
It's important to clarify here that this is a website redesign vs. a website refresh. You're not planning to make minor improvements to your existing site. Unfortunately, you're already beyond having that option. Refreshing a site is a waste of time and resources if it's not meeting basic business goals like lead generation. Tweaking some CTAs or adding some lead generation forms now won't cut it.
For example, if your current website is failing at mobile experience and accessibility, like so many are, no website refresh fixes that major issue. That requires a redesign. And for the record, mobile matters more than ever in 2022. 52% of website visits now happen on mobile devices.
Mobile continues to be the way forward. And a growth-driven design is the way to do it. GDD is about moving to a tighter, more manageable, lead-generating, and highly optimized site that consistently delivers results.
With growth in mind, you'll apply a series of website design tactics throughout the planning and website development process.
Growth-Driven Tactics for Better Custom Website Design
Take inventory of your existing content. If you already have a website, then you've probably created a lot of resources. Don't disregard these. Website content is a business asset. Many you can repurpose, renew, and reuse -- saving time and money. This task also gives you insights into what topics and services you need to cover to capture the whole buyer's journey.
Map the user experience. Employ data to make sure you understand the paths customers take. When you get this, you can optimize. You'll increase conversions at each stage and ultimately

generate more, higher-quality leads

for less. For the record, that's what this is all about!
Sitemap planning. At each phase, you'll create and add to a visual map of what your website looks like. This allows you to envision how people and search engines understand and navigate your site. If the site map looks cluttered and confusing on paper, imagine how the people who (don't) visit your site every day feel?
Think adequate real estate. You'll start with your core services and pages. But to increase upselling, cross-selling, and customer lifetime value, all services need sufficient website space. You can give it to them. But remember to start with core pages. Get those right; then expand. That's the GDD way.
Custom website design & branding. Visitors don't just look at a website. They feel it. The branding elements you choose allow customers to read between the lines and understand what it's like to work with you. To this end, it's important to focus on creating a consistent, updated, and fresh branded experience.
Use integrative and user-friendly web design tools. HubSpot Website Development tools are great in this regard. With them, we can code, edit, change and add pages as we go to expand your site.
With these tactics in mind, let's look at the three phases of growth-driven design (GDD).
Phase 1: Launch Site
This phase involves initial pre-launch planning and launch. Your goal is to start small and launch something you can grow efficiently and cost-effectively.
During this planning step, reaffirm your website goals. Get clear on the strategy you'll apply to the website to achieve those goals.
Generally speaking, a winning website has helpful, accessible content that guides a visitor to valuable gated content they want to access in exchange for contact info (generating a lead). From here, you can continue to personalize the buyer's journey through email segmentation and automation. While that's the general inbound methodology, precisely how you design this funnel depends on your goals.
With those in mind, identify the core pages you'll need to have a complete site. In a nutshell, this includes pages like Home, About, a few core Services pages, and conversion pages. Start with the bare necessities. Don't overcomplicate it. Your whole initial launch website could include a total of 10-12 pages. Yes, seriously.
Let's say that when you plan your phase one launch, you decide you need one service page that lists your services when you launch. Or you may need to create unique pages for 2-3 main services. You don't have to have a page for every little service you offer at launch. And trying to create them all from the start would quickly become overwhelming. Instead, we want to see you start getting some results right here in phase one -- and we can help you do that. Those other pages come as you analyze your data to determine which ones you need and the best layout for them.
So you're not wasting massive time and energy designing and creating every single page before launch -- only to have to change them later. Instead, you're starting small. You're working your way out with maximum efficiency, cost savings, and control over the user experience. Test these pages, and you're onto Phase 2.
Phase 2: Expand Solutions & Sub Pages
The truth is that the more aligned each page is to a unique visitor's needs, the higher the conversion rate. So, work your way out to more segmented solutions and targeted information. During this phase, you'll tell your story by answering these questions.
What problems are you solving?
What solutions do you offer?
How are you different from your competitors?
How can strangers learn more about the solutions to their problems?
This storyline will take its shape as additional sub-pages on your website. Each page will further support your target audience with helpful content and guide them through the buyer's journey. Some of these pages may include:
Additional about pages for individuals, the agency, and job prospects
Blog posts
Free downloadable guides
Videos
Case studies
Landing pages for your downloadable guides
More services (e.g., Google Ads, Content Marketing)
Each of these pages not only tells your story. It can boost your visibility in Google search results as you now have more pages with ranking potential. This also gives you more content assets to share on social media and turn into ad landing pages. You can use them to generate more leads through alternate channels as part of a comprehensive digital marketing strategy. Every piece of content you create is an asset.
To make the case for these story-telling pages, let's look at the modern business blog. Blogs are a massive landscape on which you tell your story. And there's a reason so many businesses use them.
80% of Internet users regularly interact with blogs, often in conjunction with social media. 59% of businesses say blogging is a valuable piece of their marketing strategy. Companies that blog have 434% more indexed pages, on average, and 97% more followed links. As a result, blogging businesses generate 67% more leads than others. Just make your blog timely, interesting, and, above all, helpful to experience these benefits.
Phase 3: Planning for Future Expansion
Growth is the plan. But as you grow, the message can get lost. You need to continually hone your ability to speak specifically to each visitor's needs. One way to do this is to create industry-specific pages. This allows you to address the specific needs of an industry, speak their language, and demonstrate your expertise in their pain points and goals.
You can further break down your core service pages into sub-services. Now, you're directly answering your visitors' questions and showing you have the skill and experience to manage the whole buyer's journey. On top of that, you're building more pages that represent the questions people ask search engines, further enhancing your potential visibility in search.
What Factors Impact a Timeline?
How long does it take to launch a website in phase one? How long to get to phase three? Every web development project is different. Yeah, you knew we would say that. But certain factors can strongly influence that timeline. Once we complete planning and discussing your website, your custom website design team will have a good idea of how to take this ball and run with it. We'll be able to set realistic goals and create a timeline for project phases and milestones.
Factors that can influence this timeline include:
Scale and Complexity. This is primarily determined by both your business needs and customer expectations. You need to be able to compete.
Experience and Skill. A more experienced and skilled website development team will have the resources and know-how to quickly and efficiently take your site from phase one to three.
Management. Project leaders keep the project on track. The efficiency with which they can do this contributes to the timeline.
Bugs and Fixes. Every web design project of any complexity will run into design issues along the way. An effective custom website design team knows how to navigate problems to keep the project on track.
Expansion of the Initial Plan. A growth-driven design is flexible and adaptable by nature. You'll start with a solid plan. But it's important to evaluate the scope of the original plan continually. You may decide you need or want additional features, integrations, and tools you hadn't expected. Expert level upgrades can supercharge lead generation. But when you're just getting started, you may not feel you have the capacity for these upgrades. The great thing about a GDD plan is that you don't have to get it all done before you begin seeing your return on investment. You have the basics in place and can expand upon them.
What You Need to Get Started
Your website development team will ask pertinent questions. This allows them to build the groundwork on which they can research your competitors, learn about your customer, and develop a custom web design that meets your business goals. But you'll need to have some things to get started, too.
Commitment to the Process
The most critical is commitment. Launching a lead-generating website that grows with you is an absolute game-changer. But you have to trust the process.
73% of web designers believe a non-responsive website is the critical reason websites underperform. Slow load time, bad navigation, and abysmal content all contribute. A custom website design team can fix this, creating a site that consistently guides leads through your funnel. But it's a data-driven process that takes time.
Goal Clarity
What do you want your website to do for you? How does it fit into your overall marketing strategy?
Target Audience Clarity
Who is your target audience? Have you employed data to create detailed buyer personas you can speak directly to through your content?
Your Current Content Assets
You have assets, so use them. Just because you're redesigning your website doesn't mean you won't make use of what you already have. You have likely generated some high-performing blog posts, ads, videos, and resources. Or you have that almost fantastic content that can be optimized to improve performance drastically. This can cut the time it takes to move through the phases and the money you spend doing it.
Be prepared to give your website development professionals access to this inventory. The more organized it is, the better. But if we have to scrape it off your existing website to use it, we certainly can.
Budget for the Calendar Year
The 3 phases of Growth-Driven Design naturally spread out the website redesign process over a longer period of time if needed. Although once you get to phase three, you must maintain your website, so it continues to grow with you.
Expect some upfront cost. As you can see, a lot goes into that first phase. Our website development team can walk you through the costs involved so you can budget accordingly.
Get Started with Your Custom Website Design
Are you planning a custom website design project? Why not speak with LAIRE first? As a digital marketing and website design agency, we have the resources and people to help your company get results from website development. With an agency, you're not just working with one person trying to do it all. You'll have access to the skill and expertise of a marketing strategist, project manager, creative director, graphic designer, and more to deliver the lead-generating site you're looking for.
As an inbound agency, our team focuses on quality over quantity. So when we say lead-generating, we're talking about valuable prospects -- not more, low converting website traffic.
Choosing the right website development partner for your project is a vital first step toward realizing the website your company needs to succeed. Creating websites that generate lead is what we do.
We don't engage in outdated, cookie-cutter projects. You'd be better off using an out-of-the-box website design tool. Instead, we help brands build award-winning sites their customers love because they deliver a consistent, useful branded experience, and CEOs love because they get results.
Want to learn more about our process? Check out our Essential Website Launch Checklist!