For most marketers, generating leads through your B2B website is a constant battle, causing frequent examination. With a website serving as the centerpiece of your inbound marketing strategy, it's important that the digital face of your business is properly executed and maintained. Your website should be primed to support your business' growth as a lead-capturing, revenue-generating machine. If it's not, it may be time to take a look at some expert-level enhancements and upgrades to support your marketing efforts.

What Does the Lead Generation Process Look Like?
We should first understand the basics surrounding the term, 'lead'. There is a major difference between a website visitor and a lead. Think you know it? A lead is simply a website visitor who has interacted with some form of content on your site and has willingly provided your company with more information about themselves. While analyzing the number of website visitors is good, we know that the real opportunity for revenue lies within the leads generated. These individuals have shown interest in the content that you produce and have indicated that they want to know more from you in some form or fashion. Typically, we see leads coming through forms submitted on landing pages.
Now, let's get back to the real reason you're here. You want more leads - and you want them now. To make that happen, you'll want to take a look at the following expert-level upgrades.
5 Ways to Optimize Your Website for Lead Generation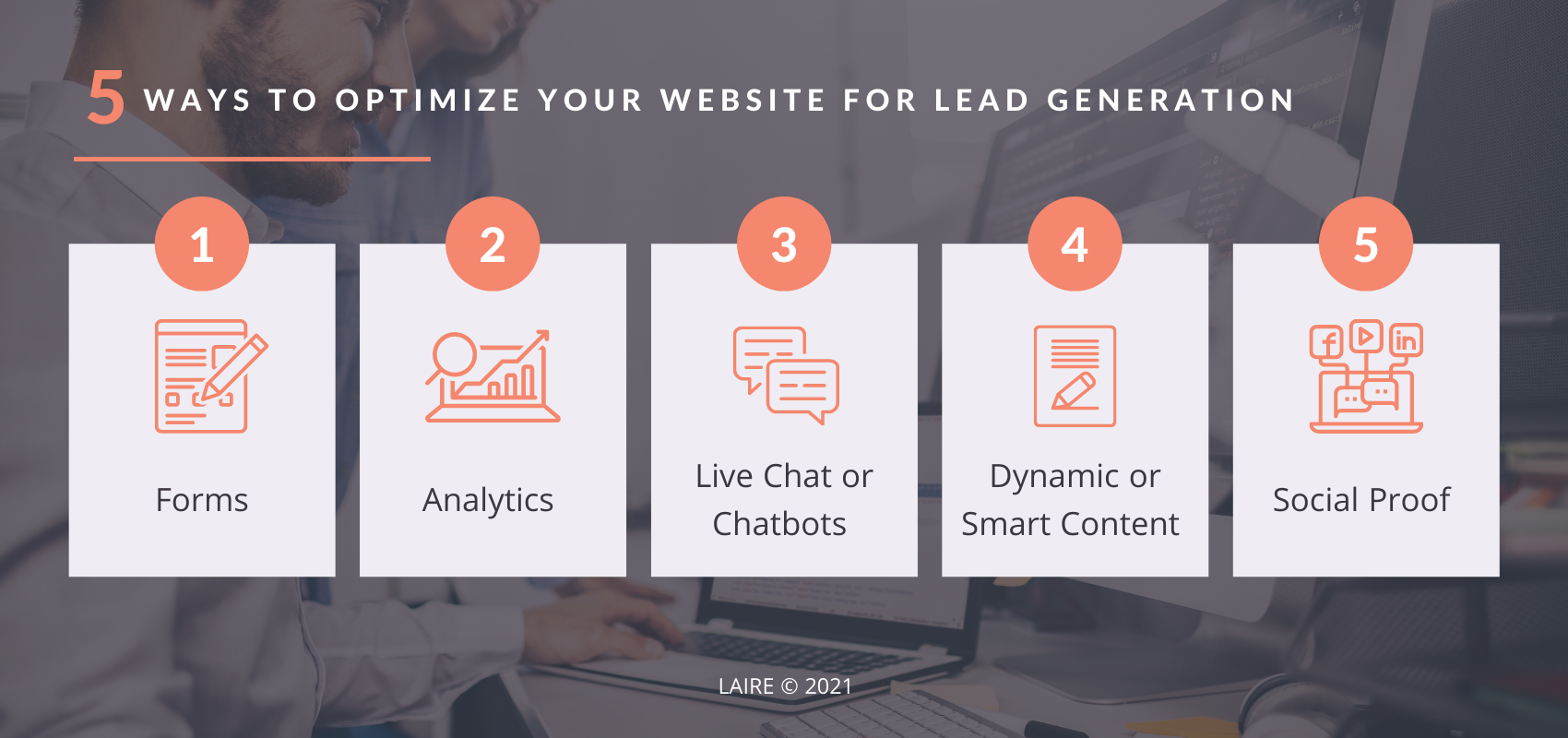 1. Forms
Using forms is by far the most popular method of collecting online leads. To start, identify the pages that are gaining the highest amounts of traffic on your website. These pages may be good candidates for a new form. Ensure that the content on the page is engaging the user and gives them just enough information to nurture them towards becoming a lead. Lead generation forms are most often seen as contact forms, registration forms, or even a blog or newsletter subscription form. At a bare minimum, you'll need to collect the individual's name and email address. Other form fields are not necessarily required, and sometimes long form fields actually deter a visitor from giving out their information. Check out our blog on the '9 Dos and Don'ts of Contact Forms' for more.
2. Analytics
Analytic tools may not seem like the tangible, quick-win you're looking for when considering how to boost your business' lead gen strategies. However, the process of collecting and analyzing data can help you gain valuable insights about how a visitor is interacting with your website and what you may need to do to improve the customer experience. This upgrade alone should be considered a major step towards becoming a lead generation machine. By diagnosing health and performance, you can optimize your site accordingly with greater accuracy and intention. To get started with the basics of Google Analytics, read our blog here.
3. Live Chat or Chat Bots
In the B2B space especially, you've probably seen and experienced the rise of live chat and chat bots. While this may not be a solution for every organization, the ones that are utilizing this functionality have enjoyed the ability to provide rapid responses and efficiently gain lead-qualifying information, while removing the typical buying objections. As with your forms, you don't necessarily need to push a live chat on every single page of your website. We don't want to be too pushy - and every visitor is not going to want to leverage a chat feature. The American Marketing Association reported that live chat increases conversions by 20% and customers who chat are 3x more likely to buy. Beyond a boost in sales, you may also experience a higher customer satisfaction level due to more immediate response. Customers typically leave the interaction feeling more satisfied and positive about your brand. We recommend HubSpot's free Chatbot Builder Software to get started.
4. Dynamic or Smart Content
Today's customers love personalization. A one-size-fits-all approach no longer does the trick. To make your marketing efforts more personal, consider including dynamic or smart content throughout your website. Dynamic content is an additional method of delighting your customers and influencing them towards making a decision that will impact your revenue. Smart content leverages the valuable insights your users have provided you with such as, interest, preferences, or historical behavior. Having personalization tools like these in your arsenal of lead generation tactics, will tailor the customer experience and create a unique buying experience. You can put dynamic content on landing pages, images, forms, and CTAs.
5. Social Proof
The proof is in the pudding, right? Social proof adds validation to your business and the services that you provide, from the mouth of those that you've already converted into customers. Visitors can really benefit from reading about your past successes before they make a final purchase decision about your services or products. By adding customer testimonials and case studies to your website, you can highlight successful business behavior and promote trust for potential customers. Reading the words of your current or previous customers can feel relatable to a new visitor and help boost your overall lead generation strategies. To see some examples of case studies, check out our library here.
Best Practices for Making Website Upgrades that Generate Quality Leads
Test, Test, Test!
Turning your website into a lead generation machine is no overnight endeavor. To understand exactly what is working for your visitors, consider introducing A/B testing with various features or upgrades to see what performs the best. A/B testing can do wonders for your click-through rates. For example, are you struggling to settle on the language for one of your CTA's? Try out an initial call-to-action with one set of verbiage and later, exchange it for alternate wording. Something as simple as testing out the wording on a CTA, the fields in your submission form, the layout of a popular landing page, or the imagery you're using can really make a difference.
Nurture Your Leads!
Remember, your leads are only ever as good as your nurturing efforts. The true key to success is in the follow-up. If you've collected information from a lead, it is critical that you don't stop there. No lead will magically turn into a customer without any effort on the backend. Lead nurturing emails can work really well when done correctly. Once your leads come in, you can have them enroll into a workflow that launches an email marketing strategy to provide them with great content that they will find valuable. Your lead may not be ready to make a purchase decision at the time of their form submission, so it's important that you're steadily nurturing them until they are.
Summary
Earning more leads is a desire that most all business owners can agree on. Leads are crucial for your revenue growth. However, many businesses don't have the marketing know-how that it takes to transform their website into the lead-generation tool that it is fully capable of. What's your next step? Turn to the inbound marketing professionals to install these expert-level upgrades and give you the boost and competitive edge you desperately need. We know exactly what to do. We can train you and your team with the information you need to attract the right visitors, convert on your website, and close qualified leads, every time. If you're tired of the status quo and ready to see sustainable growth in your company, you've come to the right place.