Case Study Overview
Premier Print Group, a leader in commercial printing, tasked LAIRE to redesign and develop their existing site that had been virtually untouched since its launch in 2008. Our team combined unique design elements that referenced the industry, along with an easy-to-use website platform, content management system, and marketing tools for future success.
Background
Leader in Commercial Printing Across the U.S.
For nearly 50 years, Premier Print Group has focused on customer-centric innovation and transformation in the printing industry. As a G7 Master Colorspace Qualified Facility, Premier Print Group is a proven quality leader in print, premedia, and creative services. They offer a variety of services including commercial printing, fulfillment and distribution, bindery and finishing, and promotional products for a wide range of businesses and industries.
The Goal
Modern and Sophisticated Website Design
When client Premier Print Group first approached us for a site redesign, the site was located on an FTP platform that made it difficult for their internal team to update page content and manage page structure. They not only needed to provide an up-to-date design and experience for their users but also needed to represent their position in the marketplace as a leading commercial printing and fulfillment operation.
Additionally, the site lacked foundational Inbound and SEO assets such as crawlable blog content, downloadable content offers, and enticing calls-to-action. There was a lack of consistent digital marketing efforts and no clear user flow for the different stages of their visitors' customer journey.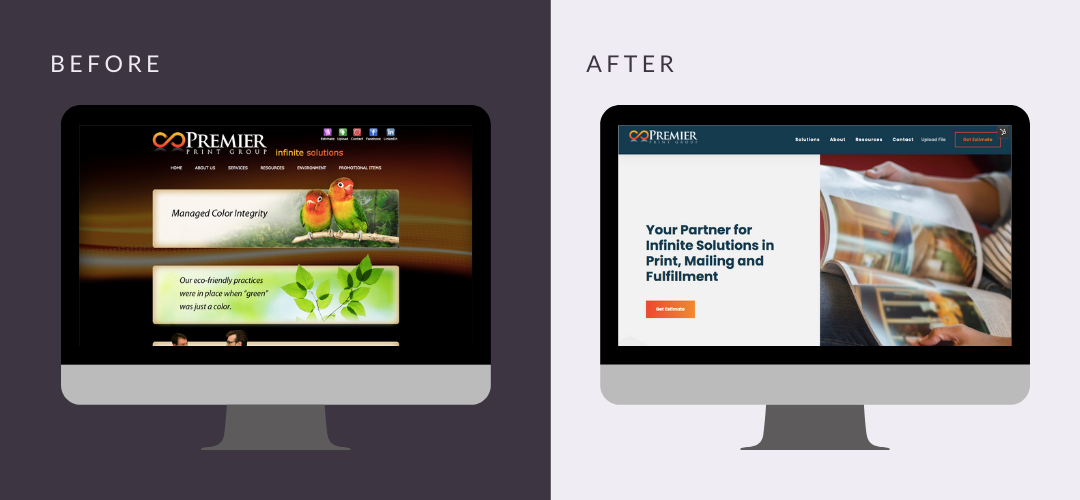 Our Design & Web Development Strategy
Implement Artistic Design Strategy with Focus on Improved Functionality
As part of our re-design strategy, we aimed to simplify content management and future updates for the PPG team. We accomplished this by rebuilding the site within the HubSpot CMS, where content could easily be updated through the use of WYSIWYG editors and visual drag-and-drop components.
For the site's design elements we wanted to be true to their established brand and logo, so we carried the brand colors throughout the new page designs. We also wanted to capture the colorful aspects of their printing work in photography so we used neutral background colors and dynamic paper shapes to give priority to the page content, but still have dimension.
In order to ensure the site would be set up for long-term success and continued marketing efforts, we incorporated a new blog listing and post design for future content creation and HubSpot calls-to-action for improved tracking. We also performed keyword research to improve SEO efforts and increase organic rankings.
Continued Partnership & Project Results
After implementing a successful website redesign in June 2020, Premier Print Group continued with our partnership through a marketing engagement. This included regular content creation, email marketing, and Inbound lead generation tactics.
2021 Q1 Traffic Results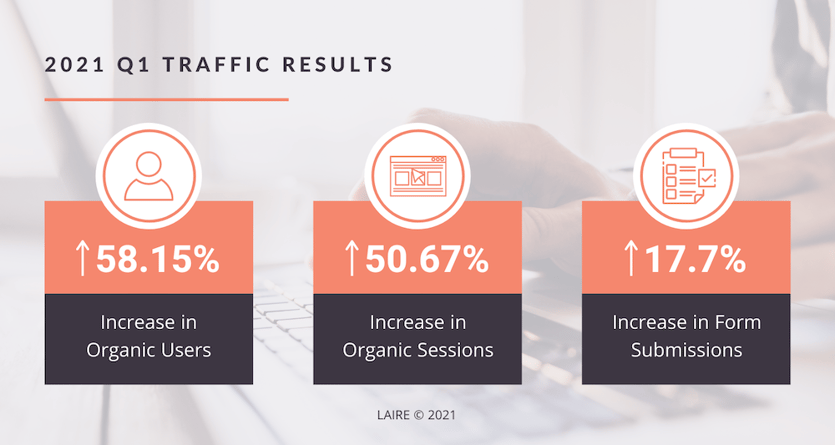 58.15% Increase in Organic Users
50.67% Increase in Organic Sessions
13.75% Increase in Total Sessions
15.99% Increase in Total Users
17.7% Increase in Form Submissions
Award-Winning Website Design
In May of 2021, the website redesign for Premier Print Group won the Gold Hermes Award for the Interactive Media - Full Website Redesign Category. The Hermes Creative Awards is one of the oldest and largest competitions in the world. Each year, competition judges evaluate the creative industry's best publications, branding collateral, websites, videos, and advertising, marketing, and communication programs.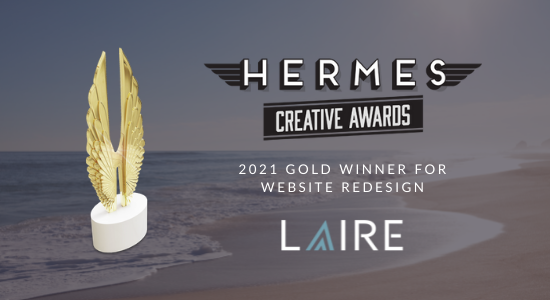 We are extremely proud of our design team for pushing for innovation and earning recognition from a world-renowned awards competition.