In the world of digital technology and the oversaturation of advertising, it is more important than ever to adapt and continuously improve your inbound marketing efforts. Keeping your business' marketing efforts in an evolving state will go a long way in reaching your ideal customers and closing more leads. Inbound marketing trends span across all aspects of your marketing efforts and can be implemented in small increments or larger initiatives.
The Current State of Inbound Marketing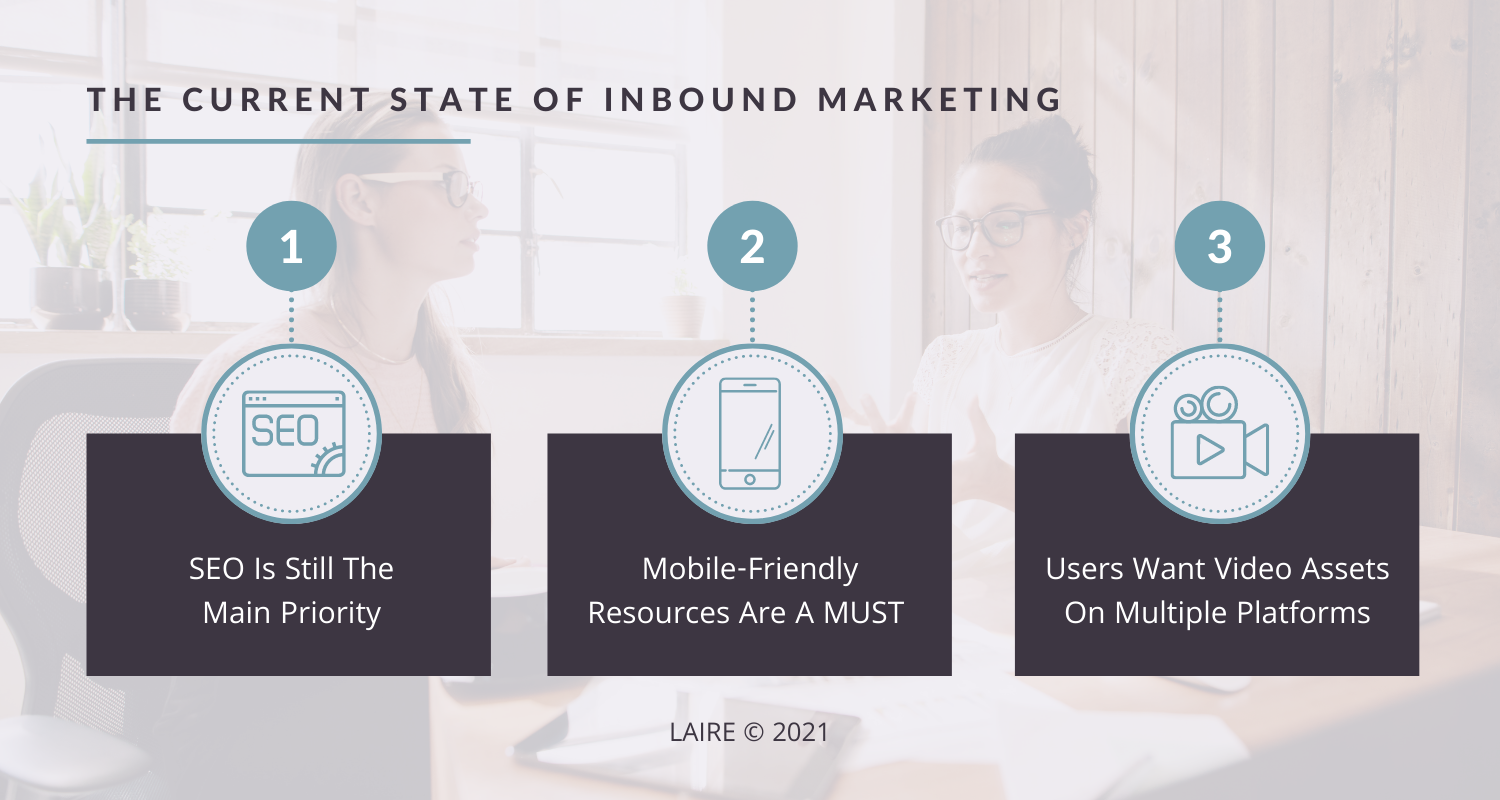 Whether you are new to the inbound marketing world or are a seasoned pro, keeping up with the latest trends is one of the best ways to ensure your efforts are optimized to play nicely with new algorithms, new platforms, and ultimately reach your ideal clients.
SEO Is Still The Main Priority
Marketing teams of any caliber will agree that SEO efforts take the top priority of any marketing strategy. SEO, or Search Engine Optimization, is one of the best ways to get in front of your audience and expand to reach lookalike audiences. With the constant expansion and improvement of Google's algorithm, your SEO efforts must also update and be modified to continue achieving visibility.
For example, in 2016, HubSpot found that pieces of content and site pages with a higher number of internal links placed higher in search engine result pages, also called SERPs. From there, internal linking strategies have taken their place in content creation and SEO strategies.
Additionally, featured snippet rankings have taken place over top search result placements. Have you ever searched on Google for a question and had a small box with a few sentences pop up? You've struck gold! These snippets answer specific questions that readers are asking, in a high-quality, easily digestible, and easy to find way. This can include Q&A pages, FAQ pages, and in-depth content.
Mobile-Friendly Resources Are A MUST
As of 2020, more than 50% of all web traffic comes from mobile devices. If your website or content is not optimized for mobile devices, you are missing out on delivering important materials to potential customers.
Mobile-friendliness applies to your content, whether that be a blog, video, or downloadable checklist. If your audience cannot access your content or view it appropriately on their mobile device, they likely will not remember to come back once they are on their computer. Mobile-friendliness is also a great way to communicate to your audience that you are staying up to date on technology trends and working to provide a better user experience. Speaking of user experience, having a website form that can be submitted easily on a mobile device will help you capture more leads and ultimately more customers.
To segway off of mobile-friendliness, don't forget that your site should also be ADA compliant. When your website is ADA compliant, this means that your site is able to be accessed and used without barriers by users with disabilities. The Americans with Disabilities Act mandates that certain businesses take actions to prevent access issues by various users. Some common ADA compliant features include contrasting colors, table population, alt text for images, and appropriate headings and fonts. For more information about ADA compliance and accessibility, check out the Americans with Disabilities Act website.
Users Want Video Assets On Multiple Platforms
Now more than ever, leads and users are eager for video content and assets. This use of media is easier for viewers to digest, visually appealing, and tends to perform better than traditional written content.
Don't get us wrong, video content should not replace your written content. Instead, use video content to enhance your written assets. If you write a blog about advancements in your industry, why not add in a video discussing the key points at a high level? Your viewers will reward your additional effort with additional engagement and conversions.
Video can also go a long way on social media. Social media platforms are becoming more and more video-friendly. For example, Instagram has enabled IGTV for longer video sharing and allows profiles to host all of their IGTV content in one easy-to-find place.
Adding Trends Into Your Marketing Plan
Now that you know some of the current inbound trends, you might be wondering how you can incorporate these trends into your planned marketing initiatives. Here are a few ideas we think you might be able to implement.
Focusing on SEO in Your Blogs
When you're opting to write blogs to reach your prospective customers and target audience, be sure you're including SEO best practices. If you're new to SEO, check out this blog for an in-depth glossary of terms you might encounter. Additionally, try to pay attention to when search engines, such as Google, release new updates to their algorithms. These updates will be your roadmap to ensuring your content reaches a top spot and stays there.
Additionally, you can use tools such as SEMrush, Google Search Console, or Moz to help give you insight into what keywords your content can rank for, what your specific content needs, and gather ideas about additional SEO tactics you can use to rank higher in search results, or even earn the top spot as a featured snippet. As a best practice starter kit, be sure your blog has a title, headings with keywords you are optimizing for, internal links back to your site, and a relevant meta description. Maintaining these standards across your content will help your ranking rise.
One final note about SEO is that while search engines are always looking for the most relevant content, they are also looking for new and fresh content. While writing a new blog every week is great, don't press snooze on some of your older content. You can (usually) quickly update a blog with up-to-date information, new images, additional keywords, newer internal links, an updated meta, and a new publishing date to recycle older content into fresher content that can potentially rank higher without needing to crawl up the SEO ladder from the bottom.
Increasing Mobile-Friendliness
Making your site mobile-friendly from scratch can be a large project. One way you can start is by setting a plan for what areas of your site you can tackle each quarter. For example, you can choose to move your blog onto a mobile-friendly template in Q1, updating your services pages to be mobile-friendly in Q2, and altering all of your contact forms and popups to be user-friendly on mobile devices in Q3. Don't stress yourself or your team out by taking on too much at one time. Your website's mobile friendliness can be tested using tools and applications such as Google Search Console. These tools can tell you how your site performs for mobile users and offer suggestions on how to improve your site for a fluid user experience.
We also recommend ensuring your website is ADA compliant, regardless of if the ADA mandate applies to your business. There are many ADA resources available to you with specifics of how your website should function for those that use screen readers or have disabilities that make it difficult to navigate websites. You can also use various platforms that will crawl your website to ensure it meets the criteria for ADA compliance, as well as provide areas that are in need of improvement.
Adding in Video Content
Video content does not have to be a large and complicated production. Video content can be as simple as you want it to be. The important part that some businesses forget about video content is it needs to be impactful and informative. A video that speaks about a topic that your audience is interested in and wants to learn about will perform much better than a video that speaks about an unrelated topic that does not pertain to your target customer. For example, your audience might be keen on seeing a demo of how your product works, but they might not be interested in a whole video dedicated to how your product needs to be stored. If video topics can be combined into one short video, do it. Save individual videos for topics that your audience will find the most engaging and important.
Unsure of where to start? Look at your content that is performing the best. Maybe you've written a blog that is seeming to top your analytic charts or you have a premium content offer that has a large number of downloads. Creating a short and sweet video about the high-level components of those content pieces can produce a video that can inform your audience and bring additional leads to your business. Another note we have is not to be afraid to post your video across all of your platforms. Video can perform well on social media, be inserted into websites, added into blogs, and shared via email. Try to use real people in your video assets. In photography and videography across the board, real people perform better than stock images. People are more interested in seeing a video with a real person than watching stock video clips with a narrative voiceover.
On the Path to Success
Now that you've read through some of the hot inbound marketing trends, you can begin working to elevate your inbound marketing website strategy. Whether you are just getting started with your marketing efforts or are an expert marketer, you can find small ways to make a big impact on your road to increased revenue. Not sure where to start? Contact our team! We are always here to help you grow your business.