Webinar marketing has taken off since the beginning of the COVID-19 pandemic, but this form of marketing goes back much further than 2020. Webinar marketing has been a valuable tool for marketers and salespeople since the digital landscape has become increasingly popular. Webinar marketing has become one of the top ways for businesses to generate qualified leads and further promote their company, services, and products.
Before we talk about how to successfully use webinar marketing, we have to define and understand what webinar marketing is. Webinar marketing is the use of an online seminar that allows businesses to connect with larger audiences and educate viewers on their products or services. Webinars can take place with a live audience or as a pre-recorded seminar that users can view at any time.
Why Should B2B Companies Utilize Webinar Marketing?
Showcase Products or Services in an Easily-Digestible Format
There's no doubt that virtually any B2B business can see success from webinar marketing. By using a video platform, companies are finding it easier to not only connect with their audience but also demonstrate their products or services in a way that is easily digestible for their target customers. Many consumers will want to know more about a company's offerings and having a visual representation of how the product or service works, as opposed to reading a sales pitch or info sheet, can provide a better understanding. If your webinar is live, your audience can also ask questions about specific uses or features that they may not find answers to in your written materials.
Expand on Content Published in a Blog Post
Blog posts are a great way to inform your audience and create awareness-level content for your audience. If your prospects are further in their buyer's journey, then a webinar can be the next form of content that can help move them down the funnel. Not only can you have a more personal interaction, but you can expand and dive deeper into previous blog content. A webinar can be the perfect place to get into the nitty-gritty details that a blog post isn't always the best place for. If your audience is craving details, deeper explanations, and further insights from your business, it's time to set up your camera and begin making webinars!
Showcase Expertise and Build Brand Credibility
It can be difficult to convey your expertise and knowledge through an infographic or in general website copy. Don't get us wrong, your copy should always showcase your specialty in your niche or industry, but hearing from a real person can produce a greater impact on your targets. Additionally, when you opt to use webinar marketing, you're humanizing your brand and boosting brand credibility. By showing that you're available to take the time and answer questions, you can quickly become a trusted information hub for your customers and leads.
Reach New Prospects
Webinars are a great way to introduce yourself to new prospects that might have traditionally taken place at in-person conferences or trade shows. While your prospects probably know who you are, you might not know them. By utilizing webinar marketing, you can make connections with individuals who are interested in your services or products but might need some more information before they're ready to talk to sales. Furthermore, educational webinars that provide value and are not just a sales pitch draw more attention and attendees, giving you the opportunity to nurture prospects you might not have previously had access to.
Communicate With Your Target Audience
Communication is vital when you're nurturing leads and gaining additional prospects. If you aren't answering the right questions or providing the information they are seeking, you will be replaced with a business that does. Webinars are a way to actually speak with your prospects, hear their challenges or needs, and then foster a relationship where you can provide answers or solutions for their specific situation. While webinars are not meant to be a sales pitch, this can be an opportunity to speak to how your solution is ideal for them, bettering communication between you and your target audience.
Move Visitors and Leads Down the Sales Funnel
Your webinar can serve as one more valuable step in the buyer's journey. A webinar is typically the middle of the funnel or consideration stage offer, allowing you to collect prospect information on your leads to further nurture them after the webinar. You can use your webinar as an opportunity to move these attendees through your sales funnel and convert them into new customers by asking them to take a specific follow-up action post-webinar.
Promotional Tactics for a Successful Webinar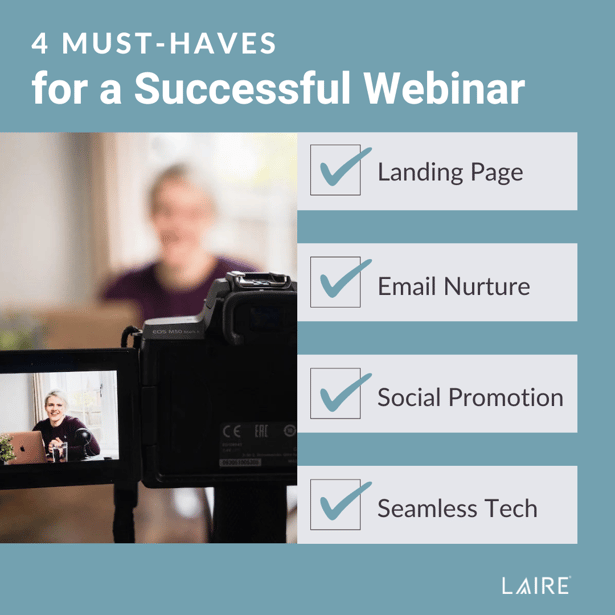 1. Ensure you've got the appropriate landing page and forms ready.
Having a registration page is vital to displaying information about your webinar. This page will be where your interested leads will land for more information on the webinar, what they can expect to learn, and a contact form to sign up.
2. Invite attendees to the webinar using a series of emails.
An email nurture is the best way to invite prospects to your webinar. A personalized invitation not only promotes your webinar, but makes your leads feel as though they are in the "in" crowd. Additionally, by using a series of emails, you can ensure your prospects are reminded multiple times about the webinar and given different opportunities to sign up.
3. Promote your webinar on social media.
Social media platforms are a great place to promote your upcoming webinar. More often than not, you'll have additional prospects that want to be a part of your webinar that aren't already in your CRM or receiving your email campaigns. While social media is generally an awareness stage platform, consideration stage prospects that regularly interact with your page will be excited to learn about upcoming webinar events through social media, and hopefully share with their audeinces that they are attending yours!
4. Work with a great webinar platform.
We won't tell you which platform to partner with, as every organization has different preferences and needs for their webinars, but we will tell you to make sure you partner with a platform that can handle your capacity and has the features you need. These features can include a chat stream, a Q&A section, recording options, etc. Do your research well ahead of time and have a test run to ensure you know how to use the platform before you face a live audience.
Tips for Providing a Valuable Webinar
The important thing to remember when hosting a webinar is that your webinar should not serve as a hard sales pitch. The end goal of webinar marketing is to educate and provide value to your prospects, not hold a conference that's all about your self promotion. Another way you can provide value to your webinar attendees is to offer them a free resource or demo once the webinar is over. Not only will this give an additional incentive to webinar attendees, it will also help you establish which actions you'd like your prospects to take following the webinar. If you're offering something, make sure it's the ultimate solution to the problem you're helping customers with.
While it may seem like a great idea to focus on 2-3 topics during your webinar, it's important to only speak about a single topic that is relevant to your audience. You won't want to confuse your attendees by jumping around from one topic to another. If you've got big ideas to share, why not make a webinar series? If you're producing great content in your webinars, we bet you'll have repeat attendees and even better leads.
As far as the logistics, it's important to consider the location and time zones your attendees will be joining from. You'll want to host your webinar during a time that will be convenient for all attendees and not require them to wake up early or stay up late. We'd recommend hosting your session in the early afternoon or late afternoon, giving your east and west coast participants a chance to join.
When your webinar is complete, don't forget that there is still work to be done. A great webinar is only complete with a great follow-up strategy. This can be a series of emails that will further nurture your prospects, or a strategy for additional follow-up from marketing or sales. These nurtures will not only keep you fresh in your contacts' minds, but give you the opportunity to convert them into new clients.
Where to Go from Here
So you've decided that webinar marketing make the most sense for your marketing strategy, but how do you begin? We're glad you asked! We've held a few webinars ourselves and we would love to help you hold yours. When you partner with LAIRE, we work to build your digital presence and create a comprehensive webinar marketing strategy that can generate leads to provide real, measurable results. Through Marketing Action Plans by LAIRE®, or MAPs, sales enablement, content marketing, and everything in between, we've got the tools and strategies to drive your revenue through the roof. Better yet, sign up for a free marketing assessment. We'll discuss your marketing goals and provide you with actionable items that you can start right away!