There's no denying it; the key to any successful content marketing strategy is an organized plan. But, depending on your industry and how niche it is, it can be hard to identify topics. Industries like manufacturing and software can seem pretty narrow depending on your specialty. That can leave you wondering "how on earth do I create a fantastic content marketing strategy"? Luckily, there are multiple tools available online that can help!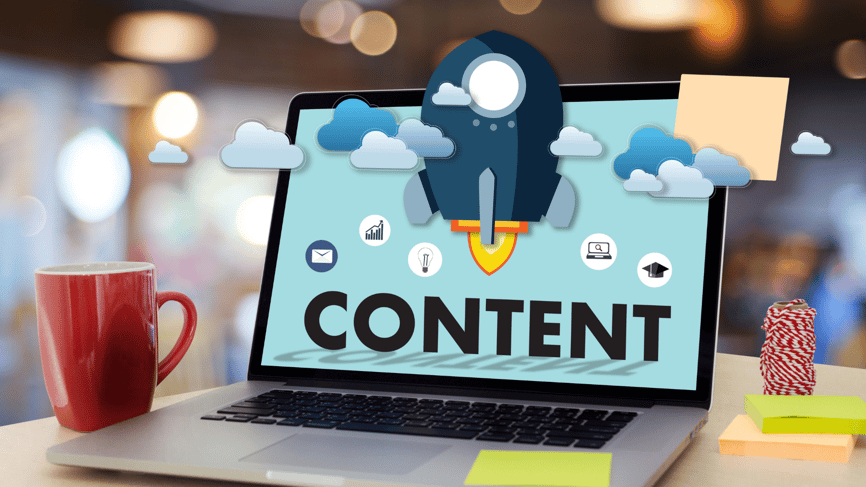 In this blog, we've pulled together a list of some of our favorite content marketing tools out there; tools that we've seen lots of success with and know you'll love too. Here's the list:
HubSpot Topic Clusters tool
Answer the Public
UberSuggest
BuzzSumo
Monday
Your sales & marketing teams
Before you start Googling and adding these sites to your "Favorites" list, let's take a closer look at each one, starting with HubSpot and its awesome Topic Clusters tool.
1. HubSpot Topic Clusters Tool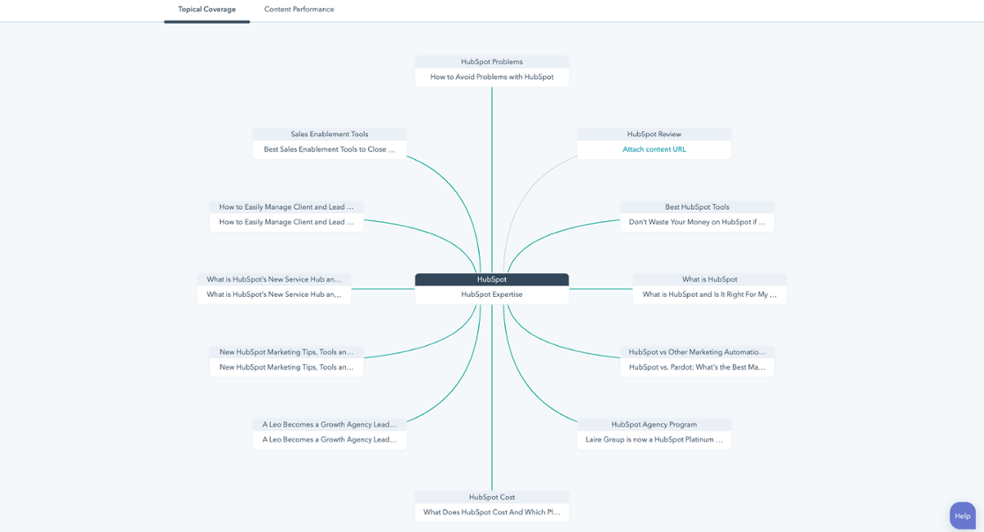 One of the many pluses of joining HubSpot is access to the Topic Clusters tool. This is a great way to organize your content marketing strategy. It's based on the hub and spoke model, where the "hub" is the core topic, and the "spokes" are the subtopics. Let's look at an example from our agency.
One of our core topics is digital marketing. Some of the subtopics that branch off of that core topic include:
Content marketing
Digital advertising
Digital marketing agency
Continuing with the example from our agency, in the HubSpot Topic Clusters tool, the hub would be the pillar content around digital marketing. The spokes would be blogs and content based on the subtopics we've identified and link back to the hub. For example, this very blog would be a spoke, and so would our article on the How Storytelling Marketing Will Change Your Digital Efforts Forever.
Side note - if your content "spoke" doesn't link back to the hub, the line that connects the two in the HubSpot tool will turn red, identifying the opportunity to add that link.
There are certainly other ways and online tools to help organize your content marketing strategy, but the HubSpot Topic Clusters tool is definitely our favorite and super easy to use.
2. Answer the Public
Once you get past the slightly creepy, angry-looking man on the homepage of AnswerthePublic.com, there's a fantastic tool to build your content marketing strategy, especially if you aren't sure what kind of topics to write about. Yep, this is a place to search for potential blog topics and content offers.
How does it work? All you have to do is perform a search for something around your core topics. For instance, let's say we searched for "content marketing". Here's what the search results would look like.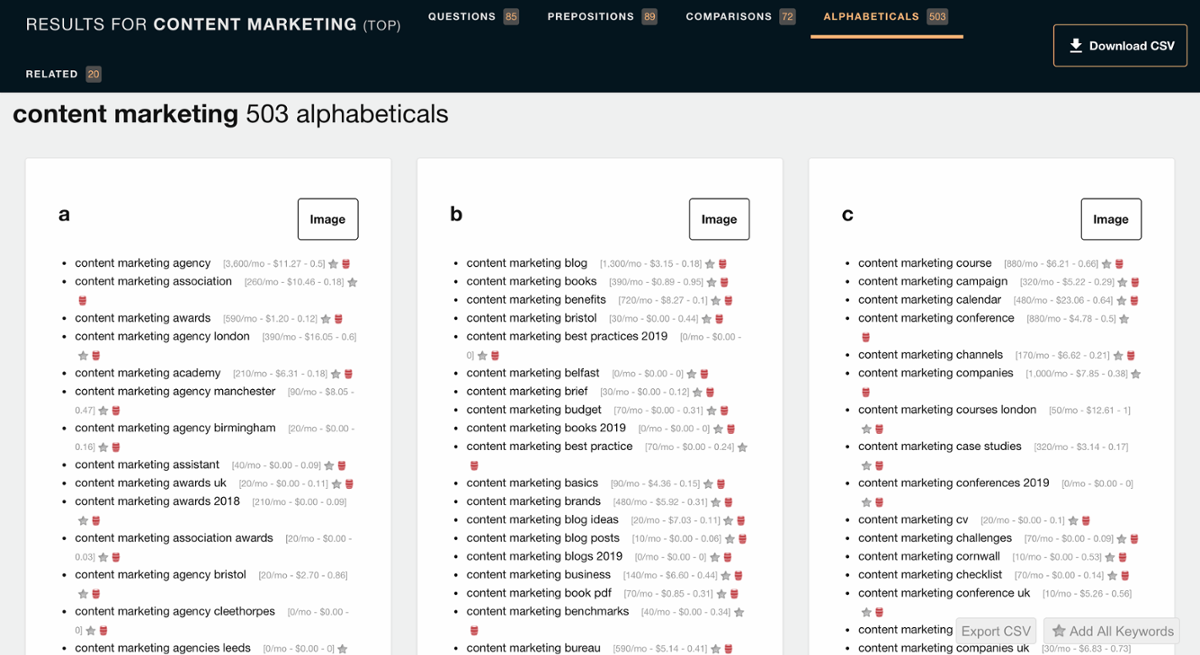 As you can see, the search results are in alphabetical order, and there are tons of content ideas listed. Although it isn't going to reveal the perfect blog title, Answer the Public will give you some real inspiration for your content plan.
Pro Tip: If you pair this tool with Keywords Everywhere, a free online plugin, you can see the monthly search volume to see if the topic is trending and actually searched for. These two tools are a spectacular content planning dynamic duo!
3. UberSuggest
Neil Patel's UberSuggest tool is typically known for its keyword research functionality, and while that is definitely important to utilize for your content marketing strategy, UberSuggest also has a handy "Content Ideas" tool. This resource is great for brainstorming and collecting some inspiration around the topics you want to write about.
Let's look at an example. Say you own a home construction and renovation company that specializes in kitchen remodels. In the UberSuggest tool, you could search "kitchen remodel" or "kitchen renovation". UberSuggest will then populate the keyword overview with the monthly search volume and ranking difficulty score. You'll also see the option for "Content Ideas" where existing blogs and content related to that topic that perform well are listed.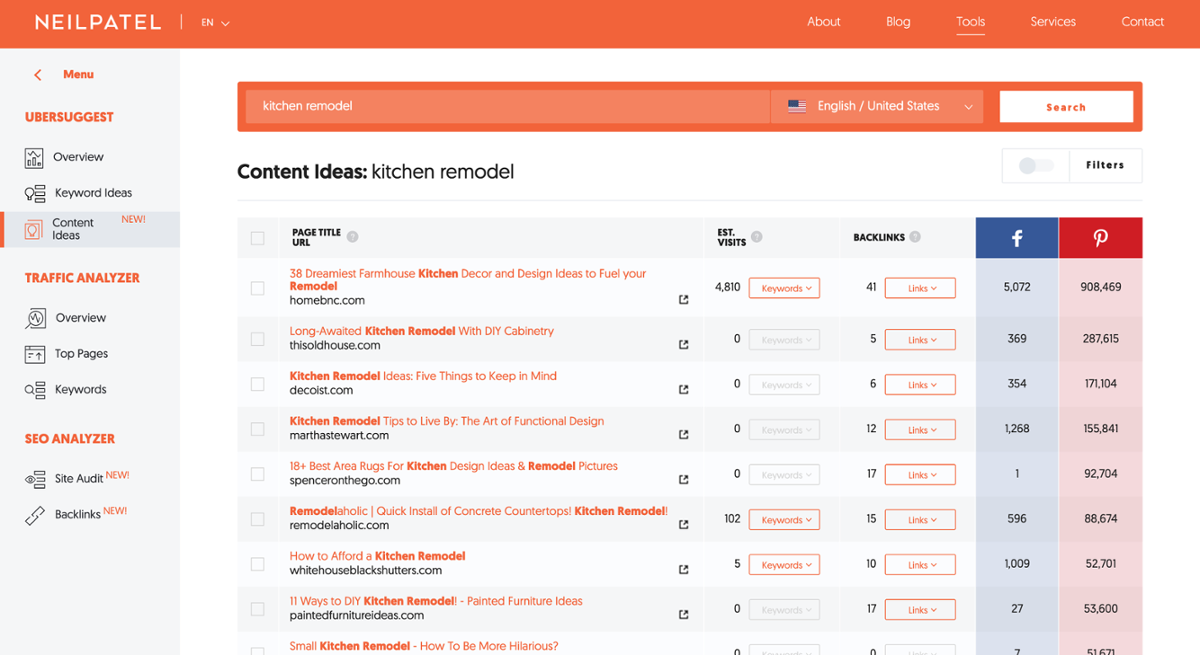 Keep in mind, although this tool is great for inspiration for your content marketing strategy, make sure you are not copying another piece of content. What you create needs to be unique to your company.
4. BuzzSumo
Similar to the Content Ideas tool on UberSuggest, BuzzSumo is an online application that allows you to search for topics (or website domains) and see what's trending in the content world. What's really cool about BuzzSumo is that you can adjust the timeframe and see results from the last 24 hours, week, month, and 6 months, all the way up to 5 years. And if you're in the B2B (business to business) space, there's an option to filter out B2C content, which can be a big timesaver.
But, that's not the only custom filter. You can also filter by:
Content type
Word count
Language
Domains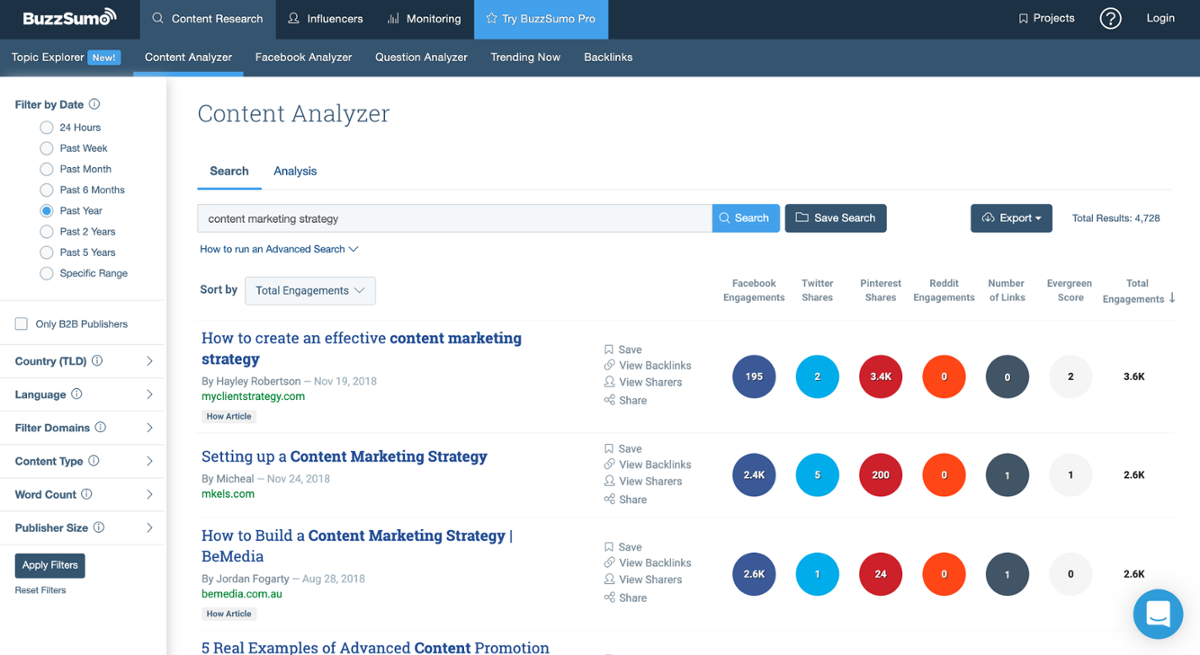 As you're utilizing BuzzSumo for some inspiration for your content marketing strategy, the same rule-of-thumb from UberSuggest's Content Ideas tool applies here too. Don't copy someone else's content. First off, plagiarism can result in your site being penalized by Google and negatively impacting your search rankings. Secondly, that exact topic is already ranking and linking to someone else's site. You want the content your company releases on the worldwide web to stand out. That's how you make it on page one of Google SERPs (search engine results pages).
5. Monday
If you're familiar with Monday, you may be wondering, "How can this project management application help me with my content marketing strategy?". So glad you asked! We love using this tool for organizing and executing our content plan. In fact, we created a board where we compile our blog topics for the quarter, as well as a running list of content ideas for the future. We also utilize Monday to assign blogs to team members and identify deadlines.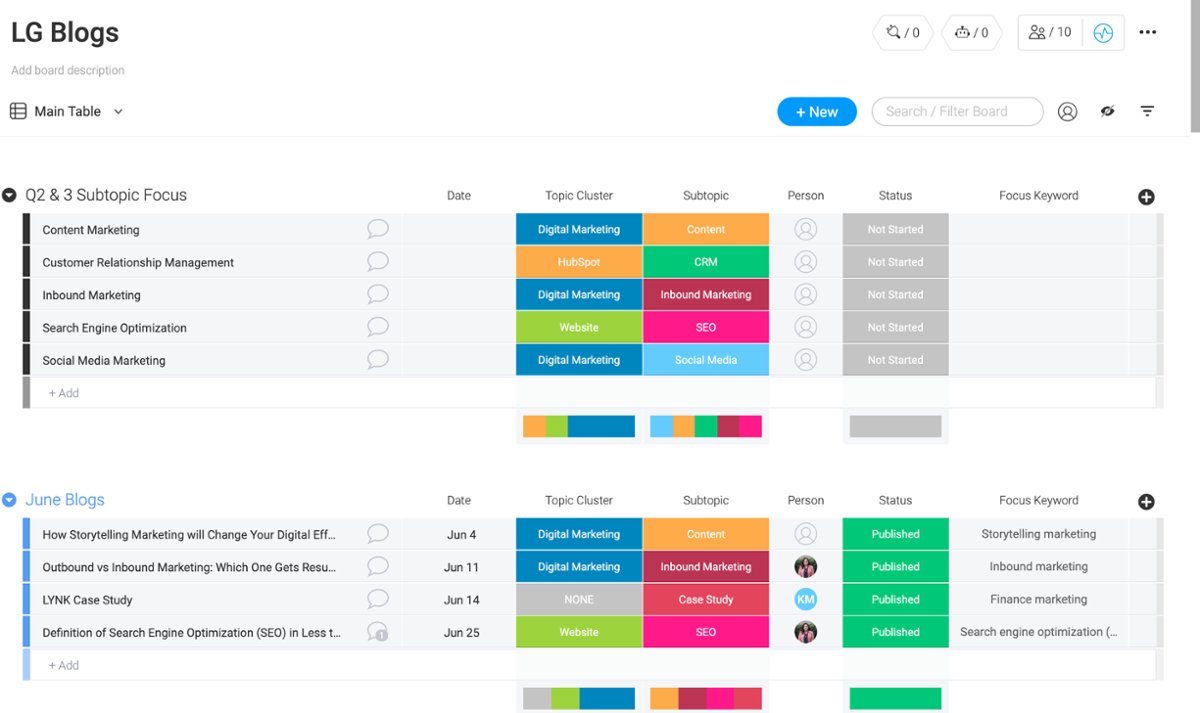 It's a great tool to make sure your content marketing strategy stays on track and team members are held accountable for their contributions.
6. Your Sales & Marketing Teams
As you can see, our last recommended tool for building a kick-butt content marketing strategy is not an online resource. This one is in-house. We're talking about your sales and marketing teams (or your smarketing team). These team members know what customers search for to find your company website, as well as questions they ask when considering your products or services.
Answer these questions in your content! Not only will this improve the customer experience with relevant, valuable content, by having this information on your website, you will also boost site traffic and make your smarketing team's job a little easier. After all, this content provides a resource for them to direct inquiring customers quickly and easily. It's a win-win for everyone!
Smarketing Team + Online Tools = Content Marketing Strategy Success
With these 6 tools in your back pocket, you're ready to build an awesome content marketing strategy packed with engaging blogs, content offers, and more. Remember - the key to success is all about organization, teamwork, a little research, and answering your customers' questions. Now, go start crafting some kick-butt content!
Content marketing is just one piece of the digital marketing puzzle. Want some additional advice from our marketing gurus to help you achieve your sales goals? Request your FREE marketing audit!