This may seem oversimplified but you need customers in order to build custom homes. If you want to attract customers online, you need your website and content to be search engine optimized. Well-developed SEO website pages and content will make your company easier to find and help you stand out from your competition.
What is Search Engine Optimization?
You're proud of the work you do. It's a shame if potential clients can't find it. That's the whole idea behind search engine optimization (SEO). SEO is the process of growing website traffic by increasing website visibility to search engines. Pages and sites that are optimized well for SEO rank highly in search engine results, ideally on the first page, whenever an organic search is made.
Search engine optimization is a more cost-effective way of reaching your audience compared to traditional marketing. While there may be some upfront costs to optimizing your site, organic rankings do not cost a dime. It also delivers more valuable site traffic because you're reaching people that are actively searching for solutions or doing research in your industry.


SEO Principles
SEO can be complex. So, let's keep it simple. Below are the core SEO terms and principles to keep in mind.
Keywords
Research the most popular search terms related to the custom home building industry and build your pages and content around them. While volume is obviously an important factor, it is typically easier to rank for lower volume keywords which is a good starting point for your keyword strategy.
URL
The URL is one of the first things a search engine will examine when crawling your page. Look at how your URLs are structured. Look for pages with auto-generated URLs, normally with random numbers or letters after the forward slash, and replace them with more descriptive language. Be sure to put the keyword or phrase you are going after on that page within the URL.

Meta Description
Don't neglect meta descriptions. The meta description is the text that shows up underneath the URL in a Google search. These should provide more information about the page and encourage the searcher to click on your link. This should also include the targeted keywords.

Responsiveness
You'll be rewarded by Google if your website has responsive, mobile-friendly pages. As of June 2020, 51% of time spent online in the US is on mobile devices and 40% of people only search on a smartphone. If your site is not mobile responsive, you will miss out on at least half of your website traffic!
Internal Links
Internal links are links that lead to other pages within your site. You want people to stay on your site as long as possible to show Google that your site has useful information on it. This not only helps your pages rank higher but provides more opportunities for your visitors to interact with your brand and hopefully convert.
Backlinks
A backlink is when another domain links to your website. Think of it as a letter of recommendation to Google. Backlinks tell Google your page is helpful and will help your page rank in a better spot.
What Else Can Be Search Engine Optimized?
Just about anything on your website can be optimized to help your site rank in search results.
Text - Use keywords in creative ways in headers, subheadings, and in copy. Be sure to not overdo it. Forcing keywords into copy hurts the readability of the page and Google can punish you for it.
Images -Search engines can't see images on websites. Make it a routine to add relevant alt text to every photo uploaded, give a brief description of what the picture is. Google can then "read" the picture and it'll boost SEO.
Videos - YouTube is the second most used search engine in the world. Videos are a massively important tool for your site. Use keywords when titling, tagging, and closed captioning.
Search Engine Optimization Techniques for Custom Home Builders
SEO best practices are always changing as Google changes how the search engine works. To help you get a leg up on your SEO strategy, we've compiled the below techniques to give your site a boost.
Complete an Audit
Auditing your site can help you discover why you're not getting enough search traffic. By examining your site's performance, you can see where your site falls short SEO-wise. All pages must have basic on-page SEO from the principles we mentioned above that is targeted towards specific keywords. You should also check that your pages are formatted for user experience and are "skimmable" to the reader. One of the most important things to double-check is that your content has links, both internal and external.
Improve User Experience
Along with mobile-friendliness and quality content, aim to structure your site in a way that is user-friendly. Google will not give much credit to sites with long load times and spammy copy. Make your content easy to read with shorter paragraphs, sub-headers, and lists. When writing your content, use simple language and only put in keywords where it makes sense. Don't be afraid to utilize white space and imagery for a better experience.
Focus on Topic Clusters
Google and other search engines have evolved over time, with its objective now being to understand user intent and find what results would best help answer their query. While keywords are highly important, simply creating keyword-focused content is not enough, you have to be aware of the context of a query. Consider what users are looking for rather than different ways to phrase their search terms. To do this effectively, you must utilize a topic cluster model in which you have a main pillar page that gives a broad overview of a topic and smaller, supporting pages that link to the pillar page that go into more detail. Coined by Hubspot, topic clusters resemble the diagram below.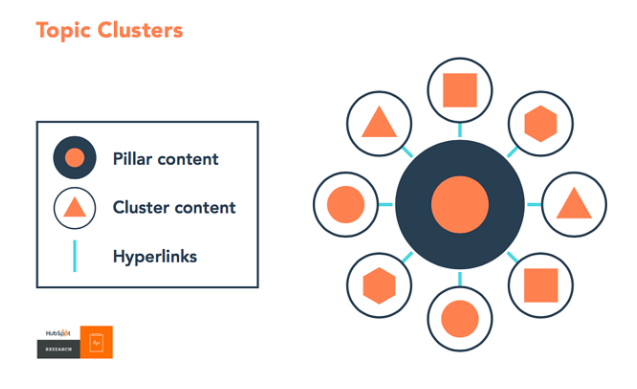 For instance, for custom home builders, one of your pillar pages would be on custom homes, and your blogging strategy would consist of topics related to custom homes, such as "building methods for a custom home" or "the difference between a custom home and a semi-custom home" to link to and support your main custom home page. This structure helps to give pillar pages strength and build up your domain as a whole. The more organized your site is, the easier it is for Google to read, and the more links you have, the more value Google will see.
Know your Buyer Personas
A key aspect of creating valuable content for your audience is understanding buyer personas. A buyer persona is a semi-fictional character that represents your ideal customer. These are created based on your consumer data and are meant to give you insights into their needs and motivations. You can have several different buyer personas to target with your SEO and content efforts, which is where topic clusters can be especially resourceful. The more you know about your different buyer personas, the better content (and SEO) you can create.
Improve Technical SEO
A glitchy site can deter SEO rankings, which is why it's important to take care of your site's functional capabilities. A solid website equates to a quality source in Google's eyes. A couple of technical SEO aspects to check on are:
HTTPS
HTTPS is the most commonly used, secure version of the old HTTP web protocol. Google will warn visitors they're visiting non-HTTPS websites which often deters people from coming to your site. HTTPS also protects your site and makes it harder for malicious parties to break in and negatively impact your site.


Semantic Markups
Semantic markups are comprised of HTML tags and code which can emphasize key information on your site. It tells Google's crawlers what the page is without having to read every word, making it easier for the search engine to analyze the page.


404 Errors
Following a link that results in a 404 error message is essentially a dead-end for Google and your audience, which will not reflect positively for your rankings. So it is important to fix these error pages by redirecting those URLs to functioning pages with content. Tools such as Monitor Backlinks can help you identify 404's so you can redirect them to the next most relevant page on your site.
Optimize for Local SEO
Roughly 46% of all searches on Google are seeking local information. This includes telephone numbers, hours of operation, and addresses. For custom home builders especially, it is important that you can be found in your area. To make sure your local SEO is in good shape, make sure the following aspects are functioning and up-to-date:
Directory Listings
Google and other search engines often rely on local directories to provide them with additional information on a source. Data that is out-of-date can cause the wrong information to be listed in a search. Popular directory listing platforms include Google My Business and Yellow Pages. In order to make sure your information is updated across all local listings, many enlist the help of a local directory management service such as Moz Local or Yext to eliminate any inconsistencies.
Local Landing Page Optimization
In order to rank for local terms, you need to include local keywords in your targeting efforts. Do keyword research on terms in your specific area or city and create a landing page to target these keywords. This includes mentioning in the metadata, the page title, heading tags, image alt text, and on-site content. Then focus on building links from local directory listings to strengthen the location-based keywords.
Schema Markup
Schema are brief snippets of data that can give out extra information to users and search engines. This is inserted through Schema.org which is a collaboration from Google, Bing, and Yahoo and does not require any extra coding. The image below shows what this additional information can look like in search results.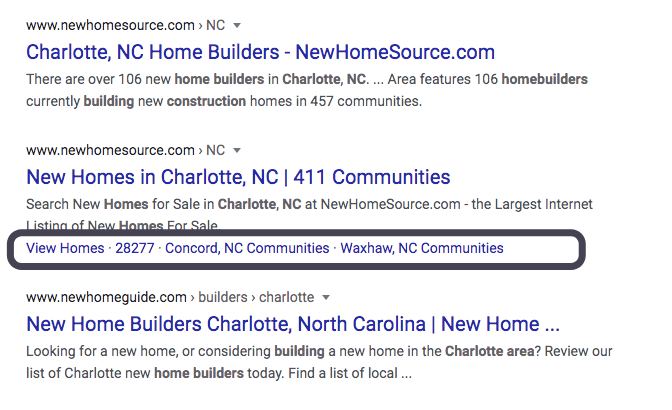 Keeping Up with SEO
Once you have optimized your site and have built up your domain, it's important to maintain your SEO rankings. Tools like SEMRush and Moz can help you gauge your pages' performance and see any changes in keyword rankings.
SEO is constantly evolving, causing business owners to adapt quickly to maintain their online presence. Remember to focus on solid content creation and start with the basics of SEO then work your way up. Reach out to us if you have any questions or need assistance.
If you would like to see how you can grow YOUR construction business with a marketing plan, strategy, and implementation - Download your copy of the construction marketing checklist below!